Match Coverage
Player Ratings: RSL vs. Houston Dynamo, game two
Who stood out in RSL's 1-1 draw (and subsequent penalty kick winning decision) against Houston Dynamo?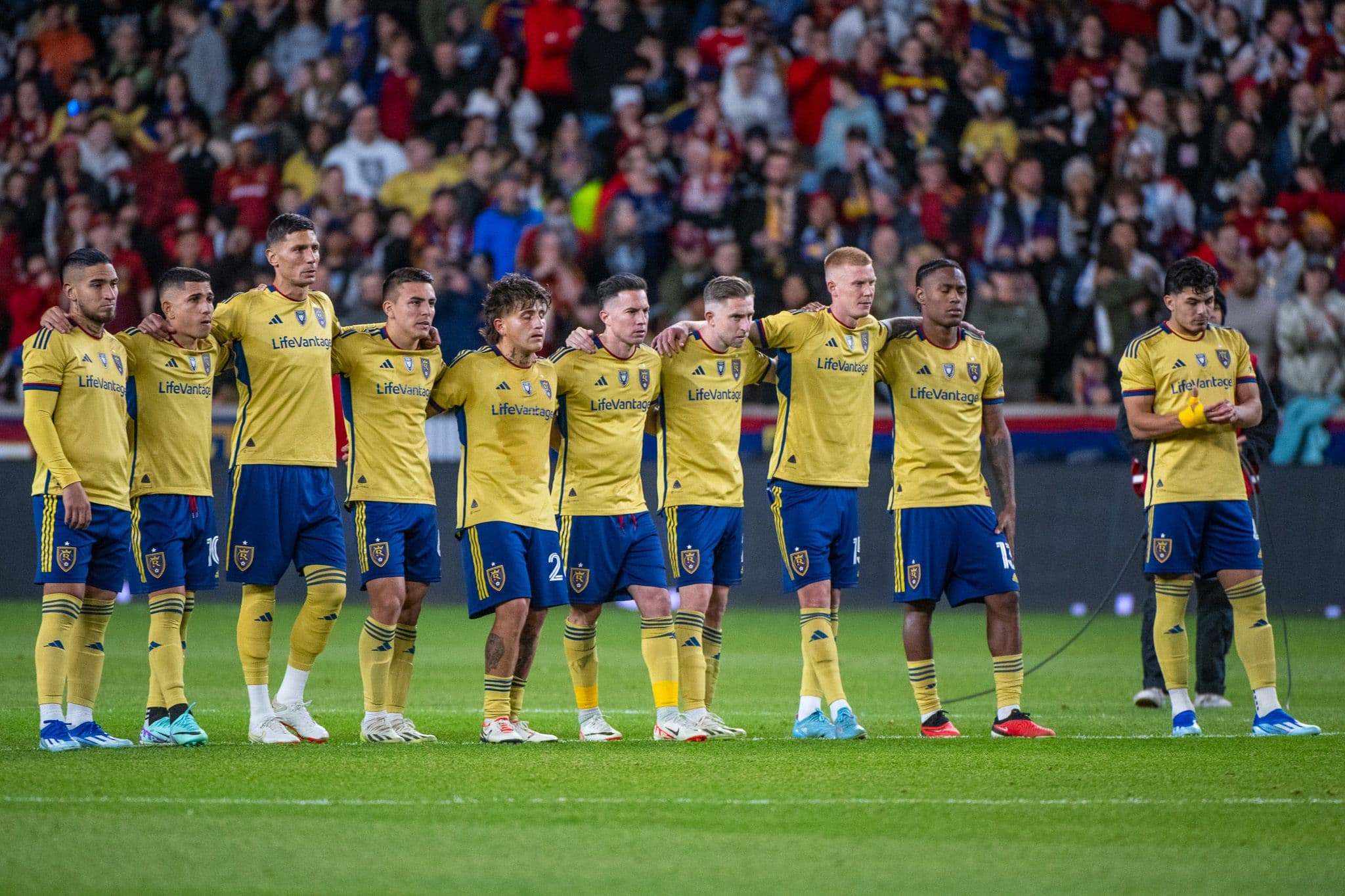 Lucas Muller | Wasatch Soccer Sentinel
Defense
Zac MacMath: 7.5
Goalkeeper
MacMath's biggest contribution in this game came in the form of saving two penalty kicks. One from Bassi in regulation, and another from Bassi to start off the shootout. In the first case, there's little that can be done about controlling the rebound in such a high reaction-time situation. Saving a PK is an impressive and extremely difficult feat already, wanting that and then expecting him to also parry the ball into a safe location is pretty unreasonable. As for the shootout itself, he guessed right on a few, guessed wrong on a few, and put in a decent performance overall with the one save. With the whole night's body of work, I'd say Zac was one of the better RSL players for the evening.
WhoScored Rating: 7.4 | SofaScore Rating: 7.8 | FotMob: 7.8
Bryan Oviedo: 6.75
Left-back
Overall I think Oviedo had another solid game, continuing his streak of good form to round out the season. A lot of the better RSL attacks in this match came from the left side with Oviedo and Luna, and both worked well together along the byline to create threats. Notably, Oviedo was the player who earned the foul to set up the Savarino free kick in the second half, cashing in on a bit of that success. While the performance may have lacked any outstanding moments, I think it was a solid shift from Bryan.
WhoScored Rating: 6.5 | SofaScore Rating: 7.0 | FotMob: 7.2
Justen Glad: 5.75
Center-back
Unlike Oviedo who continues a run of good form, I think Justen is doing the opposite. We've almost reverted back to pre-COVID Glad, who we knew from youth alone was bound to make a few key mistakes a game. This time around it came in the form of a reckless challenge inside the 18 to give away a PK. And for as much criticism as the referee was getting Monday night, was awfully generous to not double whammy the team with a PK/Red Card in that moment. There were a few other moments in the contest where Justen gave the ball away in bad situations that luckily didn't develop into serious attacking chances. Still, it was a pretty poor night out for the homegrown player, who RSL needs at his best to take a result away from Houston in game 3.
WhoScored Rating: 6.1 | SofaScore Rating: 6.5 | FotMob: 6.4
Brayan Vera: 7.25
Center-back
Once again Vera proved to be one of the signings of the season, with a great defensive effort in a key game. Not only was he once again the leader of the team in enforcing physical play, but also led the team in touches on the ball as well. While maybe some of his shooting and attacking chances were lacking from this contest, those are all bonuses to begin with anyway. Compared to Glad recently Vera seems the more reliable, and somehow less likely to get sent off. Brayan capped off the night with easily the best PK of all 10 takers.
WhoScored Rating: 7.1 | SofaScore Rating: 7.1 | FotMob: 7.5
Andrew Brody: 6.25
Right-back
Watching the game live, Brody was pretty unimpressive in a lot of his efforts, enough that you expected Quinones to start taking him on 1v1 at any given chance. Watching the game over and taking a look at Andrew's numbers, and I can see a bit more why the rating sites approved of his night. 85% passing and 75% ground duels won are both better than I would've guessed, and over the 90 minutes he didn't make too many errors. Still, the right side of defense was for sure the more shaky side, and Brody didn't really make any big statements against the Houston attacks.
WhoScored Rating: 6.6 | SofaScore Rating: 6.9 | FotMob: 6.9
Midfield
Nelson Palacio: 7.75
Center Midfielder
Recently I think Palacio played his best game for RSL after a slow start to his career here. After this game I have to amend that statement already, as his game 2 performance against Houston would be the first one I'd call "very exciting". Nelson was serving as a metronome in the midfield, and actively boosted the team possession by dropping in for buildup passes. This gave Nelson an outstanding 44/45 in passing, and similarly good possession stats. Despite all of that, he was still involved in the physical play, committing 4 fouls and taking part in plenty of duels and challenges. With a healthy Ruiz back for next year, the 2024 midfield is looking in its best shape for a long, long time.
WhoScored Rating: 7.2 | SofaScore Rating: 7.6 | FotMob: 7.3
Braian Ojeda: 7.0
Center Midfielder
While a few Ojeda-like positioning mistakes were made this game, it was a pretty decent evening for the U22 initiative player. Like Nelson, he was active in the physical aspects of this contest, not afraid to foul and fight for the ball when needed. Given how Herrera didn't control this game in the same manner as game 1, the pressing and marking from Ojeda deserve a bit of a spotlight. Aside from the hustle and work rate on show, Braian did well on the ball, and clocked in a good 90 minute performance.
WhoScored Rating: 6.9 | SofaScore Rating: 6.8 | FotMob: 7.5
Diego Luna: 7.25
Left-winger
Luna has made a habit of taking games over offensively recently, and while this match didn't quite show that level of play, Diego still gave a good account of himself. His passing numbers were a clear 2nd best on the team, and from an advanced position like a left winger, that's an even more impressive feat. Even if he was only credited with a single chance created, it was clear that Luna was productive and helped the attacking effort all match long. With 6 defensive actions taken over a full game, there's not much to complain about. Naturally, his shining moment was converting the game winning shootout penalty, a well taken shot that gave the young RSL playmaker a moment to remember.
WhoScored Rating: 6.9 | SofaScore Rating: 6.8 | FotMob: 6.9
Carlos Andrés Gómez: 5.5
Right-winger
The 2023 campaign continues much as it always has for Gómez, just lacking any finishing product when it counts. Obviously Carlos has some growing to do in order to fit his past transfer fee, but time has basically run out for the current season. Despite playing over 90 minutes in this match, Gómez only managed 8/14 passes, and lost 75% of his dribbles. If the eye test wasn't enough to show what a poor match it was, the stat sheet certainly does. Hopefully he can keep up some attacking threat for the third game of the series and help keep the season alive.
WhoScored Rating: 6.1 | SofaScore Rating: 6.0 | FotMob: 5.7
Attack
Anderson Julio: 5.75
Advanced Forward
Julio was the only other player to be subbed in this game, a 55th minute sacrifice to facilitate Chicho's return. While it's not a full body of work to look over, it's pretty safe to say Julio had a tame night, rarely involved as a direct threat or in creating chances. You want your speedy forward pressing the lines at all times, so a lack of touches is expected, but 3 successful passes and 11 touches is pretty unimpressive.
WhoScored Rating: 5.8 | SofaScore Rating: 6.4 | FotMob: 6.1
Jefferson Savarino: 8.25 (MVP)
Advanced Forward
Savarino put on another strong performance in another big game, showing why he deserves the DP tag and credit he receives. In an elimination playoff game, he not only found the ball for 55 touches as a striker, but connected 88% of his passes along with creating 4 goal scoring chances. With the quality not connecting on those plays, he made sure to force the issue with a well taken free kick to level the game at 1-1. While not an unstoppable bullet, it was a very good strike that can, and did, find the net. Sava capped off his night with a clinical PK in the shootout, helping keep the team alive to fight on for a decisive game 3 in Houston. Should it be a final home game from Jefferson, it was one to remember.
WhoScored Rating: 8.7 (MVP) | SofaScore Rating: 8.2 (MVP) | FotMob: 8.5 (MVP)
Substitutions
Chicho Arango: 7.25
Advanced Forward
Many might look back at this match, and point to the sub of Chicho as the decisive moment of the comeback. From inside the stadium, the energy levels certainly increased dramatically with his appearance, and I think in many ways, that played into the minds of those on the field. Watching the game back, RSL didn't behave all too differently with Arango in, space didn't suddenly open from his movement, but what it did do was give the team the confidence to attack much more than before. Likewise, I think the Houston defense seemed to play more nervously as that energy grew. Chicho himself fashioned a few decent chances that didn't have enough quality to score, but his effect on the game went well above that. His PK in the shootout set the tone for the group, and finished off a good return for the striker.
WhoScored Rating: 6.8 | SofaScore Rating: 7.1 | FotMob: 6.2
Damir Kreilach: N/A
Advanced Forward
For the sake of consistency, I won't allow my favorable Damir bias to give a rating here, but coming into a game extremely late to take a PK is no easy task. His second touch of the game was a near unsavable spot kick that helped guide the team towards an eventual victory in the shootout.
WhoScored Rating: 6.5 | SofaScore Rating: N/A | FotMob: N/A