Match Coverage
Player Ratings: RSL vs. Houston, game one
Who stood out in RSL's 2-1 loss to Houston Dynamo?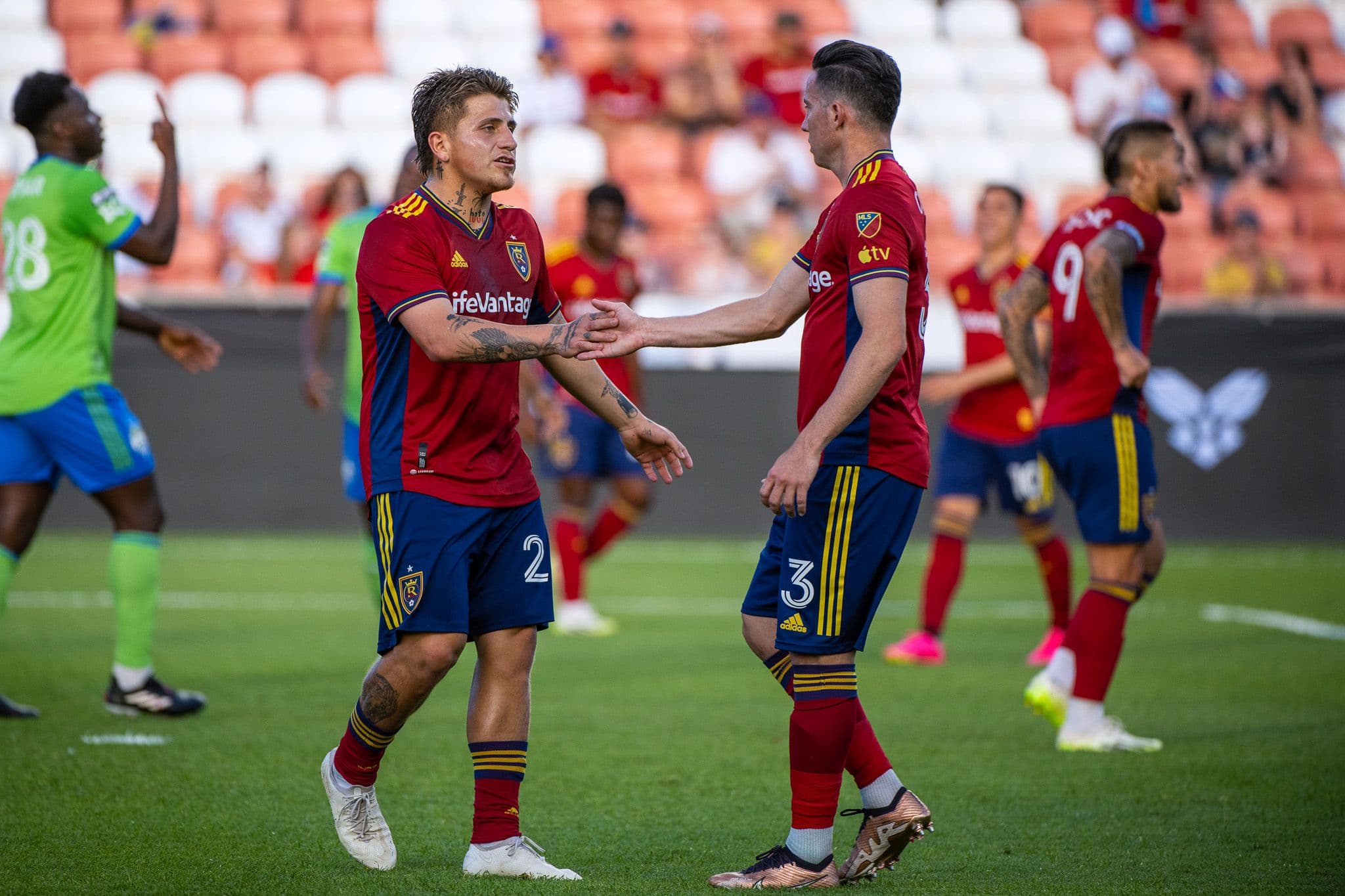 Defense
Zac MacMath: 6.25
Goalkeeper
Despite having 23 shots launched Zac's way, only 5 required any real saving. One of which he saved, but knocked into a dangerous area that led directly to a goal. Given the body of work, it was a pretty underwhelming game from MacMath. His best moment came when he rushed out of the box to stop an oncoming breakaway in the dying minutes. This sweeper-keeper reaction almost certainly saved a goal despite not counting as a save. Outside of shot stopping, Zac was fairly poor with his long ball accuracy through the night and didn't leave much of a mark on the game.
WhoScored Rating: N/A | SofaScore Rating: 6.5 | FotMob: 6.5
Bryan Oviedo: 7.0
Left-back/Center-back
Of all the defenders on the night I think Oviedo was the most stand out. Not only was he among the team leaders in touches, passing %, and keep possession, but his work rate in general was as high as we've seen in some time. It reminded me a bit of Oviedo at the most recent world cup, where despite being up there in age, played every minute of every match with incredible hustle. His pressure on Baird's shot is likely the reason it hit the post and didn't fly into the net, given Lambert had been rounded on the play already. That along with quite a few other moments really made Bryan stand out as one of RSL's best players for the contest.
WhoScored Rating: N/A | SofaScore Rating: 6.8 | FotMob: 6.8
Bode Hidalgo: 6.25
Center-back
Bode had a quiet 50 minutes before being subbed off in the 52nd due to an injury. Hidalgo continued to get minutes filling in as a center-back, and once again looked solid in the role while doing so. He was only on the pitch for the first goal, which I think is hard to draw many defensive criticisms from. Despite that, he only had 19 touches during his playing time, which is extremely low for an RSL CB. This just goes to show how little Hidalgo was called on to make plays or build from the back, the signature on a decent night only marred by his non-contact injury.
WhoScored Rating: N/A | SofaScore Rating: 6.3 | FotMob: 6.1
Brayan Vera: 6.75
Center-back
Given the lack of Silva or Glad for this match, Vera needed to step up and be a reliable pillar in defense. Overall I'd say he did a good job of filling in that void, shutting down plenty of Houston attacks with a plethora of no-nonsense clearances. While Brayan could probably do better in some of those situations to keep possession, I'm never going to fault a center-back for removing danger and giving everyone a chance to reset. On both goals allowed he was doing his job and doing it well enough to be free from any blame. In the likely event that Silva is ready to play against for Game 2 on Monday, I'd expect Vera to be starting regardless.
WhoScored Rating: N/A | SofaScore Rating: 7.3 | FotMob: 6.9
Andrew Brody: 6.5
Right-back
Brody was able to play 30 minutes at wing-back – which may be his best position – before tactically moving back to fill in at right-back. While he didn't go the full 90, Brody had a high effort night, as many of the effective Houston attacks came down his flank. Given that nothing really came from them other than a few dangerous crosses that sailed into the distance, it was a pretty alright day for Brody. Like most RSL players, he had an unusually low amount of touches, but otherwise had decent numbers for an average right-back outing.  
WhoScored Rating: N/A | SofaScore Rating: 7.1 | FotMob: 6.7
Midfield
Emeka Eneli: 6.5
Center Midfielder
Eneli was once again putting his value on display as being a proactive box to box midfielder. He didn't get on the ball much, nor did he particularly do well when he had it, but his legs added value all night. Thinking over his previous appearances in central midfield, this was perhaps one of the more unremarkable of his short career. To the point that I question if he could've came off pre-84 minutes in order to let Jasper work his engine. Given that in both Houston goals, one could point towards late pressure from the center mids as a contributing factor, and I think it's a thought worth exploring. Still, Eneli was a useful player for a defensive game and had no major errors throughout.
WhoScored Rating: N/A | SofaScore Rating: 6.7 | FotMob: 6.7
Braian Ojeda: 6.75
Center Midfielder
Ojeda played a decent 90 minutes for RSL, matching the team trend of having exceptionally low touches and completed passes. Compared to Eneli, he was more industrious going forward, and was the main attacking spark coming from the center of the field. With that in mind, RSL didn't have many attacking chances this match, so his role was diminished by lack of opportunities. Stat-wise he had a very similar night to Eneli, and could also be called out on either goal for perhaps not being in a position to close down on players directly attacking the defense.
WhoScored Rating: N/A | SofaScore Rating: 6.9 | FotMob: 6.9
Diego Luna: 7.75 (MVP)
Left-winger/Attacking Midfielder
Luna was the main attacking outlet for RSL in this match, despite being moved around several times positionally. It's actually quite rare that Diego is simply head and shoulders above Savarino, but this was one of those rare games that it happened to be the case. Luna operated from both the left-wing, as well as an attacking central midfielder during phases of the game. His goal came during one of the latter phases, where his ball control set up the young USA international for a well-executed strike from outside the box. As the season goes on, Luna has been ramping up from a player who had obvious confidence issues, to a reliable creator and attacking threat on the pitch. Even if the postseason run ends in the near future, excitement for Luna should carry on strong into the next campaign.
WhoScored Rating: N/A | SofaScore Rating: 7.5 (MVP) | FotMob: 7.9 (MVP)
Maikel Chang: 5.75
Left wing-back/Right-winger
Not one of the better under-the-radar Chang games we've seen, but part of that was due to circumstance. RSL did attempt to line up in a 3-center back system, where Chang was a left back on defense, and more of a left winger on attack, but after conceding was relocated. So Maikel played his final 20 minutes as a right winger in the normal 4-2-2-2, and understandably never found a rhythm to get into the game. His numbers were pretty unimpressive for his 45 minutes, and gets the same rating as his fellow halftime sub for those reasons.
WhoScored Rating: N/A | SofaScore Rating: 6.2 | FotMob: 6.0
Attack
Rubio Rubin: 5.75
Advanced Forward
Subbed off at halftime, Rubin had yet another night of failing to really make an impact on the game. It never helps when the possession numbers are heavily skewed against you, but in the moments he had on the ball, nothing particularly good came of it. Still, it's hard to be too rough on Rubio for this match, given that most of his involvement came from clearances launched his way, and having three defenders proceed to dispossess him of the ball. Perhaps this could work with a traditional holding forward, but Rubin isn't that, and thus didn't excel at the role. Not a memorable 45 for the Guatemalan international.
WhoScored Rating: N/A | SofaScore Rating: 6.4 | FotMob: 5.8
Jefferson Savarino: 6.75
Right-winger/Advanced Forward         
Sunday night was sadly one of the games where Savarino never really got rolling, but not for a lack of trying. Despite attempting a few shots from very Savarino-ranges, the quality we saw from summer was lacking. One key pass over 90 minutes is also surprisingly low from a player who often leads the team in that category. With all that in mind, I don't think Jefferson was lacking commitment to the cause or playing less than his usual standard. If anything he was getting on the ball more often than normal, collecting more touches than most players and trying to leave his stamp on the game. Not to mention he had the best passing and possession numbers on the team for anyone not named Diego Luna.
WhoScored Rating: N/A | SofaScore Rating: 6.8 | FotMob: 6.6
Substitutions
Carlos Andrés Gómez: 6.25
Left-winger
This was something of an average appearance for Carlos, a lot of attacking threat to get you excited, without the final product to cash in on that excitement. The introduction of him and Julio absolutely changed that game for RSL in the second half, but Gómez took the minor role in that partnership, only providing a key pass and a tame shot during his outing.
WhoScored Rating: N/A | SofaScore Rating: 6.5 | FotMob: 6.3
Anderson Julio: 7.25
Advanced Forward
Anderson was one of the key figures of the match, his speed unlocking the RSL attack and giving the team fighting chances for a penalty kick ending. His most obvious contribution came in his breakaway cross that set up Luna's goal, giving the speedster an all-important playoff assist. But even outside of that moment, Julio changed the game by keeping the Houston defense honest, and several times was able to get behind the backline and spark an attack.
WhoScored Rating: N/A | SofaScore Rating: 6.9 | FotMob: 6.8
Kevon Lambert: 6.0
Center-back
Thrown on in a bit of an emergency given the sudden injury to Hidalgo, Lambert slotted into center-back and tried to keep the Houston attack at bay. While he was relatively fine through most of the night, there were a few moments that left me more than a little concerned. Mostly the fact that Baird was easily able to turn off of him to unlock a free shot at goal – not great.
WhoScored Rating: N/A | SofaScore Rating: 6.5 | FotMob: 6.2
Jasper Löffelsend: N/A
Right-back
Only played 10 minutes of this match, but did manage to provide a horror back-pass that MacMath had to frantically save. Thankfully the resulting shot skipped off the top of the crossbar, so Jasper was spared from directly feeding the opposition a goal.
WhoScored Rating: N/A | SofaScore Rating: 6.6 | FotMob: N/A
Daniel Musovski: N/A
Advanced Forward
Moose made a pretty awesome defensive run back to win the ball on a Houston attack, that's about it for his night.  
WhoScored Rating: N/A | SofaScore Rating: 6.6 | FotMob: N/A