Player Ratings
RSL vs. LA Galaxy player ratings
Who stood out in RSL's 2-2 draw with LA Galaxy?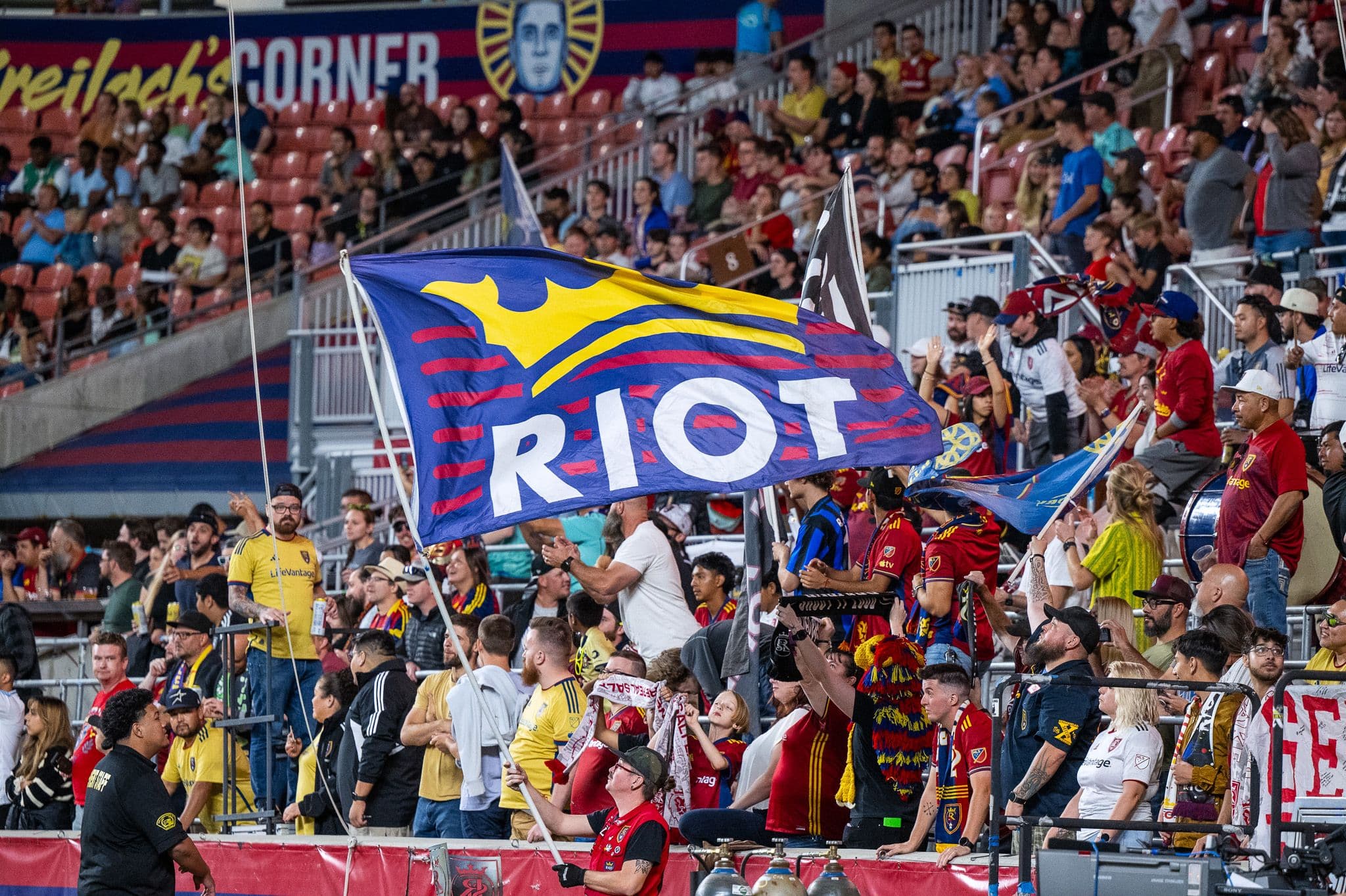 Defense
Zac MacMath: 7.25
Goalkeeper
On most given nights letting in two goals with five saves to match is a bit of a sup-par outing for a keeper. However, taking into account how savable each attempt on goal was, I think Zac had a solid night that felt mostly secure. On more than one occasion, three actually, MacMath was basically left for dead from defensive breakdowns and managed to come out alive in one of those trials. He punched out several dangerous crosses and had no major passing mistake that comes to mind. Overall a reasonable night considering what was launched in his direction.
WhoScored Rating: 7.1 | SofaScore Rating: 7.1 | FotMob: 6.3
Bryan Oviedo: 7.5
Left-back
Oviedo has strung together a few decent performances recently, and tonight was another solid effort from the Costa Rican. For starters, he put in a dime of a cross that Brody managed to find a way not to score on. The cut, timing, and technique are all examples of why Pablo uses him as a left-winger on occasion. On the defensive side I don't think there was much to complain about, his speed was rarely punished, and didn't have much involvement with either goal allowed. Even if the first LA goal came down his side, the penetrating pass was central, and up to Vera and Palacio in that situation.
WhoScored Rating: 7.1 | SofaScore Rating: 7.5 | FotMob: 7.2
Marcelo Silva: 6.0
Center-back
For the whole of this match, I think Marcelo is closer to what the stat sites handed out for his rating. What those sites lack is the burning image in my head of Silva laying down for a tackle in the 40th minute, and allowing a near certain goal. Only by the grace of a subpar pass and some MacMath heroics did that mistake not get punished, but by every account it should have absolutely been punished. Outside of that bewildering moment, he put on some acceptable defending for 90 minutes. I'm unsure if he was out of position on the second goal given AppleTV decided to not show 90% of the field during the buildup. He very well may have pressed too far out of position, but I lack any direct evidence.
WhoScored Rating: 6.8 | SofaScore Rating: 7.0 | FotMob: 6.5
Brayan Vera: 5.75
Center-back
Post game reports let us know Vera came off at halftime because of an ankle issue, but live I wasn't so convinced it wasn't for poor play. Brayan was at the heart of both goals allowed, playing a significant role in both cases. The first being some rather suspect kneeling motion to block a pass – that was promptly dribbled around harmlessly. The other being the more egregious, where he simply lacked any hustle to put pressure on a wide-open Costa. Could he have arrived in time to stop his shot? Almost certainly not. But the total lack of effort to put pressure on the free attacker was extremely disappointing, and MacMath was rather vocal about it after the ball found the inside of his net.  
WhoScored Rating: 6.0 | SofaScore Rating: 6.3 | FotMob: 6.3
Andrew Brody: 6.5
Right-back
It was a slightly unusual night for Brody, in several areas. Obviously there was the clear-cut chance that he slammed off the crossbar, managing to steal a miss from the jaws of a goal. Sure we don't pay Brody to score goals, but I'd take just about anyone – professional or not - and expect a goal there. Yes, even you reading this. The other big surprise was that he was subbed off in the 75th minute, which normally may not move the radar, but in a game where we had 3 "extreme hardship" substitutes on the bench, it raised an eyebrow. Even more so given it was a swap for Löffelsend, who hasn't played any real right-back minutes since his college days.
WhoScored Rating: 6.7 | SofaScore Rating: 6.8 | FotMob: 7.2
Midfield
Emeka Eneli: 7.25
Center Midfielder
Eneli isn't enjoying the minutes he was earlier in the season, but his form seems to have hardly suffered as a result. Emeka puts his legs to work and doesn't stop for 90 minutes, and today offered those services as an productive industrious midfielder. While it's rarely flashy, Eneli always seems to do an above average job, and Saturday night was no different. 49 of 50 passes completed successfully and all without managing to get dribbled by a single time. While you could maybe fault his positioning a bit during the first goal, you can't fault him making deep sprints 85 minutes into the game to save a ball and try to inspire the team. Whether it's at CM or RB, Eneli almost certainly deserves more minutes as a substitute than he is getting.
WhoScored Rating: 6.8 | SofaScore Rating: 7.0 | FotMob: 7.9
Nelson Palacio: 7.0
Center Midfielder
Nelson had a decent game compared to some of his others for RSL. While his numbers didn't quite match up to Eneli, he was pretty close in most regards. The outlier for him being the assist he was credited with on the first Julio goal. While I won't belittle the importance of an assist, his short pass to a wide-open striker that ended up wildly deflecting into the goal isn't exactly part of what I'd consider a standout night. I think Palacio played reasonably well despite allowing a few more open passing lanes than I'd like to see.
WhoScored Rating: 6.9 | SofaScore Rating: 7.1 | FotMob: 8.0
Maikel Chang: 6.75
Right-winger
Normally I'm a bit higher on the under-the-radar-Chang-appearances like this one. While Maikel certainly left his mark on the game with 68 touches, he bounced between being our most assist-minded player and wasting possession. The 32 year old veteran led the team in both key passes completed, as well as losing possession. You could argue that despite tee-ing up the most attacks, his general lack of assists makes it a poor night. Otherwise, I'm simply happy to see Chang slide in and offer a real rag-tag group a high number of attacking chances.
WhoScored Rating: 7.1 | SofaScore Rating: 7.3 | FotMob: 7.9
Diego Luna: 8.25 (MVP)
Left-winger
A rare 90-minute game for Luna saw one of his better performances of the season. In a game where attacking options were limited by player absences, Diego stepped up in a big way to offer valuable attacking possession, chances, and ultimately finishing. While he certainly spent long spells of the game centrally and not necessarily out left, the creative output clearly outdid the need for formational structure in this contest (not always the case). Luna touched the ball 80 times and contributed a trio of key passes; however, his moment of quality to score the 2-2 is his clear highlight of the night. It was a cool and professional finish, one that not only looked strikingly similar to Javier Morales's goal in Monterrey during the CCL finals, but even occurred during an almost identical match situation. 
WhoScored Rating: 7.8 | SofaScore Rating: 7.6 (co-MVP) | FotMob: 8.3 (MVP)
Attack
Anderson Julio: 7.75
Advanced Forward
Julio managed to grab an even share of MVP votes as Luna from the rating websites, in a game where we desperately needed Julio to have an impact. Him finding a goal in this game - especially given the little 0-2 situation before halftime - was a major morale saver for the team. Obviously there is no way of knowing just how much quality his shot had before it deflected its way into an unsavable position, but the shot itself is what mattered – besides, we can give the benefit of the doubt. Despite 50% passing over his 84 minutes, Julio did take place in 11 duels to illustrate his effort in the pressing game Saturday night.
WhoScored Rating: 8.1 (MVP) | SofaScore Rating: 7.6 (co-MVP) | FotMob: 8.0
Damir Kreilach: 6.0
Advanced Forward
Given the lack of minutes Damir has had in recent weeks/months, a starting 60-minute effort is a solid contribution from the 34 year old Croatian. Sadly providing minutes was about the most important value he added to the team on the night. Kreilach did his best to be involved, tracking back and collecting a high number of touches for a center forward – as well as slamming a healthy amount of shots. His only attempt that mattered was the one that deflected out to Palacio to set up the Julio goal. While it wasn't a memorable night for captain Kreilach, he didn't fumble his role or anything either.
WhoScored Rating: 6.2 | SofaScore Rating: 6.7 | FotMob: 6.5
Substitutions
Bode Hidalgo: 6.75
Center-back
RSL was greatly lacking depth for this contest, and center-back was no exception. With Vera out at halftime, Hidalgo was the most reasonable CB sub we had to replace him, despite Bode's obvious lack of minutes in this position. The emergency sub not only did his job, but did it quite well for my money. The second 45 remained scoreless, and that had something to do with Hidalgo's performance. Hopefully being played out of position doesn't happen too frequently, but should it occur again, I would be a bit less worried about this insert.
WhoScored Rating: 6.5 | SofaScore Rating: 6.9 | FotMob: 6.4
Carlos Andrés Gómez: 6.75
Left-winger
Gómez was another player that rose to the occasion and offered some attacking prowess to the match. He seemed to be a bit of a man on a mission, dribbling down the left side to create multiple chances and fashioning a strong shot for himself. Given that Carlos often tends to be more wasteful and less dangerous, this was a strong match for the young prospect.
WhoScored Rating: 6.6 | SofaScore Rating: 6.9 | FotMob: 6.7
Jasper Löffelsend: 6.5
Right-back
In a rather strange turn of events, Jasper came into this game and played as an outright right-back. This is puzzling given the last time we tried this was in pre-season of Jaspers rookie season. In those matches he was pretty poor, and thus moved to CM where he looked much better. Eneli, who has played right back this season, remained as a center mid despite Japer coming on. This doesn't have much to do with Löffelsend's match, but it was quite perplexing. In his 15 minutes, Jasper passed the ball well and had no real errors.
WhoScored Rating: 6.3 | SofaScore Rating: 6.8 | FotMob: 6.3
Axel Kei: N/A
Advanced Forward
Kei came on and was lively for his 6 minutes, given his age and quiet performances in MLS NEXT Pro, I doubt we see Axel for a couple more years in any notable role. Still, a highly intriguing prospect for down the road no doubt. 
WhoScored Rating: 6.1 | SofaScore Rating: 6.6 | FotMob: N/A
Zavier Gozo: N/A
Right-winger
The ball didn't come to Gozo as much as it did Kei, giving us no real insight into his very short debut. Zavier too is probably a few years off making any first-team shouts. 
WhoScored Rating: 6.1 | SofaScore Rating: 6.4 | FotMob: N/A