Match Coverage
Player Ratings: RSL vs. Colorado Rapids
Who stood out in RSL's important win over Colorado Rapids?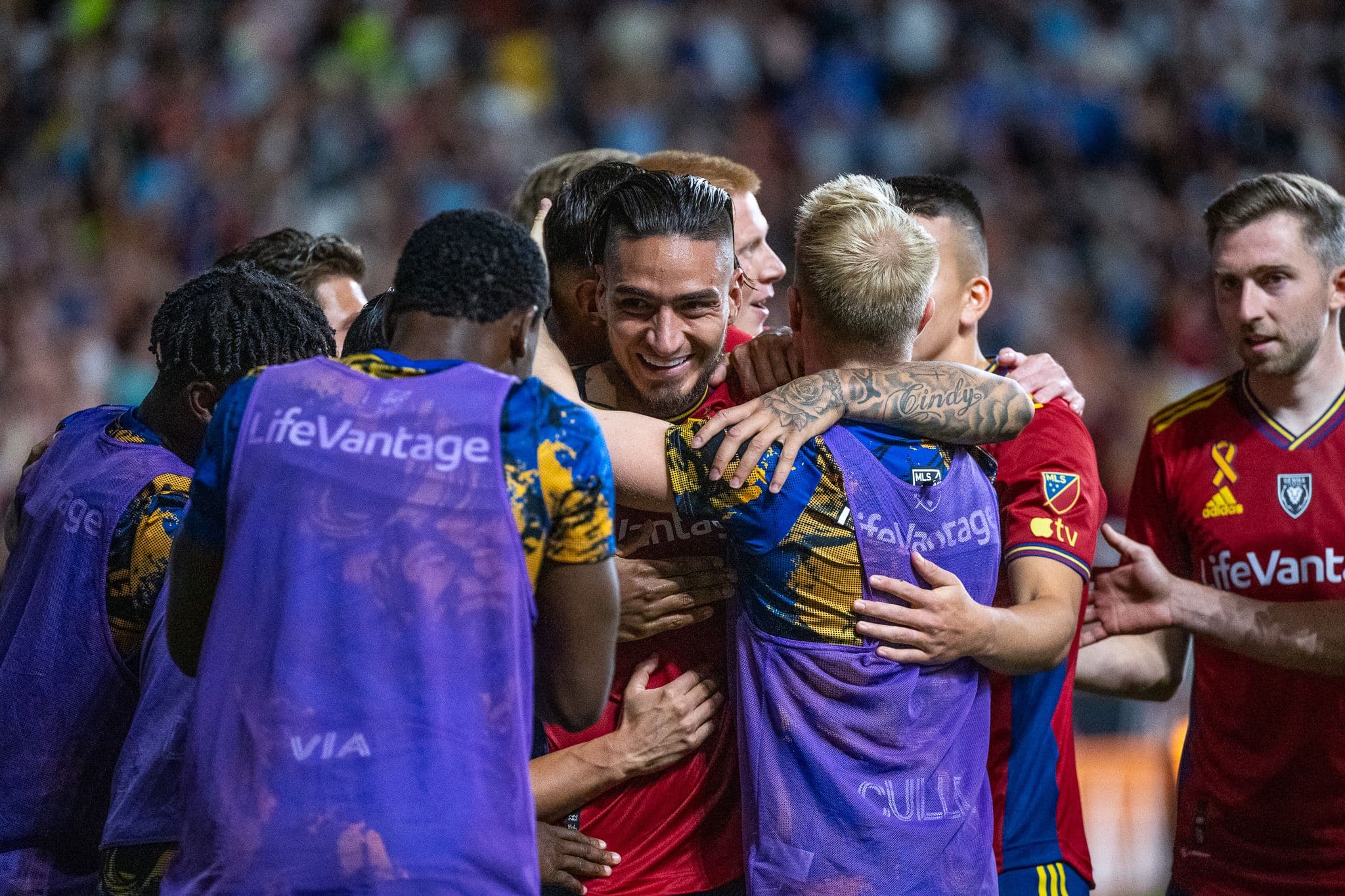 Defense
Zac MacMath: 7.25
Goalkeeper
Solid game from MacMath who was up against easily the worst attacking unit in MLS. Of his two saves on the night, his parry early in the first half, stands out as a potential big moment. Outside of that, he mostly earned his merit simply by commanding the box and keeping things clean and error-free in build-up play. Given clean sheets have been hard to come by recently, we'll take the confident performance as a boost that hopefully carries onto more dangerous teams.
WhoScored Rating: 7.4 | SofaScore Rating: 7.7 | FotMob: 8.0
Bryan Oviedo: 7.0
Left-back
Taking into account some of the recent performances from Bryan, this match certainly marked a pleasant surprise. While there were a few questionable moments in defense, the Costa Rican international did well to get down the byline, and serviced 3 key passes from the left flank this game. I think it's hard to read too much into Oviedo's game more than anyone for RSL, given that not only was he up against a weak Colorado attacking unit, but two of the worst three opposing players on his flank. One does have to wonder if it's better to start Brody on the left and have Hidalgo or Eneli run things on the right. With 7 games left in the season, it's safe to say there is still no established wide-back starting combo.
WhoScored Rating: 7.7 | SofaScore Rating: 7.7 | FotMob: 8.2
Justen Glad: 7.0
Center-back
A quiet and clean performance from Glad, who probably needed it more than anyone else. August was not the best month for Justen, and when he is not playing well it's almost always true RSL is not playing well. Over the course of a season, every player will run into a poor run of form at some point or another, but with Glad, it's important those lows don't drag on for too long. While Colorado didn't ask too many questions of him, Justen did do well in the moments he needed to. Is his bad form a thing of the past? It's hard to say, but hopefully August Glad remain August Glad, and the new month will bring something more familiar.
WhoScored Rating: 7.1 | SofaScore Rating: 7.4 | FotMob: 7.3
Brayan Vera: 8.0 (MVP)
Center-back
It's probably fair to say Vera may have been rubbing a few fans the wrong way with his overly excessive physicality and questionable defensive lapses. I may be one of those fans. This may have been a standard Vera game in some way, but in others he really shined. It goes without saying his goal was a beauty. I was rather shocked to hear post-game commentary on how keeper error was really the highlight of that play. Given the bullet-like nature of the shot, the obscured view through the wall, and the deceptive run made by Savarino, I don't think it's a given any MLS keeper saves that. I've seen keepers get frozen or even move the wrong direction on those. Was it savable? Yeah. Was it good enough to score? Yeah. Rant aside, there was only one weird mishap from Vera on a sideline play where he let a player beat him inside. Brayan also picked up yet another yellow despite already leading the team in that category. That aside, he's a very fair vote for MVP.
WhoScored Rating: 8.5 (MVP) | SofaScore Rating: 8.1 (MVP) | FotMob: 8.4 (MVP)
Andrew Brody: 6.75
Right-back
The attackers on Brody's side of the pitch were pretty inactive, and for the most part, left Andrew with a pretty quiet evening. He was perfect on pass attempts outside of 4 rather poorly crossed balls into the box. Over the year, his dribbles have been improving as well, more reliably getting them off his feet and to a player in Claret and Cobalt. Outside of that and a good first 10 minutes, it's hard to think of what else to really praise from Andrew on the night, simply a solid shift from the former Monarch champion.
WhoScored Rating: 6.9 | SofaScore Rating: 7.0 | FotMob: 7.6
Midfield
Braian Ojeda: 7.0
Center Midfielder
It is pretty clear that without Ruiz in, Ojeda becomes the go-to creative outlet for the midfield. However, this game didn't go quite as planned. Ojeda was walking some weird balance where he was the more advanced midfielder, but usually just running backward to collect passes. The result? A lot of one-touch possession passes back to center-backs. It made our possession numbers on the night look really solid (57%), but led to Ojeda collecting 0 key passes over his 90 minutes. While I don't think he played badly from an objective standpoint, I also don't think we had him out there just to recycle possession. Given he made 13 duel attempts – far more than Palacio - I'll still give a safe 7 here.
WhoScored Rating: 7.2 | SofaScore Rating: 7.2 | FotMob: 7.5
Nelson Palacio: 6.5
Center Midfielder
Palacio had an 85-minute shift before coming off near the end of the match. While it was a low-key night for the new signee, it still carried a few surprises. The biggest was a solid 44/44 passing, being credited without misplacing a single one last night. That's absolutely what you want to see, in stark contrast to his 0 completed tackles and 1 single duel win. Obviously, minutes have helped Nelson start to gel with the team, but there are still real questions to be asked as to what he offers, or what role he fills in the midfield. He does make some defensive plays, but nothing more than what you'd see from any of the other midfielders on this roster.
WhoScored Rating: 6.5 | SofaScore Rating: 6.6 | FotMob: 7.0
Maikel Chang: 6.75
Right-winger
Mastroeni intentionally put out a veteran side to see an end to the current poor run of form, and few can compete with Chang's veteran resume. The Cuban ran the wing for 60 minutes in this one, and it by all accounts is what we've come to expect from Maikel. Decent defensive work, decent service, and overall hustle to help the cause. It's nothing that moves the needle, but he did notch an assist while flying under the radar, which is about as Chang as it gets.
WhoScored Rating: 6.9 | SofaScore Rating: 6.9 | FotMob: 7.1
Jefferson Savarino: 7.0
Left-winger
A slightly strange showing from Sava in this one, but still a quality performance nonetheless. Never short on creative ideas, Jefferson was proactive as always, and once again could be found popping up and dribbling in hard-to-defend spots. Despite that and being rather good in maintaining possession, his crucial ideas came short on the evening. He had one well-placed shot that tested the goalkeeper, and otherwise never contributed to anything too dangerous. Still, his work rate and dynamic play make this a solid performance, even for just 75 minutes on the pitch.
WhoScored Rating: 7.2 | SofaScore Rating: 7.3 | FotMob: 7.3
Attack
Chicho Arango: 7.75
Advanced Forward
A good night for Chicho, who showed off his aerial prowess in the 49th minute to take a 2-goal lead. While his header into the far post netting was undoubtedly his key moment of the game, the Colombian logged a productive 87 minutes alongside it. In separate moments in the first and second half, he provided service that easily could have led to goals. Considering his strong hold-up play and incredibly active stat line, there's good reason to celebrate his performance. While it was short of anything dominant, and hardly against a stellar defense, hopefully a match like this can build some confidence and momentum.
WhoScored Rating: 7.9 | SofaScore Rating: 7.5 | FotMob: 8.2
Damir Kreilach: 6.75
Advanced Forward
Another veteran on the field, Damir once again offered a performance that's hard to identify with stats. Perhaps the most frustrating thing about the loss to Houston last week was the utter lack of pressing to prevent the opposing defense from connecting passes right down the center of the field. Damir organizes the press better than anyone on the team, and it's a much-needed boon to the new partnership of Ojeda/Palacio. While he was otherwise quiet with a few mistakes, he did only misplace two passes all night and collected 41 touches in the process.
WhoScored Rating: 6.9 | SofaScore Rating: 6.8 | FotMob: 6.8
Substitutions
Rubio Rubin: 6.0
Right-winger/Advanced Forward
With 30 minutes on the field, I can remember two decent passes and some good hustle backward while on the wing. He completed 8 passes and was tagged with losing possession 6 times.
WhoScored Rating: 6.1 | SofaScore Rating: 6.5 | FotMob: 6.2
Diego Luna: N/A
Left-winger
Connected 11 passes in his 15 minutes, and generally seemed lively and attack-minded.
WhoScored Rating: 6.2 | SofaScore Rating: 6.6 | FotMob: 6.5
Anderson Julio: N/A
Advanced Forward
Launched a nice attempt on goal, but was otherwise uninvolved or offside in his 15 minutes.
WhoScored Rating: 6.4 | SofaScore Rating: 6.8 | FotMob: 6.6
Bode Hidalgo: N/A
Right-winger
Came on in the 87th for a cameo.
WhoScored Rating: 6.1 | SofaScore Rating: N/A | FotMob: N/A
Emeka Eneli: N/A
Center Midfielder
Came on in the 87th for a cameo.
WhoScored Rating: 6.3 | SofaScore Rating: N/A | FotMob: N/A