Match Coverage
What we're watching in Real Salt Lake vs. NYCFC
RSL host a struggling NYCFC team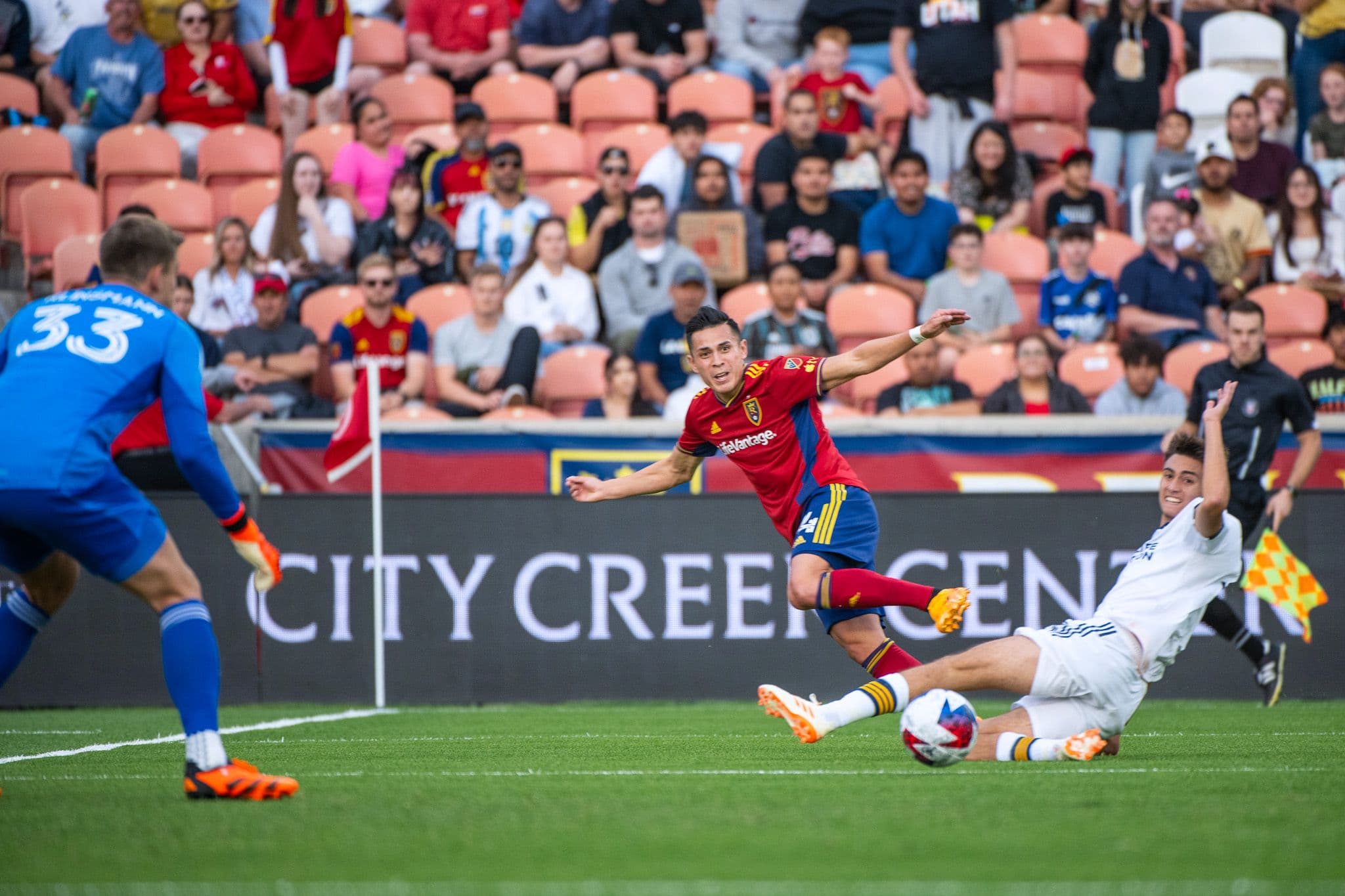 Real Salt Lake are coming off back-to-back wins, having defeated the LA Galaxy at home in the US Open Cup by a 3-2 scoreline, and capturing all three points at Austin in a 2-1 win. NYCFC, who won MLS Cup at the end of the 2021 season, are in terrible form. In their last 7 games, they have 5 losses and 2 draws. They now sit in 13th place in the east. Overall these two teams have met just 6 times, with RSL winning 4 of those games, though the memory of the 6-0 at NYCFC last April will surely be top of mind for the RSL players.
The advantage of two forwards
RSL's 4-4-2 system is starting to pay off as the two center forwards are having a meaningful effect on the game. Against the Galaxy, Rubio Rubin received the ball from Andrew Brody, carried nearly to the end line before cutting it across the goalmouth for an onrushing Damir Kreilach to smash home. Rubin had another similar moment in the 45th minute when he does a low cross from within the box to Gomez, who puts it just wide. Gomez tried the same pass later in the game, which indicates a better pattern of attacking play. With the team not send long crosses floated into the air, but they now work the ball up and make more dangerous attacking passes, it has a huge effect. With Musovski, Rubin, and Kreilach all firing, RSL's attach looks much better.
Where are the holes on this team?
It's been reported that RSL are bringing in Chicho Arango. That's a massive signing for the team, but it seems like the front office might have a few more players to add to the roster before the window is over. Braian Ojeda's loan ends this summer and it's unclear if RSL will spend the (large amount of) money to keep him. The defensive has had issues throughout this season. There are rumors that Savarino may return to Brazil. It's a good time to start asking where the team needs to improve in the summer window.
Ledezma
RSL Academy product Richie Ledezma is on loan from PSV Eindhoven to NYCFC. He's a player many RSL fans were disappointed to see go to Europe without ever getting a first team contract with Real Salt Lake (though he did make 5 appearances for the Monarchs). His return to Utah will be interesting to see. He'll face the team that developed him, but he hasn't exactly been a standout player for NYCFC so far. He has provided 4 assists in the 12 games he's played in for New York City, but he also has an own goal, which was a pretty spectacular header. There's still a big question around Ledezma if he'll be able to grow into the player he promised to be at a young age.
Player availability
Out: Farnsworth (thigh), Holt (shoulder)
Questionable: Oviedo (calf)
Probable: MacMath (concussion)
Monarchs: Kei, Nyeman, Paul
Predicted lineup