Player Ratings
RSL vs. LA Galaxy: player ratings
RSL beat the Galaxy 3-2 to advance in the US Open Cup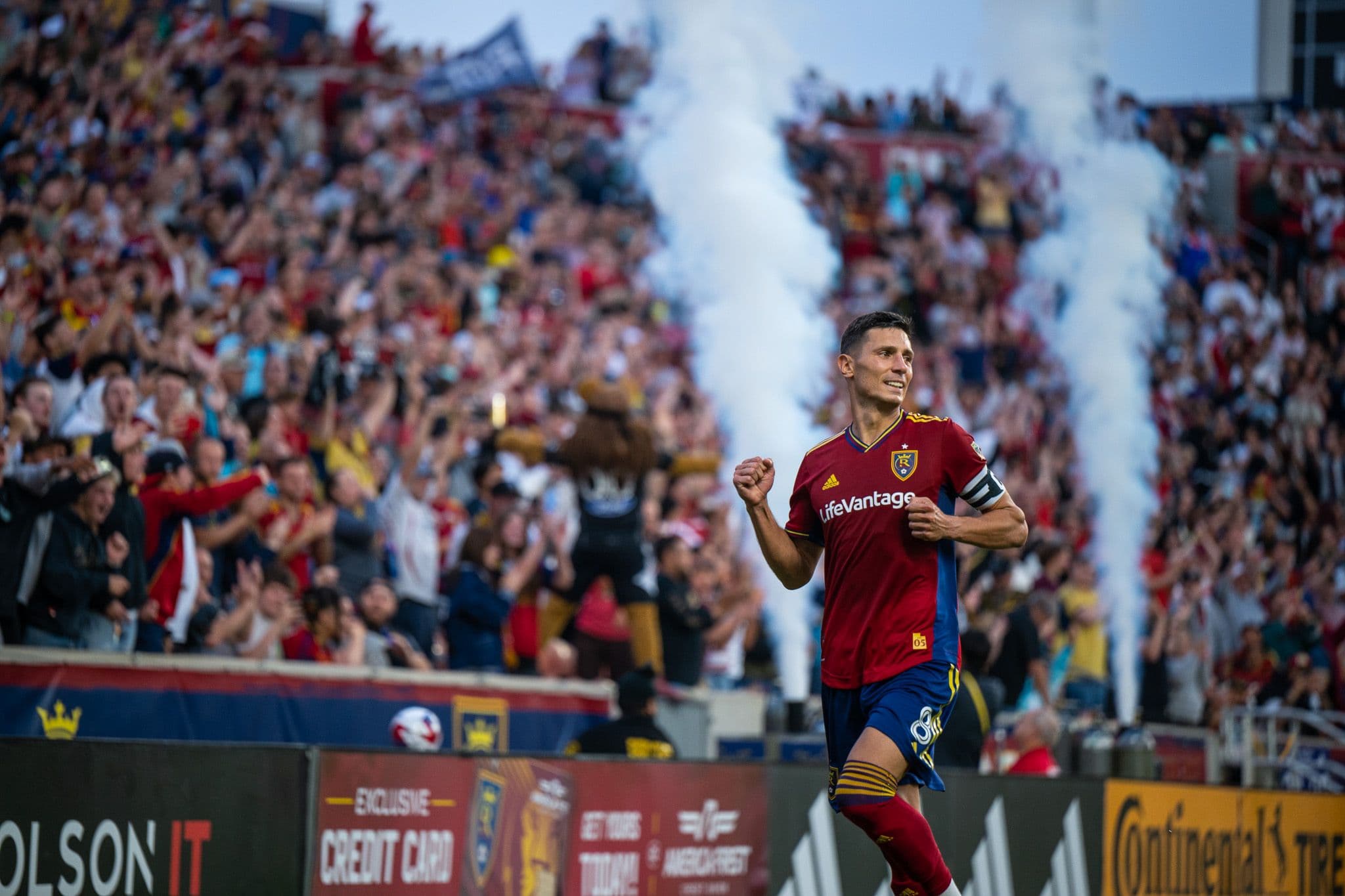 Lucas Muller | Wasatch Soccer Sentinel
Defense
Gavin Beavers: 7.25
Goalkeeper
Last I heard MacMath should be back in health to compete for Saturday's game against NYCFC. Overall, from this 3-game run from Beavers, I think fans will be feeling somewhat confident in Beavers as an option, and certainly as an option for the future. In this match, Gavin was solid to good, once again with little to do about the goals he let in. He kept the team in the game with his 4 saves, a few acrobatic ones, and gave a good account of himself. For being 18 years old and 6 foot 4, Beavers is probably a more exciting prospect than even Ochoa was.
WhoScored Rating: N/A | SofaScore Rating: 6.9 | FotMob: 7.4
Bryan Oviedo: 6.75
Left-back
Bryan was a bit frustrating at times, and in 66 minutes did manage to lose possession an impressive 11 times. While this certainly didn't help the defensive effort, he was also removed from the game before either LA goal went in. Creatively he was playing above his standard, not only notching a pair of key passes, but also hitting over 90% possession. If his first touch and control had been a bit better, this is an easy 7.0+ game from the left-back. WhoScored Rating: N/A | SofaScore Rating: 6.9 | FotMob: 7.1
Justen Glad: 6.75
Center-back
For long spells of the game, the LA press was forcing RSL to have to create essentially by long ball only. Which is fine, at many times RSL could launch the ball into 4v4 scenarios, which, based on how hard it can be to score, is all well and good by me. Glad was a bit off in most of his service on the night, more often than not hitting balls to LA players or out of bounds. It would have been the perfect game for him to take over with his defensive service. That said, defensively there wasn't much to complain about for me, he blocked 2 shots which is vital, and did well in keeping the ball. There is an argument to be had if he was out of position on the first LA goal.
WhoScored Rating: N/A | SofaScore Rating: 6.6 | FotMob: 6.9
Marcelo Silva: 6.25
Center-back
Maybe a bit of a harsh rating on Silva who hardly put a foot wrong all game – it's just that the foot he did put wrong was oh so wrong. It may have been a light penalty, but it will get called every time in that situation – thus making it pretty inexcusable. It's even worse when considering that Glad had recovered before the grounded kick, meaning help had already arrived in some form. Aside from the obvious mistake, he was doing incredibly well with the LA press, and hit 48/49 passes despite the opposing vanguard chasing down every ball. It was by all means a pretty good game for Silva, but his mistake let LA back into a game they had no business being in.
WhoScored Rating: N/A | SofaScore Rating: 6.4 | FotMob: 6.7
Andrew Brody: 7.0
Right-back/Left-back
Everything was going great for Brody until he was moved to left-back in the 66th minute. He was lights out on his defending, and blocked both crosses and shots from becoming dangerous. It's easy to forget that despite the 2-0 half time score, LA did have some dangerous moments in the first half, and without Andrew running his tail off, it easily could have had a different score line by the break. He was for sure a standout player, and best defensive player in the first half. The last 20 minutes when he got moved to the left? Not so great. His defense played a part in the second goal, and he was one of many players who was quick to give up possession late in the match. A glorious first half and a subpar last 20 minutes average out to a solid game.
WhoScored Rating: N/A | SofaScore Rating: 7.1 | FotMob: 7.4
Midfield
Pablo Ruiz: 7.5
Defensive Midfielder
More than any stat here, it just felt like Ruiz was playing with an air of confidence for most of this match. When he was on the ball, there was always a calming feeling that he'd make a good move, and for the most part always did. Eye test aside, his actual stats validated his performance, 82 touches for 94% passing is exactly the kind of performance the team needed against a dangerous opponent. This time around Puig was far less effective, and a lot of that credit goes to Ruiz. He faltered a bit at the end of the game and got subbed out, but given the whole performance, Ruiz was a positive force on the game.
WhoScored Rating: N/A | SofaScore Rating: 7.5 | FotMob: 7.8
Emeka Eneli: 7.0
Defensive Midfielder/Right-back
Eneli clocked 66 minutes alongside Ruiz in the midfield, before finishing out the rest of the game playing right-back. Perhaps it was because Ruiz looked so locked in, but Eneli felt less sharp in comparison, and especially in the first half, struggled to get the ball off his feet at times. At right back he was less effective than Brody as well, however, the game called for something different at that point. To his credit, I don't think he really had any fault on the first goal. He could've sprinted to provide triple cover, but who would ever expect Silva and Glad to be so uncoordinated in that moment. All in all, no real blame to assign here and a solid 90 minutes played.
WhoScored Rating: N/A | SofaScore Rating: 7.1 | FotMob: 7.8
Carlos Andrés Gómez: 6.5
Right-winger
A bit of a typical Gómez game; creating a lot of dangerous positions with his dribbling, but executing on very few of them. I hark that the creating part is more important than finishing in his case, as long as he continues to present a threat to opposing teams, he is a worthwhile starter every game. And at RSL, we appreciate giving minutes to talented 20 years olds (Like Luna this weekend!). I do think Gómez played a pretty good first half, and maybe could've been subbed off a bit earlier. He had a chance at a flick that wasn't far off from slipping inside the post.
WhoScored Rating: N/A | SofaScore Rating: 6.3 | FotMob: 6.9
Jefferson Savarino: 8.0
Left-winger
Without a doubt an electric game from Savarino, who was performing flicks and tricks all night long. He did his job well as a creative catalyst of the team, and added many dribbles and key passes in his 66 minutes on the field. His goal was a bit un-Sava like, but still showed his class in attack with a change of direction and sending Klinsmann the wrong way. He did get a little frustrated/tired before his substitution, probably because he had tracked back so often that he took part in 11 ground duels. Here's to hoping the rumors out of Brazil don't materialize into anything, and we can enjoy Savarino for many more lively Sandy nights to come.
WhoScored Rating: N/A | SofaScore Rating: 7.7 | FotMob: 8.2
Attack
Damir Kreilach: 8.75 (co-MVP)
Advanced Forward
I've been vindicated in my belief in Damir for many weeks now. A slower, less sharp Damir is still more than good enough to start for this team and provide goals. The first goal Wednesday is a clear example of what a fox-in-the-box type player can provide with their mental abilities. Damir will always put himself in good positions, until his legs have no gas to move at all. Add in the confidence and leadership you get not only in the locker room, but also in organizing the team and attacking press, and it should be clear why Kreilach should be a lock-in starter. The fact that he has now shown good link-up play with both Moose and Rubio certainly helps too.
WhoScored Rating: N/A | SofaScore Rating: 8.4 | FotMob: 9.0 (MVP)
Rubio Rubín: 8.75 (co-MVP)
Advanced Forward
Rubín really needed to prove that his game out in Austin wasn't a fluke, and while he didn't score Wednesday night, no fan can deny the performance he gave. Not only did both assists (and good ones) come off his foot, but he helped sell the foul that won RSL its late first half penalty kick. While his passing was a bit less sharp than usual, he did manage 2 other key passes that didn't end in goals during his 66 minutes – leading the team. This is enough for me to think Rubio deserves just as much of a shout as Damir, and hand out a rare co-MVP honor. It was awesome to hear on the radio about how the 2021 partnership between Damir and Rubio led to both of their best ever seasons, and how they want to recreate that energy.
WhoScored Rating: N/A | SofaScore Rating: 8.5 (MVP) | FotMob: 8.8
Substitutions
Braian Ojeda: 6.25
Defensive Midfielder
Once again, I'm putting weight on Ojeda's performance that is skewing it down. Offensively I think he was totally fine, and showed a few good moments over his 25 minutes. However, given that he was subbed on with a 3-0 lead, and the game slipped into a chaotic 3-2 ending, I'm less than impressed with the defensive stability on display. Mind you, that was hardly his fault alone - as pointed out by Mastroeni after the game, but when the game called for a strong defensive performance, he didn't deliver one.
WhoScored Rating: N/A | SofaScore Rating: 6.4 | FotMob: 6.7
Anderson Julio: 6.0
Advanced Forward
Pretty close to a non-factor given the defensive emphasis over the last half hour. He did however touch the ball 13 times and complete all 7 passes he made, which is good for a Julio bench appearance. One would think with how incredibly open the last 10+7 minutes of the game were, Anderson probably should've had a run to unlock the defense to at least create a single chance. WhoScored Rating: N/A | SofaScore Rating: 6.5 | FotMob: 6.1
Maikel Chang: 5.5
Left-winger
Whereas Julio simply didn't have an impact, I would argue Chang probably added a negative impact. His defending was not there, when that's what the flow of the game demanded, and even moving forward in transition he could never find the middle ground. Either being too conservative, or far too risky. His shaky defending contributed to the 2nd LA goal.
WhoScored Rating: N/A | SofaScore Rating: 6.2 | FotMob: 6.1
Bode Hidalgo: N/A
Right-winger
Lost possession 4 times in 7 minutes while the team was defending a 1 goal lead. It was less than impressive, but I'll spare him a rating given the short appearance.
WhoScored Rating: N/A | SofaScore Rating: 6.2 | FotMob: N/A
Jasper Löffelsend: N/A
Defensive Midfielder Came on for the final minutes of the game and didn't allow a goal despite one bad give-away. All's well that ends well.
WhoScored Rating: N/A | SofaScore Rating: 6.9 | FotMob: N/A