Match Coverage
RSL vs. Colorado Rapids, USOC: Player Ratings
Who got top marks in Real Salt Lake's 1-0 win over Colorado Rapids?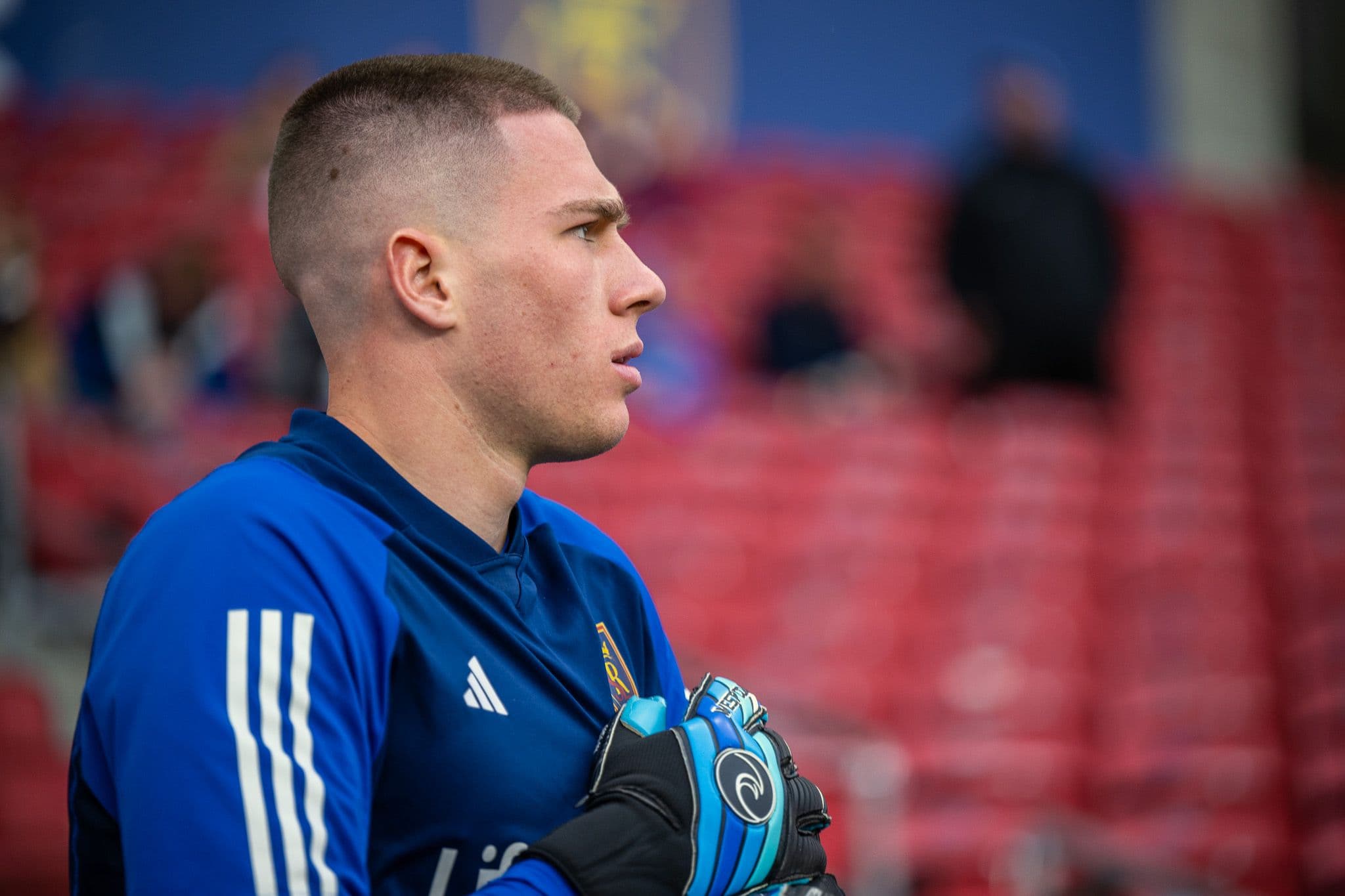 Defense
Gavin Beavers: 7.25
Goalkeeper
There are some congratulations in order for the young goalkeepers first ever RSL shut out. It took three saves on his part, though only one that required real effort to keep out. When the ball was sent his way, he did what he was supposed to, save it, or launch it down field. I know with young goalkeepers something they often work on is long ball accuracy and playing out of pressure. To that I wouldn't give Gavin particularly good marks, but he got the important things done successfully.  
WhoScored Rating: N/A | SofaScore Rating: 7.8 (MVP)
Andrew Brody: 6.0
Left-back
For the vast majority of this game, Brody was clocking a 6.5+ rating, passing the ball well and doing a reasonable job getting up and down the flanks. The last oh, 10 or 15 minutes, I was pulling my hair out at his defending. The entire unit was defending urgently, but for whatever reason (probably tired legs) Brody was happy to repeatedly give attackers space and allow them to send in passes and crosses to their choosing. Given that everyone else in gold was scrambling to apply pressure and prevent any attacks, it was incredibly frustrating to see. The only reason I can see for this is that he was running on empty by the end, but given he only featured 6 minutes in the Saturday game, I struggle to see it. RSL is fortunate this didn't cost them the result.
WhoScored Rating: N/A | SofaScore Rating: 7.2
Justen Glad: 7.0
Center-back
It wasn't a masterclass by Glad, but he was the best defender we had out there, and given we kept a clean sheet, gets his deserved credit. Looking at his heat map, you might think he was lined up at right-back for the game. I think this is largely due to the pressure that Colorado was putting on that side, which was successfully nullified. SofaScore agrees with me that Galván was the worst player on the field by some margin (6.0), and it was largely due to RSL's defending on this side with Glad and Eneli. A good appearance from Captain Glad.
WhoScored Rating: N/A | SofaScore Rating: 7.4
Brayan Vera: 6.5
Center-back
Vera gets a pass where Brody doesn't, because unlike Andrew, Brayan played the full 90 minutes on Saturday, and then was given another start in this game. He was slower than usual, and less sharp, but given the absurd number of minutes he has soaked up recently, it's to be expected. Vera may be the signing of the offseason with how solid and reliable he has been for RSL; however, in this game it was enough for him just to eat up minutes and pass the baton over to Silva.
WhoScored Rating: N/A | SofaScore Rating: 6.7
Emeka Eneli: 7.75
Right-back
Are we sure that we don't just want to keep Eneli at right back? As noted in Glad's rating, Eneli was very busy on the right side, and did a very commendable job in shutting down many Colorado attacks. Was it perfect? No. But it was really darn good. The only obvious downside you can point to is his ball security - a subpar passing rating and more than a fair share of giveaways. Outside of that he was a rock, and looked dominant both on the pitch and on the stat sheet. 11/15 duels won, 7 tackles, several clearances and a few other key stats. Out of all of our first-round draft picks this year, the third one may just be the most MLS ready.
WhoScored Rating: N/A | SofaScore Rating: 7.6
Midfield
Pablo Ruiz: 6.5
Defensive Midfielder
It was another solid outing for Ruiz, but lacking from his usual standard. Before I get into the bad, I will once again note that Pablo played 90 minutes Saturday and 90 minutes in this match – the only player to do so. Given the workload, it's only fair to be lenient. His passing numbers were notably poor this time around, hitting below an 80% clip for the first time in a while. Ruiz wasn't at his creative best on the night either, fashioning only 1 key pass over the course of the game. He was at least very engaged defensively, managing to win over 2/3rd of his challenges, and helping keep the shut out. However, the shot in the first half where Colorado hit the post, was in my opinion, created by poor marking from the Argentine. Hopefully he gets a rest against Minnesota.
WhoScored Rating: N/A | SofaScore Rating: 6.8
Braian Ojeda: 6.25
Defensive Midfielder
Ojeda clocked 30 minutes on Saturday and 60 minutes in this fixture, perfectly splitting 90 minutes between him and Jasper over the doubleheader. Sadly, in this match he was a bit of a non-factor, his decent passing numbers outshined by a few bad giveaways. Ojeda was involved in far fewer defensive actions than Ruiz, further muddying the water given he lacked contributions in the offensive categories too. While not strictly a bad outing, I think it was just more of the running and pressing effort that the young Paraguayan offered on the night.
WhoScored Rating: N/A | SofaScore Rating: 6.5
Carlos Andrés Gómez: 5.5
Right-winger
This match looked a lot like the start of the season for Gómez, who drifted off a bit too much, and lacked the confidence to take on players. The few times he did run at a Colorado player, he rarely connected a pass at the end. I've stated many times that patience will be needed with the new record signing, but Wednesday night was basically a dud that didn't inspire any confidence. I'm alright seeing Gómez push his limits and make mistakes, but this match he didn't really push his limits, and still offered little to the attack. 10/16 passing is what he contributed over his 85 minutes, a night to forget for sure.
WhoScored Rating: N/A | SofaScore Rating: 6.1
Maikel Chang: 6.0
Left-winger
The hero from last round got another start to help the team continue their cup run. What we got Wednesday was not some goal machine wearing a cape, but instead, Maikel Chang. Which contrary to popular belief, isn't such a bad thing, but it sure would've been nice to randomly see Chang competing for the US Open Cup golden boot. While I say it was a typical Chang game, it was actually less than that, as it certainly seemed like he was trying too hard at times to replicate his last cup game. 9/13 passing over 76 minutes with just a single cross from a player who is there to offer assists is un-inspiring. His best moment of the match came on a header that beat Marko Ilić but not the post.
WhoScored Rating: N/A | SofaScore Rating: 6.7
Attack
Anderson Julio: 7.5
Advanced Forward
Julio only played 45 minutes of this match, but was undoubtedly one of the key players of the fixture. He sprayed out 3 key passes and an assist over the first half, and generally looked good with his pressing and running. As the commentators astutely pointed out on the goal, it was Julio's run that allowed Savarino so much space to place that shot. The coaching staff are constantly talking about the pressure players like Julio and Rubin are applying – generally correctly – and this was an easy to see example of it in action. Oh, and it was Julio's pressing that won the ball that led to the goal, a good outing for the speedy Ecuadorian.
WhoScored Rating: N/A | SofaScore Rating: 6.9
Jefferson Savarino: 8.0 (MVP)
False 9
Safe to say this time around the 'Savarino as a false-9 experiment' was much more impactful than the last. Obviously, his goal was a work of art, as most Savarino goals tend to be, and showed why he is the creative catalyst of the team. But outside of that, he clipped 91% passing, hit a few key passes, and even tracked back several times – one time late and blocked a shot (as Brody watched). Given how rarely defenders stand out for the chance to get top recognition, it feels a bit wrong to give Savarino the highest rating for Wednesday's game. However, I hardly think it can be understated the importance of having someone that can win a game off a bending shot like this. The efforts of someone like Eneli kept the game alive and winnable, but Savarino won the game. Without his quality, we remain scoreless and this match runs into extra time (terrible given the match congestion) or even PKs, a coin flip to decide a winner.
WhoScored Rating: N/A | SofaScore Rating: 7.4
Substitutions
Daniel Musovski: 6.0
Advanced Forward
Unfortunately for Moose, he played in the second half where RSL were much less willing to press forward. His major task of the match was to apply pressure with pressing, and did just fine in that role. Based on that, he managed only 13 touches on the night and didn't get too much of a chance to impact the game. I have a lot of questions of how he was so unreasonably offside on that one pass though.
WhoScored Rating: N/A | SofaScore Rating: 6.6
Marcelo Silva: 6.5
Center-back
It was a pleasant surprise to not only see Silva on the bench, but to even come on and get about half an hour of game time. While Holt did a fine job on Saturday, I assume most people feel safer with Silva taking those minutes at center-back. Despite being on the pitch for a 30-minute period of mostly defending, Marcelo only touched the ball 7 times, and really never ended up in (all but one) critical defending situation. Perhaps his biggest boon was giving a rest to Vera, but either way, nothing to complain about here.
WhoScored Rating: N/A | SofaScore Rating: 6.6
Jasper Löffelsend: 6.25
Defensive Midfielder
A few good passes, one very questionable one, we got a match full of Jasper moments condensed down into 30 minutes. He didn't have any moments that really looked to try and cement himself as the starter alongside Ruiz, but he certainly worked and did a solid job of his tasks. Had he actually given away a PK, this would be a different story. 
WhoScored Rating: N/A | SofaScore Rating: 6.7
Rubio Rubin: N/A
Left-winger
Appearance #2 of seeing Rubin as a left-winger, although only for 15 minutes this time around. Given how often I end up giving Rubio bad ratings, we'll give him a break here, but there was nothing too noteworthy here anyway.
WhoScored Rating: N/A | SofaScore Rating: 6.5
Damir Kreilach: N/A
Advanced Forward
Five minutes of Kreilach is better than 0 minutes of Kreilach.
WhoScored Rating: N/A | SofaScore Rating: 6.6