Match Coverage
RSL vs. Colorado Rapids: Player Ratings
Who got top marks in RSL's win against Colorado Rapids, and who struggled to make an impact?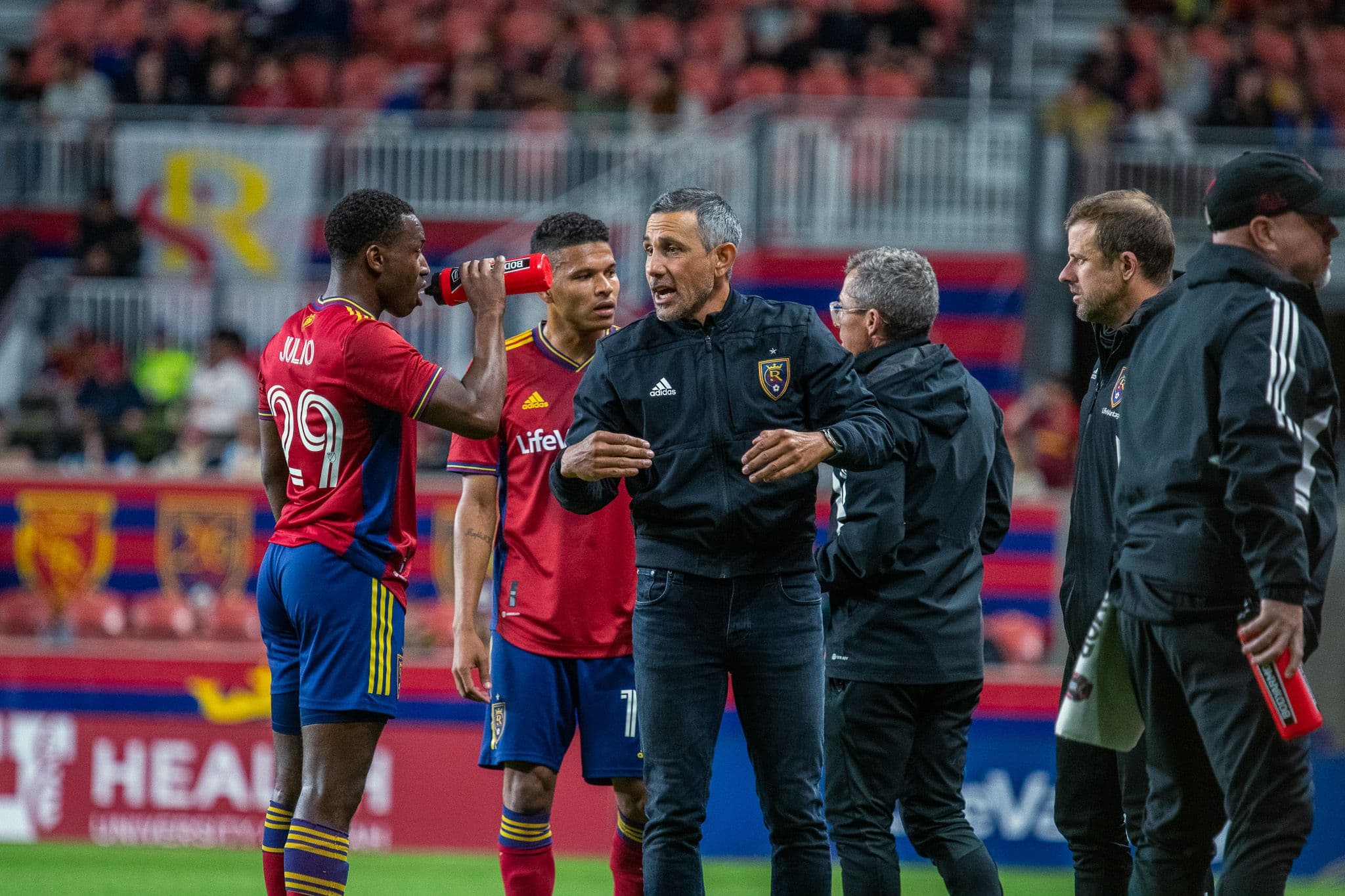 Lucas Muller | Wasatch Soccer Sentinel
Defense
Zac MacMath: 7.0
Goalkeeper
Another strong night from Zac, as both goals allowed were entirely out of his control. Defenders missing their marks and getting free headers is awfully unfortunate from a goalkeeping perspective. Outside of that, MacMath had two saves - one of which in the first 10 minutes was a world class dive, just knocking a shot off the post and away to safety. It has been some time since there have been any mistakes in the air from Zac, so outside of one bad pass to the opposing midfield, a pretty solid game from the in-form net minder.
WhoScored Rating: 6.9 | SofaScore Rating: 6.8
Bryan Oviedo: 6.25
Left-back
Not a bad night overall for the Costa Rican, but a bit short of his usual standard as well. For the good he did in winning the ball to help set up the second goal, he balanced it out with a pointless foul setting up Colorado's scoring free kick. The veteran defender was cramping up later in the game, but managed to carry on - another clear sign that his minutes should be managed through this busy patch of games. 
WhoScored Rating: 6.6 | SofaScore Rating: 6.4
Brayan Vera: 6.5
Center-back
Having to endure an entire game without seeing any big hits from Vera, we saw several in this game to make up for the lapse. It's enjoyable at times to see such a physical defender in play, something that RSL has been lacking for a while, and comes off as very refreshing. Still, in this match he got a little too excited when drifting from position, and made a few Colorado attacks much more dangerous than they needed to be. Luckily Glad had his back on a few plays in the second half, sparing Vera from any big embarrassment. 
WhoScored Rating: 6.2 | SofaScore Rating: 6.4
Erik Holt: 6.75
Center-back
While certainly a surprise to see Holt given an outright start, he made a strong showing in his rare opportunity to impress. Outside of almost being baited into giving a PK, he hardly set a foot wrong, and was incredibly accurate on his passes both short and long. It was only a 45 minute outing, but I think this performance will keep him firmly in the mix as the 4th/reserve center-back of choice if his shoulder heals up. 
WhoScored Rating: 6.4 | SofaScore Rating: 6.7
Bode Hidalgo: 6.25
Right-back
The more and more we see Bode Hidalgo week in and week out, the more I feel like there is a comparison to be made with what we used to see from Chris Wingert. It's rarely flashy, and certainly makes you feel insecure at times, but objectively his defending is pretty solid. Once again, an opposing player was able to blitz by him several times over the course of the game, this time Wilson. Given we've seen this a few times already, it's safe to say Hidalgo might be lacking a bit of acceleration, but despite that, he usually salvages the situation in a reasonable enough way. It's not strong defending, but it's often good enough to work.  
WhoScored Rating: 6.5 | SofaScore Rating: 6.5
Midfield
Pablo Ruiz: 7.25
Defensive Midfielder
If we're being honest about the goal, it was certainly off target before the opposing player clipped it back on frame. Of course the saying goes, if you take shots, good things will happen, but Ruiz takes a lot of shots, and having them go on target would be pretty cool. Outside of that, I think he still did a nice job of his midfield duties on the night. Mostly in terms of possession, where he completed a high percentage of long balls and 86% otherwise. Defensively there was more to be desired from Ruiz, but that's what we usually get from him anyway, he isn't, and won't ever be a 6. 
WhoScored Rating: 7.1 | SofaScore Rating: 6.9
Jasper Löffelsend: 6.5
Defensive Midfielder
A pretty under the radar game from Jasper. Based on the good and bad, he ended up about net neutral over the course of the match. It was only a 59 minute showing from the German, but it's good to see him logging solid minutes coming back from his ankle injury. With a busy stretch of games still ahead, RSL will need Löffelsend's engine to keep things under control in the midfield. 
WhoScored Rating: 6.7 | SofaScore Rating: 6.8
Bertin Jacquesson: 6.0
Right-winger
For another week in a row I think Jacquesson wasn't all too helpful to the cause, somehow finding the ball less often on the right wing that Gómez typically does. It all added up to 14 touches and 6/8 passing after an hour on the pitch before coming off. That said, he did have a shining moment on the set up on the third goal of the night. His speed and hold up play came in handy for Rubio and Damir to join the attack to eventually get the goal. 
WhoScored Rating: 6.2 | SofaScore Rating: 6.4
Rubio Rubin: 6.75
Left-winger
Without Chang or Savarino making the trip to Colorado, it seems that Rubin is the emergency left winger of choice. Given that, I would normally be more lenient on my ratings, but surprisingly Rubio did decently despite the adversity. It's safe to say he never really found the game, and spent long spells without having a single touch. However, his holdup play and assist on the third goal of the night was fantastic, and something like that could give him a bit of confidence. Oddly enough, it was perhaps Rubin's best match of the year while being played out of position for 84 minutes.
WhoScored Rating: 7.0 | SofaScore Rating: 6.7
Attack
Daniel Musovski: 7.25
Advanced Forward
A bit of a mixed game from Moose, but by the sheer fact that he managed to snatch a goal, it puts things in a better light. Despite only completing 6 passes over 70 minutes, his one shot - a poacher's tap in from close range - was a much needed boost for the goal-hungry squad. Outside of his opportunist strike, he did manage a dangerous run between the Colorado center backs that was only snubbed out by some stellar defending. As far as RSL striker performances go in 2023, this was a good one.
WhoScored Rating: 7.6 (MVP)| SofaScore Rating: 7.2
Damir Kreilach: 7.5 (MVP)
Advanced Forward
I harked on it with my ratings against Portland as well, but a healthy Kreilach needs to be starting every game if rested. This game is an example of what he offers in terms of finishing, which is most everyone's #1 complaint to this point in the season. Damir converts a high percentage of shots, including low xGoal shots, which is all the team really creates currently. His speed with and without the ball was never what made Dami who he is, what he does is put himself in good positions, and finishes them. He may be slower and less physical, but he doesn't need that to bang in goals. Between MLS and Open Cup, he is the team's leading scorer despite missing half the season so far. RSL needs a striker long term, but Kreilach has proven he can still be relied on in the meantime. 
WhoScored Rating: 7.4 | SofaScore Rating: 7.3 (MVP)
Substitutions
Justen Glad: 7.0
Center-back
Came on at half time for Holt, and proceeded to fit in seamlessly and make his mark on the game. In two situations he was left in 1v1 situations with an attacking player, and came up clutch in both cases. It was a bit unfortunate that the club was unable to give him a real rest, as we will need Glad at this level for many key upcoming games. He won all but 1 duel and hit 88% of his passes, along with some strong defensive numbers, and it's a reminder why Glad is an established starting center back for the team. Did he get overlooked for the USA summer roster? More on that later. 
WhoScored Rating: 6.7 | SofaScore Rating: 6.8
Braian Ojeda: 6.0
Defensive Midfielder
In his 30 minutes, Braian was mostly assigned to defensive duties, given the rare situation of having a 3-1 road lead. Ojeda only had 13 touches, but offered the fresh legs needed to make things hard for the Rapids to attack down the center. Given what Mastroeni wanted from him, it was a fine game from Ojeda, but from a spectators view, he simply ran around a lot and occasionally made an interception. 
WhoScored Rating: 6.1 | SofaScore Rating: 6.4
Carlos Andrés Gómez: 5.75
Right-wing
During his 30 minutes he didn't cause too much fear in the opposition, failing all three dribble attempts he made down the right. His positioning kept Colorado from committing too many players to the attack, but otherwise Gómez didn't accomplish anything on or off the ball.
WhoScored Rating: 5.8 | SofaScore Rating: 6.0
Anderson Julio: 6.0
Advanced Forward
Not a bad 20 minute showing from Julio, who was impacting the game with a lot of good pressing on his fresh legs. He followed the ball and managed to get involved, serving as a strong front-line defender. His attacking chances didn't pan out however, and flubbed a pass to Kreilach that could have made the game 4-2. 
WhoScored Rating: 5.8 | SofaScore Rating: 6.2
Andrew Brody: N/A
Right-back
Came onto the game late to help the defensive unit hold the lead - which was done successfully. 
WhoScored Rating: 6.1 | SofaScore Rating: 6.6