Match Coverage
Real Salt Lake vs. San Jose: Player Ratings
It was a good win — who received our top marks?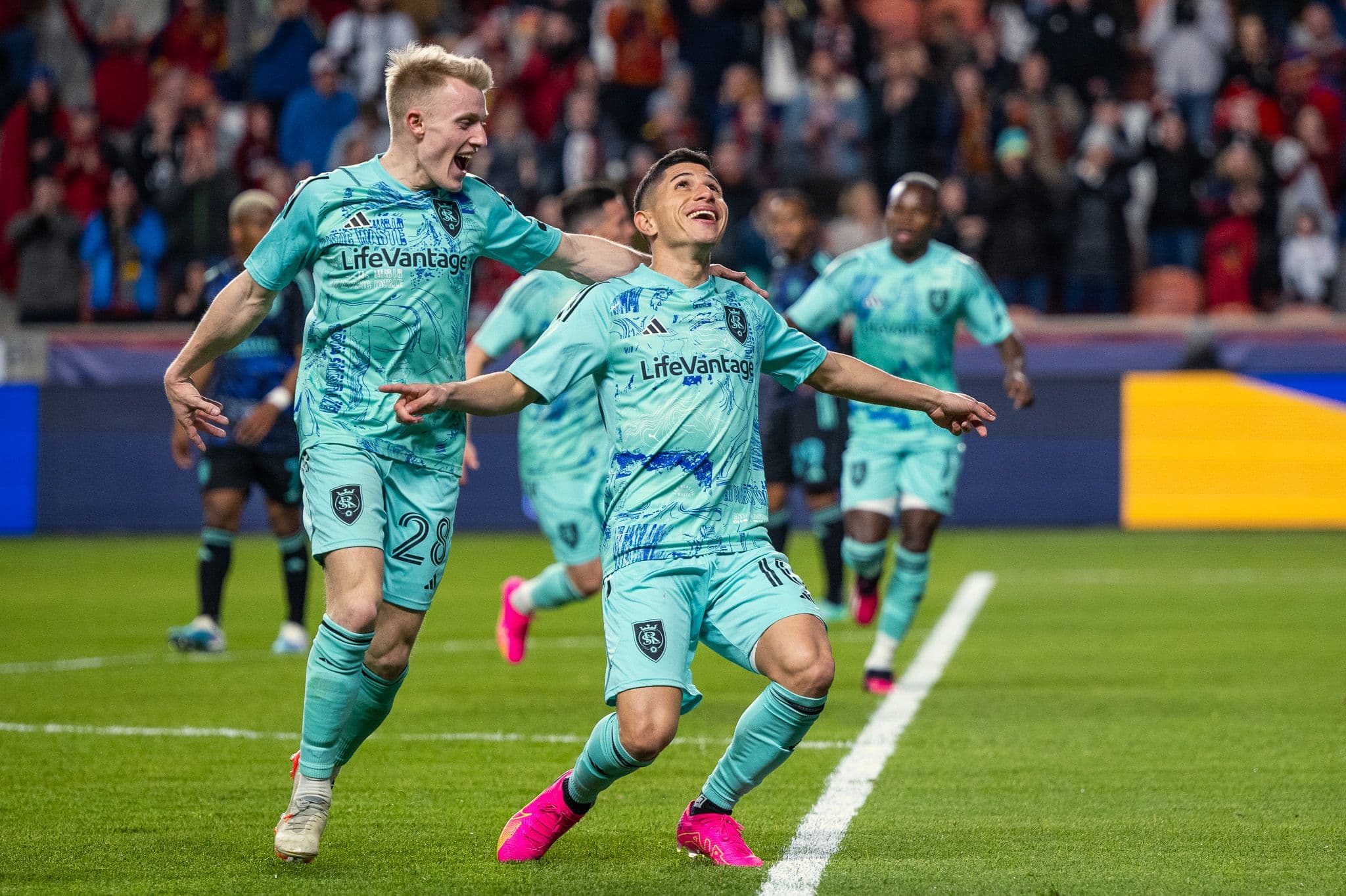 Defense
Zac MacMath: 6.5
Goalkeeper
What probably should've been Zac's first clean sheet of the season was undone by a bit of misfortune early in the second half. Outside of that, he collected 2 saves on the night and was relatively error free. He hit a reasonable amount of his long passes, and overall did a fine job the few times he was called upon.
WhoScored Rating: 6.2| SofaScore Rating: 6.5
Brayan Vera: 6.0
Left-back
Vera only managed 33 minutes due to picking up an injury in the first half leaving him "unable to sprint". During his stint on the field he had a couple of successful tackles and lost possession a half dozen times. With Oviedo back and evidently able to contribute starting minutes, it will be interesting to see who gets the nod at left back over the next few matches – assuming he comes back from injury quickly. 
WhoScored Rating: 6.4| SofaScore Rating: 6.6
Justen Glad: 7.0
Center-back
The night was a bit of a mixed bag for Justen, but on the whole was a good performance for the homegrown center back. His defensive numbers were strong and matched Marcelo, collecting 69 touches over the course of the match. It's promising that he found himself at the end of a pair of corners, for all the team-attacking criticism over him being the top scorer early in the season – we'll certainly take those goals. His long balls were mostly accurate, outside of the one or two weekly switches to nowhere. 
WhoScored Rating: 7.0| SofaScore Rating: 7.5
Marcelo Silva: 7.25
Center-back
Marcelo has been steadily improving since the beginning of the season, and has strung together several good games in a row now. As mentioned above, his tackles and challenges were almost identical to Glad's, but he's added a layer of ball security which has been in demand. 45/47 passing on the night for a 96% - even for a center back, that's a really good percentage. 
WhoScored Rating: 6.7| SofaScore Rating: 7.0
Bode Hidalgo: 6.5
Right-back
Bode continues to prove that he offers enough of something to feature in this team. For the vast majority of the night, he was strong defensively, at times making Cade Cowell a non-factor in San Jose's attack. His biggest error was probably one that led to the only goal allowed, a pretty needless tackle when he had Jasper as backup against a single attacker. It seems pretty obvious at this point, but signs point that Pablo prefers him at right-back over Eneli, meaning that until Andrew Brody returns from injury, Hidalgo likely has this spot on-lock. 
WhoScored Rating: 6.9| SofaScore Rating: 6.7
Midfield
Pablo Ruiz: 7.75
Defensive Midfielder
Outside of not scoring a goal, Ruiz was probably once again the best center-mid on the night. The Argentine had the most touches of any RSL player, and was incredibly accurate (90%) on his passes with it. He sprayed out 3 key passes and made a number of successful dribbles. If you close your eyes and imagine what an electric center midfielder looks like, he wasn't all too far off that image. The only thing missing is creating a more defensive impact on the game - something that none of RSL's current cast of central players can really do either.  
WhoScored Rating: 7.5| SofaScore Rating: 7.3
Jasper Löffelsend: 7.75
Defensive Midfielder
I was unsure if Jasper would start this game over Ojeda, given the half-time sub made during the Dallas game (despite having played just fine). The faith put in the workhorse midfielder was rewarded in kind with a pivotal first half goal. Unlocking a 1-0 lead has been eluding this team all year, and the sense of security it gave the team undoubtedly contributed to the good performance. Jaspers motor was in full effect the whole game, and coupled in with some decent passing, led to a very satisfying 82 minutes. 
WhoScored Rating: 7.8| SofaScore Rating: 7.5
Carlos Andrés Gómez: 9.0 (MVP)
Right-winger
For those with a microscope on Carlos due to his high price tag, this performance should sate the appetite for now. Gómez on the night did everything he needed, and was expected to do. The goal and assist, while obviously nice, are just the results of his good work over the evening. He wasn't just involved in the attack (scoring while providing three key passes), but this game was also his best defensive effort in any match so far this season. By the way - he is still only 20. Gómez should by all measures, continue to improve and provide more games like this in the future near or far. Patience is key.  
WhoScored Rating: 8.5 (MVP)| SofaScore Rating: 8.0 (MVP)
Jefferson Savarino: 8.25
Left-winger
Without needing to see the Open Cup game on Wednesday, or Saturdays upcoming match against Seattle, Savarino has my vote for player of the month. Three goals in three games is just the start of the story, and as was evidenced in this game as well, Sava is doing wonders to spark and propel this team's attack. His shooting, key passes, and overall dangerous movements, left San Jose scrambling all night long. In this run of form, RSL's attack has risen from the grave with 7 goals in 3 games. 
WhoScored Rating: 7.9| SofaScore Rating: 7.1
Attack
Anderson Julio: 6.0
Advanced Forward
It was a short evening for Julio who came up with an injury after just 25 minutes. During his time on the field, he had a chance to score the opening goal – but between a good save or poor shot, take your pick, ended up just short. 
WhoScored Rating: 6.3| SofaScore Rating: 6.8
Rubio Rubin: 5.5
Advanced Forward
Outside of a lot of pressing and maintaining possession, Rubio had a limited impact on the game. Both of those factors are important for a striker, and by all means, do help the attack. Part of what lets the wingers shine with open space is due to the pressure created by good positioning from Rubio. Still, it's another game in a row where Rubio didn't launch a single shot, let alone on goal. For someone in such an advanced position, and clearly there to add goal threat, his form doesn't justify a starting role at the moment. 
WhoScored Rating: 6.7| SofaScore Rating: 6.4
Substitutions
Daniel Musovski: 6.75
Advanced Forward
It's a bit odd to say for someone who didn't get on the field until the 25th minute, but it was a tale of two halves for Musovski. His first twenty minutes were electric. Obviously the run and assist leading to the night's first goal came off his foot, but near the end of the half he created a rather promising solo run that carried on for half the pitch. In the second half he certainly played, but was limited basically to taking up defenders attention and creating space for Sava and Gómez. Still, you'd have to say on the whole it was a promising game, and should be in the consideration for a start in the near future. 
WhoScored Rating: 7.0| SofaScore Rating: 7.1
Bryan Oviedo: 6.5
Left-back
If you're like me, I wasn't even aware that Oviedo had returned to the squad, and if you're really like me, assumed there was no way he was 60 minutes fit. Alas, Bryan returned and logged 60 minutes of good quality defending in this game. Not only did he look good off the ball, but his possession numbers were good as well. Not to mention he set up the third goal of the night. As mentioned above, it will be interesting to see who gets the start between him and Vera. Both in Vegas, and then back in MLS play Saturday against Seattle.
WhoScored Rating: 7.1 | SofaScore Rating: 6.5
Braian Ojeda: N/A
Defensive Midfielder
82nd minute sub #1. 2/2 passing.
WhoScored Rating: 6.2| SofaScore Rating: 6.7
Emeka Eneli: N/A
Right-back
82nd minute sub #2. 2/4 passing.
WhoScored Rating: 6.0| SofaScore Rating: 6.4
Maikel Chang: N/A
Right-winger
82nd minute sub #3. 0/1 passing. 
WhoScored Rating: 6.0| SofaScore Rating: 6.5