Match Coverage
Player Ratings: RSL 3-1 Charlotte FC
Who stood out in Real Salt Lake's big home win?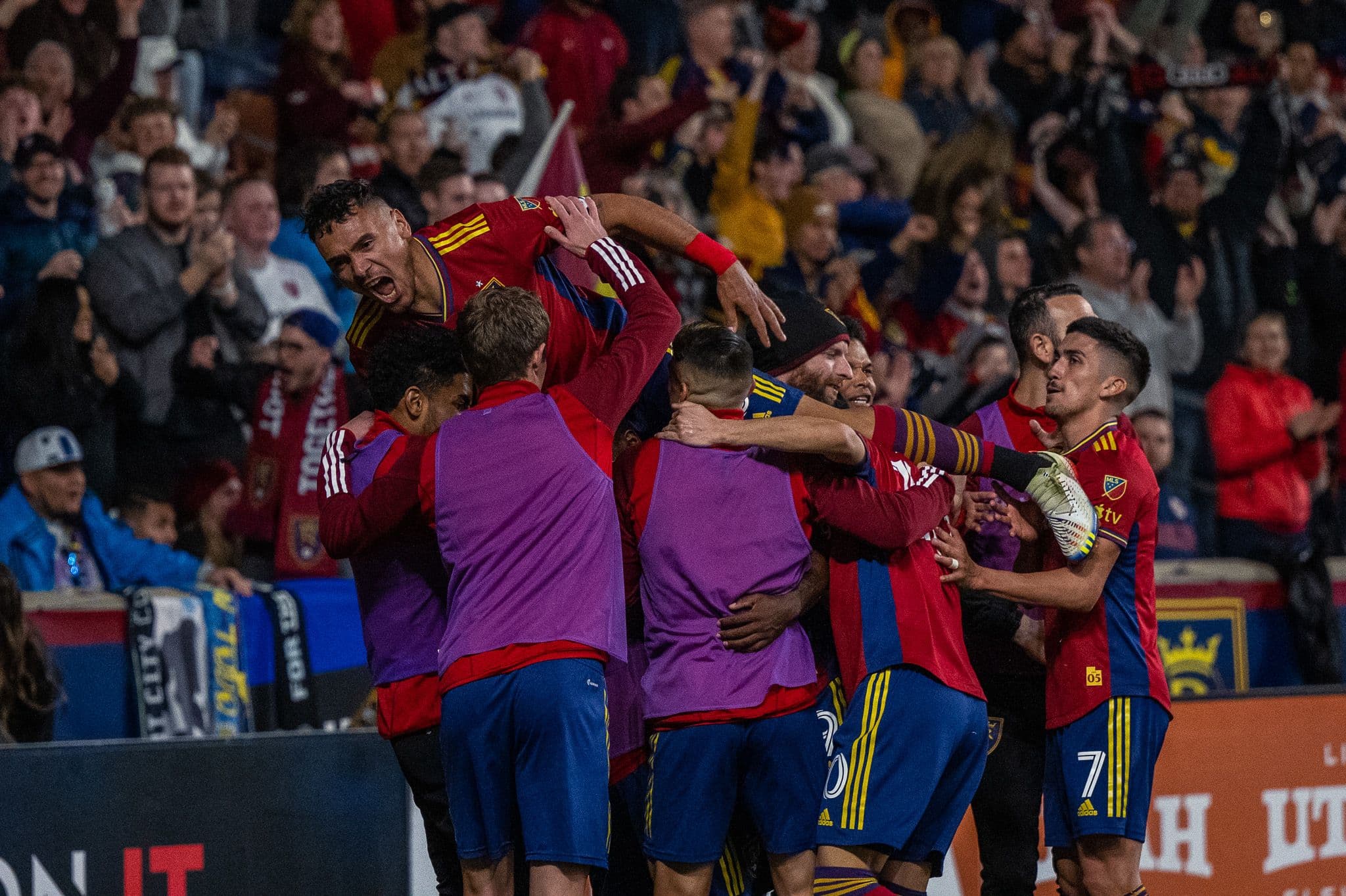 Defense
Zac MacMath: 7.0
Goalkeeper
It wasn't really a busy night for Zac, but he did have a few moments that left a mark on the night. His most notable contribution came in the first half when he made a sprawling save to his left that easily prevented a goal. Outside of the 4 saves, he was generally solid when coming off his line in his sweeper-keeper moments, and avoided any major mistakes on that front. He did however, almost lose the ball at his feet during a press, and his punches were extremely hit or miss on the evening. A decent game from Zac, given the goal allowed was outside his control.
WhoScored Rating: 7.5 | SofaScore Rating: 7.2
Brayan Vera: 6.0
Left-back
Having been forced to leave with an injury in the 74th minute, Vera failed to make too much of an impact on the night. His defending was at times strong, and at times lackluster, having been dribbled by on several occasions. It was his first time being deployed as a full on left back on this team, so it's hard to be overly critical of his play and positioning. Still, the new signing did little to leave his mark on the game or plant himself as a reliable choice out left. 
WhoScored Rating: 6.8 | SofaScore Rating: 6.2
Justen Glad: 6.75
Center-back
For the first time in a long time, Glad wasn't overly involved with everything going on in that match (that's a good thing). You could assign some blame for his defending on the first goal, and while I don't think that's unreasonable, when strikers unload shots like that from distance, I'm more inclined to tip my cap. Overall I'd say Glad was fine on the night, strong in the air and good at keeping opposing players with their backs to goal. 
WhoScored Rating: 6.9 | SofaScore Rating: 6.8
Marcelo Silva: 7.0
Center-back
Overall had a similar game to his partner, but notably with a much better passing accuracy Marcelo was 97% on the night (30/31) which is a rare treat given Glad is arguably the more reliable in possession. For what it's worth, the defense seemed far less leaky than the last few matches, and while it certainly has a lot to do with the quality of opponents, I'd like to think it has a bit to do with Captain Silva as well. 
WhoScored Rating: 7.1 | SofaScore Rating: 7.3
Andrew Brody: 6.75
Right-back/Left-back
Brody got to show a bit of his versatility on the night, playing both right and left back after some late game subs. The majority of the night he was operating on the right behind Gómez to decent effect. His long balls forward didn't find too much luck, and at times never had a chance to succeed from the start. Still, Brody was aggressive in attack, and had several high-quality dribbles into dangerous positions. He deserved an assist on the night when his perfectly placed cross was met with an extremely lethargic point blank header from Rubin in the first half. 
WhoScored Rating: 7.1| SofaScore Rating: 7.2 
Midfield
Pablo Ruiz: 8.0
Defensive Midfielder
It has been a long, long, long time since Ruiz has found the back of the night, and ending that run is something we can celebrate. With how often he fancies his chances from long range, perhaps a bit of confidence will help a few more of those strikes find their way in too. His tally did very clearly steer the course of the game into RSL's favor. When frustration was beginning to boil over from missed opportunities, he converted and opened the floodgates for the team. Because of that, and some notably good defensive work, I'd label this as the best center mid performance of the year so far. 
WhoScored Rating: 8.4| SofaScore Rating: 8.3 
Jasper Löffelsend: 7.25
Defensive Midfielder
Jasper took a slight knock and came off in the 83rd minute, but the industrious German was likely coming off soon regardless. Once again Jasper was blazing around the field in his box-to-box style, notably more inclined to attack on the night given the flow of the game. His 86% passing will be a good sign to fans who had put into question his passing in recent games, and overall, he looked a lot more like 2022 Jasper than what we've seen this season. Later in the game he continued to push far forward, really probably too far, when the game needed something else. This forced Ruiz into a full defensive mode, which isn't ideal at all, but didn't get punished on the night. 
WhoScored Rating: 7.4| SofaScore Rating: 7.2
Carlos Andrés Gómez: 8.75
Right-winger
While Gómez wasn't overly active in this game, we saw a lot more from him in terms of his runs and service. Both of his assists were well placed on the night, the first enough to cause some indecision out of Marks, and the second simply spot on where it needed to be. Outside of smashing the post, he generally was good on the attack, and forced a yellow card at one point after rounding his defender. This game really highlights why Gómez is such a noteworthy prospect, and hopefully gives him some confidence to put on more repeat performances in the future. 
WhoScored Rating: 8.1| SofaScore Rating: 8.5
Jefferson Savarino: 9.0 (MVP)
Left-winger
Even in the first half when RSL was looking much tamer, Savarino was still being dynamic and creating danger. In the second half? Oh boy, that's what a designated player can look like. It wasn't even really his goal – which he both created for himself with a run and pass to Gómez, before finishing it off coolly. But just his relentless attacking intent and ability off the ball that shined on the night. Outside of creating four key passes in attack, his danger in shooting alone almost warranted a second goal. It would be fair to say that he was a bit wasteful on the night, but he more than made up for it with his chances made and electric play. Sava was unlucky to only have one goal contribution on the night, and that's saying something. 
WhoScored Rating: 8.8 (MVP) | SofaScore Rating: 9.0 (MVP)
Attack
Anderson Julio: 7.0
Advanced Forward
If the goal was to get on the score sheet, then we can call it a successful night for Julio, the first striker of the season to manage to find the net. If we keep the larger picture in mind, and look at RSL's lack of quality finishing up front, this match still left a lot to be desired from the speedy forward. Having played himself into great attacking positions several times on the night, none of his attempts really seemed destined to go in. In 68 minutes, he found himself offside three times (but did manage to score one of those!). What would have been a wasteful evening was salvaged by some good hustle and some questionable keeping from Marks. 
WhoScored Rating: 7.3| SofaScore Rating: 6.3
Rubio Rubin: 5.75
Poacher
To start things off, Rubio was actually quite effective again in holding play. He managed 40 touches as a striker which is quite good for this team and how it plays. His contributions in pressing and tracking back do add value to the unit. However, we do measure Rubio compared to what we expect from a center forward, and on a night where a lot of players showed some attacking prowess, Rubin was not in that picture. The chances he did have on the night were scuffed or well-off target, not aiding at all in fan confidence – or his own for that matter. With some good passes and work on the night, it wasn't an awful outing from Rubio, but the goal threat that's needed is still notably lacking. 
WhoScored Rating: 7.2| SofaScore Rating: 6.9
Substitutions
Bode Hidalgo: 6.25
Right-winger/Right Back
It's extremely clear that Hidalgo is going to be an active player for the upcoming season. Why? Because the moment he came back from injury, he was inserted right back into the gameday roster and took minutes at the expense of Eneli (who has had a good start to his RSL career, and ended up starting for the Monarchs the following night). Hidalgo played both right-winger and right back in this game, and outside of some wild switches to mixed success, seemed solid in defense. 
WhoScored Rating: 6.3| SofaScore Rating: 6.7
Ilijah Paul: 5.50 
Advanced Forward
After a 45-minute start last week, Paul was given 22 minutes off the bench in this game. Much like last game, it's really hard to see what Paul offers this attack that we don't already have. He was certainly working hard, but never found the game even so. 
WhoScored Rating: 5.9 | SofaScore Rating: 6.3
Maikel Chang: 5.50
Right-winger
Chang's 15-minute outing saw him go 3/7 in passing and lose the ball 4 times. He had a few good passages of play, and that's about what comes to mind. Maikel Chang plays for Real Salt Lake. 
WhoScored Rating: 6.2| SofaScore Rating: 6.6
Diego Luna: 6.0
Left-winger
Not much game time for Luna, he made a stumble down the sideline and had a great run and dribble into the box. 
WhoScored Rating: 5.9 | SofaScore Rating: 6.3
Braian Ojeda: 6.0
Defensive Midfielder
Added a bit of defensive stability that Jasper was lacking during his 7-minute cameo. 
WhoScored Rating: 6.1| SofaScore Rating: 6.3