Match Coverage
Player Ratings: RSL 0-4 Columbus Crew
It was a match to forget for Real Salt Lake. Who performed, and who didn't?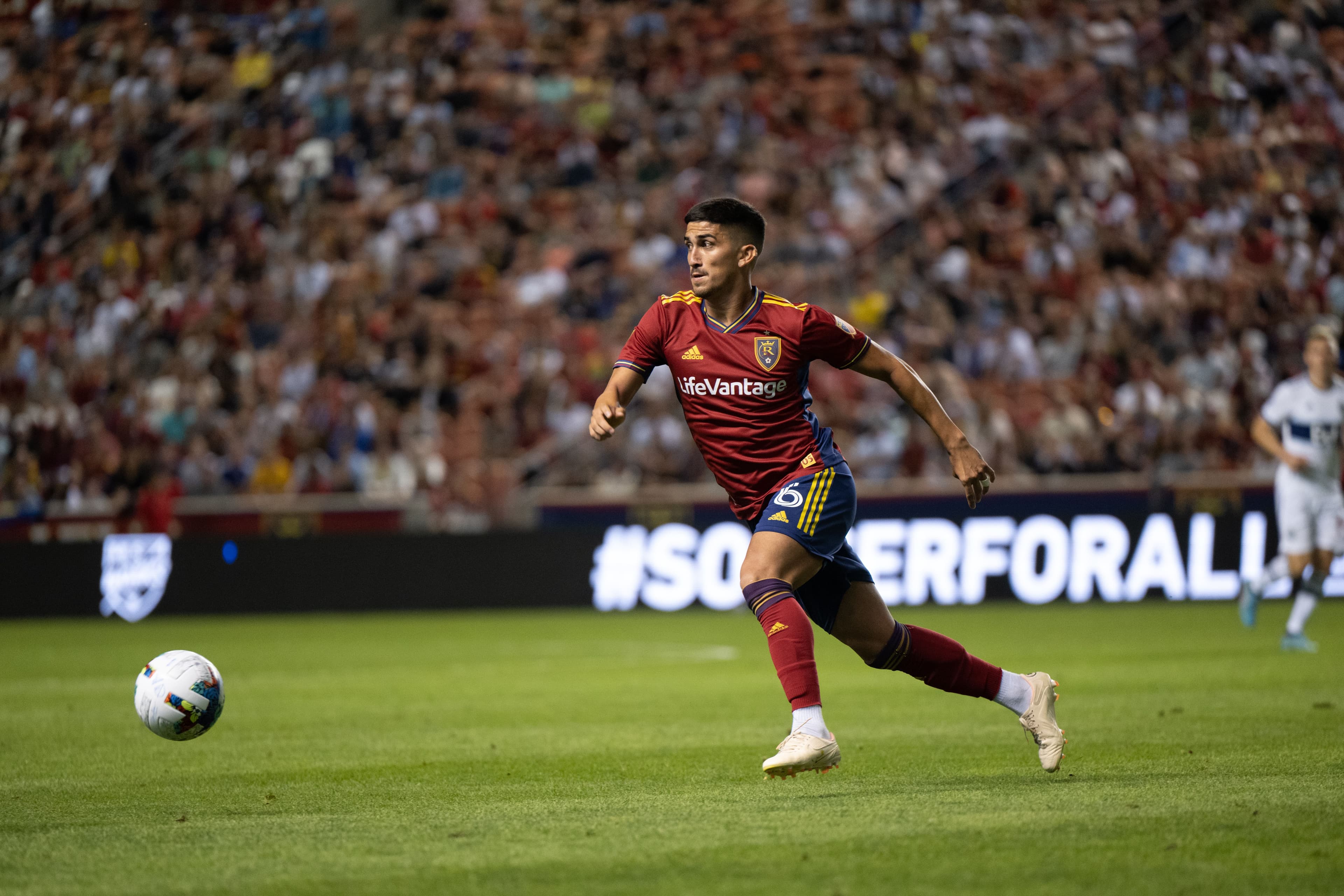 Lucas Muller | Wasatch Soccer Sentinel
Defense
Gavin Beavers: 4.5
Goalkeeper
Really not the debut game 17-year-old Beavers would hope for. Granted the debut wasn't really set up for success either – given the poor team form, and an away game at a red hot Columbus team. It seems his performance with the USA u19 team may have been the catalyst to earn his first MLS start, but the timing sure does feel strange. In the moments where Beavers could have made a difference, he wasn't up to the task, and was directly responsible for the 3rd goal.  
WhoScored Rating: 5.0 | SofaScore Rating: 5.2
Andrew Brody: 5.0
Left-back
A bit of a better outing from Brody, but still far below the bar he set for himself last year. His movements were good, but once again felt incapable of making any pass to the side or forward. Near the end of the game he put his body on the line to block a direct shot on goal. It's clear he is trying, but like many others on the team, it's just not there at the moment. 
WhoScored Rating: 6.2 | SofaScore Rating: 6.6
Justen Glad: 6.25 (MVP)
Center-back
Probably would be the clear MVP if not for his effort on the 4th goal of the night. Outside of getting rounded in that moment, he was a rock. There are three good slide tackles he made on the night that comes to mind, two of which prevented goal scoring opportunities. With an average passing percentage for a center back, and 9 accurate long balls on the night, Captain Glad had 92 minutes he could be satisfied with – sadly there were 93 minutes played. 
WhoScored Rating: 6.4 | SofaScore Rating: 6.9
Brayan Vera: 5.25
Center-back
There was a noticeable step down in quality from Vera from game 1 to game 2. Perhaps having something to do with seeing 8 goals fly by in his first 180 minutes as a Real Salt Lake player. His passing was not so sharp, and his long ball accuracy took a huge hit. What was most strange of all, was his insistence on roaming from position – and not just on corners. Vera at one point, probably played most positions on the field, lucky none of which ended up punishing the team. Maybe total football is the answer? (it isn't). 
WhoScored Rating: 5.6 | SofaScore Rating: 5.4
Emeka Eneli: 5.75
Right-back
Also had a bit of a step down from the St Louis game, but not nearly as remarkable as Vera. For plenty of the night, Eneli was good in possession and going forward. If anything his possession was even better than last match, accurate on 86% of his attempts. However, the same issue from last week was equally worse in this match, as he often found himself a bit too far forward and left the right flank exposed. The stats illuminate this a bit as he dribbled passed four times on the night (compared to Brody at 0).
WhoScored Rating: 6.2 | SofaScore Rating: 5.9
Midfield
Pablo Ruiz: 5.5
Defensive Midfielder
Despite giving up a needless penalty, and thus justifiably criticized, Ruiz was slightly better in his second match of the year. His defensive positioning at times was off, but he tried to compensate by often tracking all the way to the center backs to collect possession, a Beckerman staple. Aside from that, he was almost perfect on passes for the night, hitting 92% where the 8% really only comes from long ball attempts to spring attacks. 
WhoScored Rating: 5.9 | SofaScore Rating: 6.8
Braian Ojeda: 6.25 
Defensive Midfielder
Giving an RSL midfielder over a 6 is certainly a leap in recent games, but on the whole I think Braian gave a good account of himself in his 65 minutes. With 87% passing and a perfect 9/9 on ground duels, it did at times feel like we had some say on what happened in the center of the field. What he really lacked was any intent going forward, but given how badly RSL's defense has been in recent weeks, I think he played on the right side of things. 
WhoScored Rating: 7.5 (MVP) | SofaScore Rating: 7.6 (MVP)
Maikel Chang: 5.0
Right-winger
Certainly not the best night for Chang, whose biggest moment of the night came from a close range shot. His left footed attempt lacked enough venom to get by Schulte on a very clear chance. The Cuban winger was surprisingly off on his service for the night, usually one of his strong points, more or less sailed all his attempts harmlessly towards the opposing goalkeeper. 
WhoScored Rating: 6.3 | SofaScore Rating: 6.5
Justin Meram: 6.0
Left-winger
Watching live, Meram looked about one of the worst players on the pitch, and in fairness, at times was. On second watch, he was also at times the best thing RSL had going for much of the first half. For every great forward pass, there was another equally bad one to match, a very strange night for the former Columbus man. His halftime sub likely had more to do with his yellow and reckless tackles than for play itself. He fashioned the best chance of the night with a no-look pass to Chang 10 yards from goal. 
WhoScored Rating: 6.7 | SofaScore Rating: 6.9
Attack
Ilijah Paul: 5.25
Advanced Forward
It's hard to say Paul did too much wrong, but it's also hard to say that he did much right. Certainly the draftee was putting his legs to work, at times even tracking back to join the midfield in defense. But for all his running, a tame shot was all he managed from his work. Ilijah was subbed off at half time, perhaps due to the strange pressing on display, but more than likely just to give a different look to the front 2. 
WhoScored Rating: 6.4 | SofaScore Rating: 6.8
Rubio Rubin: 5.5
Advanced Forward
On the night, Rubio was the better of the two starting forwards. That doesn't mean he was dangerous, oh no, there was hardly a sniff of danger to be had. What Rubio did well was hold possession and make smart passes. Something RSL often struggles with is keeping possession in the final 3rd while also being forward thinking, I think Rubio checked both those boxes on the night. For holding play, he gets a passing score, sadly we also judge strikers on their goals and attempts – and there was none of that. The fact that it doesn't look like our strikers are even close to scoring is why the cries for a #9 are so prevalent.  
WhoScored Rating: 6.3 | SofaScore Rating: 6.7
Substitutions
Anderson Julio: 5.75
Advanced Forward
To the surprise of no one, looked better off the bench than he did as a starter. Julio had perhaps the best chance of the night when a Ruiz pass sprung him into a 1-1 that was tipped over the bar. That said, he only managed 12 touches, which while not awful for a striker, shows that he wasn't overly involved with the game either. 
WhoScored Rating: 6.2 | SofaScore Rating: 6.4
Diego Luna: 6.0
Left-winger
The other player added at halftime, Luna had a more significant impact on the game. For two or three stints over the second half, Luna seemed to be in good confidence and had an impact on the game with his attacking moves. Not really a left winger by trade, I think his effort was commendable given the situation. Still, Luna bias only goes so far, as for much longer spells of the game he was a non-factor, and had one of the worst passing rates of any midfielder on the night. 
WhoScored Rating: 5.9 | SofaScore Rating: 6.0
Carlos Andrés Gómez: 4.75
Right-winger
Even with only 25 minutes on the pitch, it's hard to think of any real contributions Gómez had on the night. Even his pass to create Rubio's half chance was massively deflected on the way through. What worries me the most are his runs down the flank where he simply dribbles until he loses the ball, a sign of someone trying much too hard. 
WhoScored Rating: 5.9 | SofaScore Rating: 6.3
Jasper Löffelsend: 6.0
Defensive Midfielder
Almost managed to see out 25 minutes without the team conceding a goal. Jasper looked decent during his stint on the field, but didn't make too big of an impact on either side of the ball. 
WhoScored Rating: 6.1 | SofaScore Rating: 6.5
Damir Kreilach: 5.75
Advanced Forward
Had the least time of anyone on the pitch, but still managed a precarious backwards switch and a few other risky passes that were head scratching. 
WhoScored Rating: 5.9 | SofaScore Rating: 6.3