Match Coverage
RSL's weaknesses exposed in 4-0 loss to St. Louis City
Real Salt Lake embarrassed themselves in a 4-0 loss.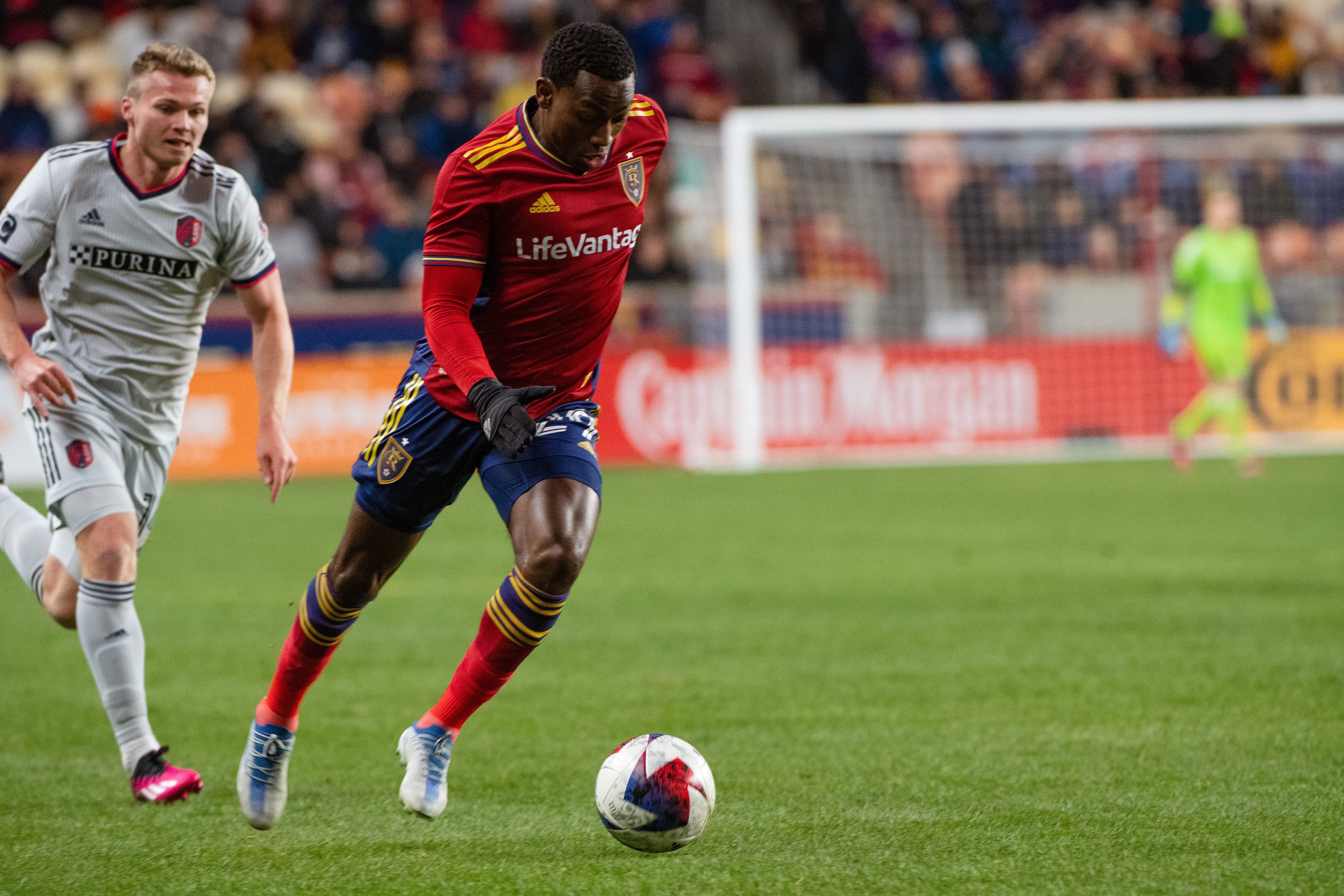 Lucas Muller | Wasatch Soccer Sentinel
Real Salt Lake coach Pablo Mastroeni has talked a lot about verticality in his team, about the need for switching the field of play, and the need to play direct soccer. I think we saw the team trying to do that, but the aerial game was not kind to them.
WhoScored's match report has Real Salt Lake losing the aerial duel statistic, 9 to 24. And that on its own doesn't tell much of a story, but it's true at both ends. The team relies on Damir Kreilach to bring down balls in the air, but if the season so far is any indication, that's a mistake for a post-surgery Kreilach.
We can reflect here on the second goal. At 60:15, Joao Klauss wins a long boot from his goalkeeper right at the edge of RSL's side of the midfield third. Brayan Vera's challenge — coming far up in the midfield — doesn't have much of an effect. St. Louis scores just 10 seconds later.
But here's the thing I just don't get about RSL playing an aerial game. They started the match with Anderson Julio, Justin Meram and Andrés Gómez as the nominally attacking three. Between those three players, only one had a single won aerial duel, and that's Anderson Julio.
An unbalanced midfield
Real Salt Lake's midfield, as currently constituted, consists of just two players. In this match, it was Pablo Ruiz and Jasper Löffelsend. The second goal, again, is instructive. A long cross is knocked down by Justen Glad, and RSL's midfield is trailing behind the player. Klauss strikes the ball sweetly, and it's a remarkable goal, but he's unmarked at the top of the box when he gets his foot on the ball. And we've seen this before — just look at RSL's match against Austin.
We saw something similar here again. The space between the midfield and the defense, particularly in defensive phases of play, is massive. In this match, we saw Justen Glad and Brayan Vera stepping further upfield in an effort to close that gap, but they can't step up into that whole space. It led directly to RSL's fourth goal: Glad steps up to try to influence play in some indeterminate way, and it frees Klauss for a run between Glad and Vera.
To scout Real Salt Lake for this match, St. Louis only really had to watch video of the Austin FC match. RSL played much in the same way and to the same effect: Huge gaps in the midfield formed, and it didn't take much for that to end in disaster.
A lapse in judgment
That third goal has Klauss standing in a smart position, cutting out a passing lane, but Pablo Ruiz somehow doesn't note that and instead passes right into him. I don't know what to make of that. It's a really bad goal to give up, but that one's just an individual mistake. Sure, could Ruiz have had more options to build play? Absolutely. But Mastroeni talks frequently about possession being valuable only insofar as it leads to an opportunity to switch play, so why would we see a player making themselves available to Ruiz?
A nice debut
I was really skeptical of Emeka Eneli at right back, and I think he stood up to the occasion really well, all things being equal. Obviously a 4-0 loss as your debut doesn't look great, but I don't know if he could have changed much.
So let's celebrate at least one tiny thing tonight: Eneli looked up for the match, made some excellent striding runs down the right side, and looked like a good backup option. Is he ready to start regularly? I have no idea, as I don't think we can know that until he does it regularly.
That said, Eneli has played largely in attacking roles in his career, which has largely been at the college level. Slotting into right back immediately is — well, it's interesting, that's for sure.