Match Coverage
RSL drops home opener to Austin, loses 2-1
Real Salt Lake's home opener against Austin FC went anything but according to plan.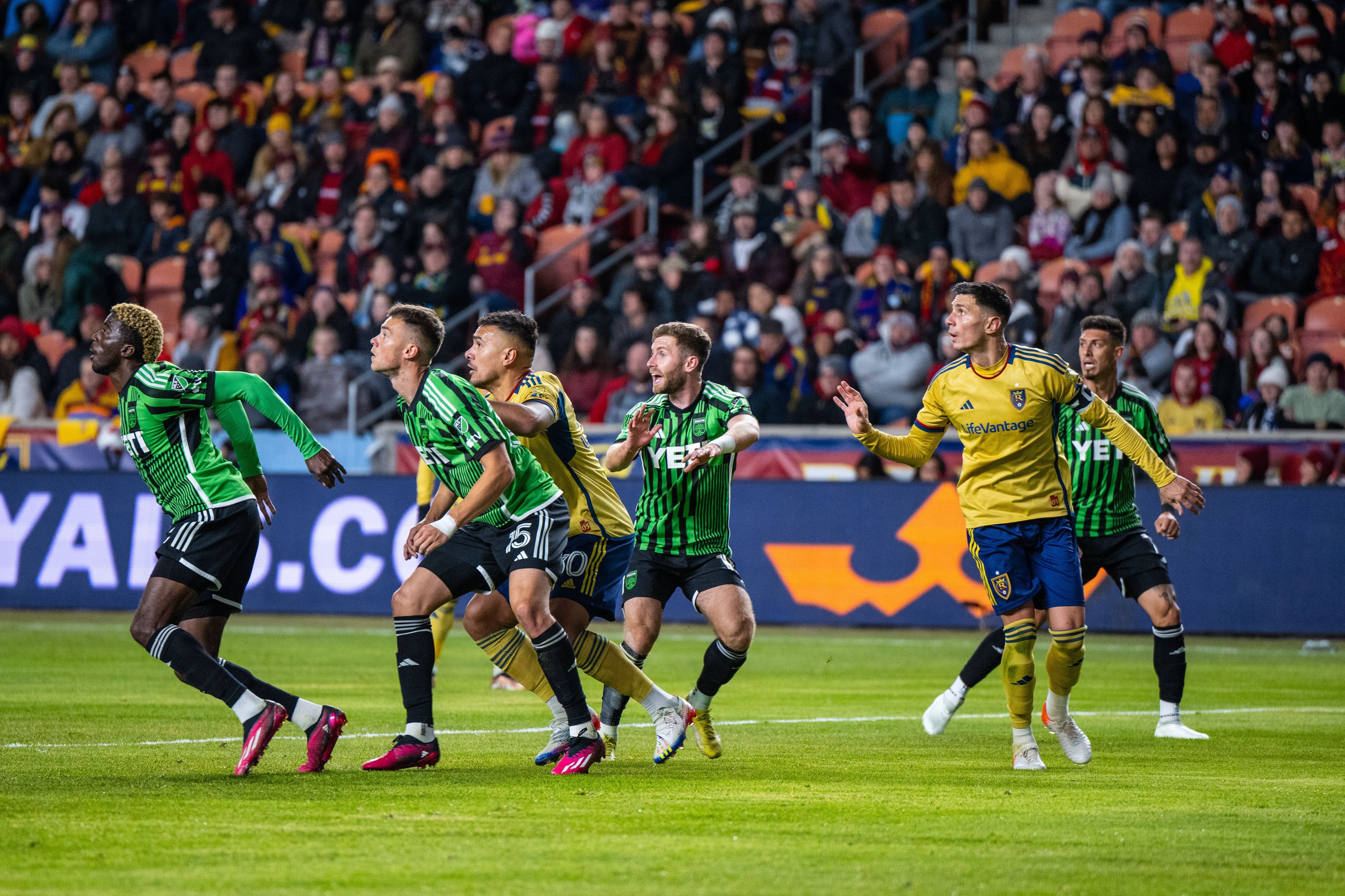 Lucas Muller | Wasatch Soccer Sentinel
Zac MacMath, sweeper keeper
Real Salt Lake took an intentional risk in the second half, down 2-1: They pushed everyone further forward. Austin FC sent repeated forays toward the final third, but MacMath was a reliable figure, and once RSL took that risk, he was generally up for the challenge — and there were challenges aplenty with which to contend.
Of course, there are also the two goals conceded to contend with, but they were both excellent shots from distance that should have been dealt with well before they got to MacMath. Which …
The incredible collapsing midfield
It is hard to overstate this: Jasper Löffelsend and Braian Ojeda were very poor as a midfield pair during defending phases of play. The two goals show it, especially the second. Let's rewatch it together.
Embed: https://twitter.com/AustinFC/status/1634757269673119744
Pause that video at seven seconds. What do you see?
If the answer is "absolutely nothing," then you're absolutely right — if you're talking about Real Salt Lake's midfield organization. Jasper Löffelsend is the second-highest player on the field, and while he's "marking" one option, he's left another altogether criminally open.
But I don't want to lay the blame solely on Löffelsend here, because I don't think that's it at all. There is a significant tactical problem here, and it's something we saw over and over: Real Salt Lake's midfield was disconnected from the defense, and not to a small degree. This screenshot at the seven-second mark shows it well.
Generally speaking, once Austin was able to spot a hole — and this usually occurred around the midfield stripe — they had acres of space in front of RSL's defense. Let's look at this moment in the first goal.
Once Austin has bypassed the first line of defense — in this case, Bryan Oviedo — the midfield is nary to be seen.
It's a problem we also saw against Seattle, and it's a problem we saw against Vancouver to some degree. Real Salt Lake's midfield is fragile. While I'd love to say that Pablo Ruiz will fix things, there's absolutely no way he can fix what we saw. That's something that we need a coach to fix, and given we keep seeing RSL's midfield pushing high — nominally "pressing" but without actually pressing — I'm inclined to think it will take a coach to fix something that they have set out to do.
Yeah, I know both goals were spectacular. But I firmly believe that Real Salt Lake gave Austin FC far too much time and space on the ball with which to score those wonder goals, and it's just so disappointing.
Stadium upgrades
The stadium was great. The lights were bright, which look to have seen significant upgrades during the offseason. And because they're a modern, bright LED, there are new options for stadium displays. When the team came out, red lights took over, and the white lights turned off. It's just not something they could have done without LEDs or something similar, and it worked to great effect.
Stats
Caleb Turner of KSL.com dropped this nugget: This was just RSL's second home opener loss in team history. That's … not good. But also, I guess it's good for fans in the past?
After surviving until September without consecutive losses in league play — weirdly enough, the first loss coming against Austin — RSL has lost consecutive games inside the first three games of the season. Ick.
RSL held a staggering 58 percent of possession. What they did with that, I'm not quite sure.