Match Coverage
Player Ratings: RSL 0-2 Seattle
Real Salt Lake lost 2-0 to Seattle Sounders on Saturday. Here's how we've rated the team.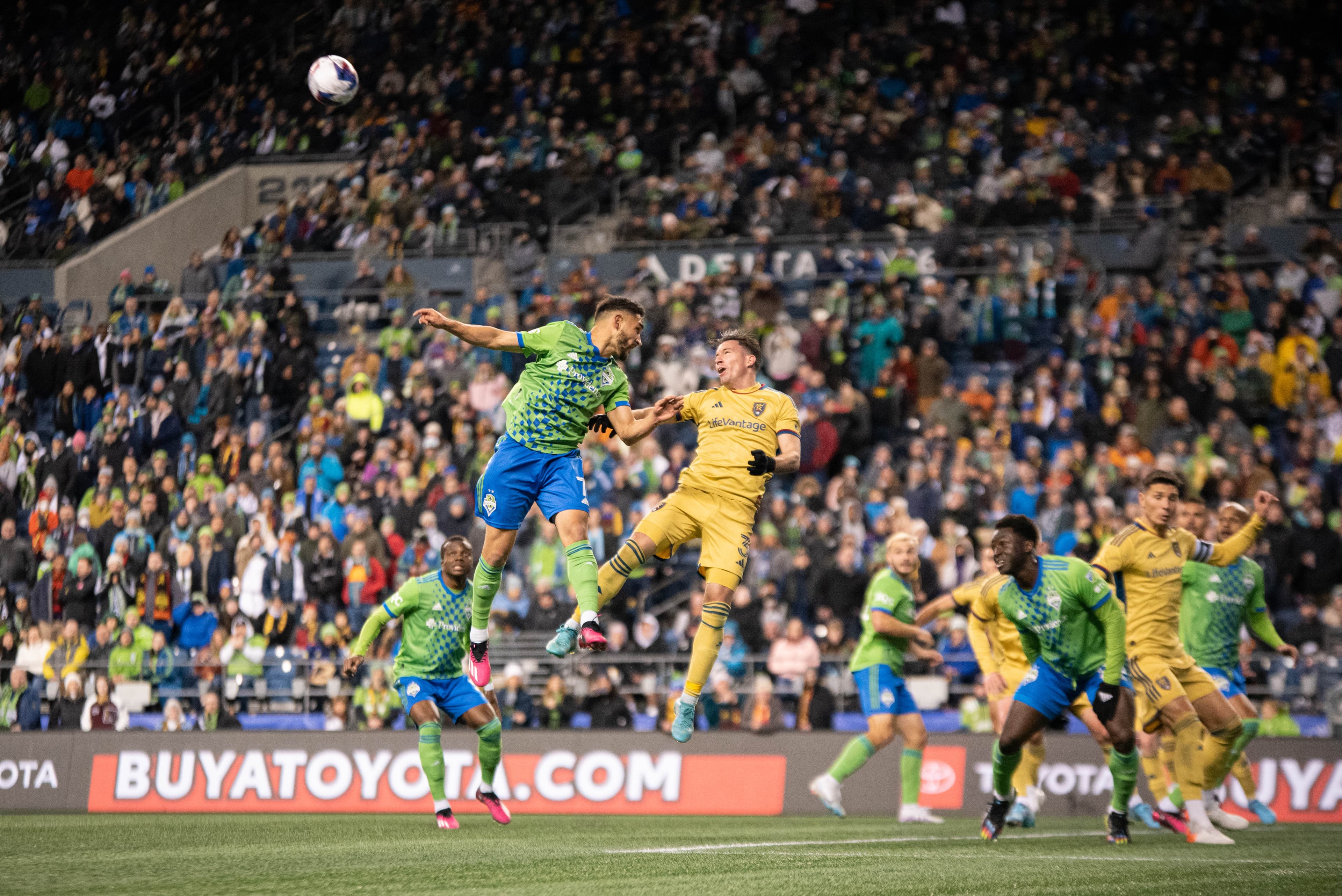 Kayla Mehring / Sounder at Heart
Defense
Zac MacMath: 7.0 (MVP)
Goalkeeper
Wasn't free from his own mistakes on the night, and was only accurate on 22% of his long passes. Still, he made two isolated 1v1 saves against Héber that saved the scoreline from being run up. For a goalkeeper that's all you can really ask for on a given night, and Zac played only a small fault on the second goal.
WhoScored Rating: 7.0 (co-MVP) | SofaScore Rating: 7.1
Andrew Brody: 6.25
Right back
Brody is still struggling to adjust to life on the right side, where defenders are better suited to deal with right-footed players. His biggest contributions at the moment are tied to defensive effort, for which he still performs well. For how far he gets forward, it's a great attribute, but his advanced positioning has yet to yield any real contribution.
WhoScored Rating: 6.3 | SofaScore Rating: 6.7
Justen Glad: 6.75
Center back
Justen had another game packed with elite level play, along with some suspicious moments. He carries a lot of the blame for the second goal with his poor clearance, but alternatively, made a highlight goal-line clearance to save a goal earlier in the game. Overall, things balance out for Glad on the night
WhoScored Rating: 6.9 | SofaScore Rating: 7.3 (MVP)
Marcelo Silva: 5.75
Center-back
Silva really struggled to keep himself defensively sound in this match, and at times was not up to par for this Seattle attack. When you look over the stat sheet, it really highlights the woes he had. 2 duels won of 8 attempted, dribbled by 3 times, and a 78% passing percentage all telling signs of a night to forget.
WhoScored Rating: 5.8 | SofaScore Rating: 6.0
Bryan Oviedo: 6.25
Left-back
It was another decent outing for Bryan, who finds himself in a difficult place positionally. With Savarino often so far advanced on the left, Oviedo is stuck playing very deep, and as a result, ends up in some opposing overload situations. Despite it all, he was RSL's most accurate passer on the night.
WhoScored Rating: 6.4 | SofaScore Rating: 6.3
Midfield
Braian Ojeda: 6.5
Defensive Midfielder
There were undoubtedly some moments in this game that looked quite bad for Ojeda. For a night where he only missed four passes (35/39), it feels as though all four of them led right to counter attacks. I think with a bit more help in the midfield, a game like this where he is passing and tackling well won't feel as painful as it did on the night.
WhoScored Rating: 7.0 (co-MVP) | SofaScore Rating: 6.9
Scott Caldwell: 6.0
Defensive Midfielder
If you view things from the lens that Caldwell is the 4th option in the defensive midfield depth chart, he probably out performed expectations. That said, for the game itself he was rather benign, and really only offered value with his frantic running and defending.
WhoScored Rating: 6.1 | SofaScore Rating: 6.7
Damir Kreilach: 6.25
Center Attacking-Midfielder
Dami spent 2/3rd of his time on the field trying to coordinate the RSL press which was still rather slow and ineffective. Considering he had just 31 touches compared to Lodeiro with 86, it's clear how few and far between we had the possession in forward positions for Kreilach to better impact the game.
WhoScored Rating: 6.3 | SofaScore Rating: 6.6
Attack
Maikel Chang: 6.25
Right winger
Had about the same performance, and thus same rating, as Andrew Brody. His bright moments on the night were in his defensive actions. Seattle focused their attack down the right, and given Chang being so deep, nullified much of that focus. Still, he offered almost nothing to the attack and only found the mark with 2 out of every 3 passes.
WhoScored Rating: 6.2 | SofaScore Rating: 6.7
Jefferson Savarino: 5.75
Left winger
Savarino to his credit, is clearly trying his best to be an attacking option, given the formation and his role in the team, it can be forgiven how forward he puts himself. That said, on the night he was outshined by Alex Roldan on many occasions. On his first assist, Julio was closer to stopping his cross than Savarino was. The gambling on advanced positions not only didn't pay off, but probably hurt RSL on the night.
WhoScored Rating: 5.8 | SofaScore Rating: 6.2
Anderson Julio: 6.0
Advanced Forward
There are two sides to the coin here; one - that he never really had any chance to impact the game, and two - that it's his fault for not finding a way to impact the game. Positionally, he needs to be as advanced as possible to keep the opposing CB's engaged, but as a result, ends up nowhere near the ball. It's a tough one with no obvious solution.
WhoScored Rating: 6.0 | SofaScore Rating: 6.5
Substitutions
Rubio Rubin: 6.5
Poacher
Case in point, Rubio came on for Julio and managed almost an identical number of touches and passes to Julio, but with just 30 minutes of play. I would argue that the other changes likely helped with this, but Rubio looked a better attacking option on the night during his gametime.
WhoScored Rating: 6.1 | SofaScore Rating: 6.4
Carlos Andrés Gómez: 7.0
Right winger
This was the debut we were more hoping to see out of the new record singing. His presence in the game was immediately felt, and even more so when Luna joined the fray. Gómez was 10/10 on passes, and went 6/11 in ground duels. By contrast, Chang only attempted 5 with his 60 minutes of play. Add on a team leading 2 key passes and there was real reason for optimism from this outing.
WhoScored Rating: 6.9 | SofaScore Rating: 6.7
Justin Meram: 6.5
Left winger (inverted)
Like the rest of the substitutes, Meram certainly impacted the game reasonably well, justifying the 18 minutes he was given.
WhoScored Rating: 6.2 | SofaScore Rating: 6.8
Diego Luna: 6.75
Defensive Midfielder
The 2023 debut of Luna was a good one. Despite being played back in a defensive midfield position, he was an attacking threat right away, managing 14/15 passing and creating a key pass. His interplay with Gómez was also a bright spot.
WhoScored Rating: 6.2 | SofaScore Rating: 6.6