Match Coverage
RSL drop 2-0 result to Seattle — but it could have been worse
Seattle dominated from start to finish, beating RSL 2-0. It could have been much worse.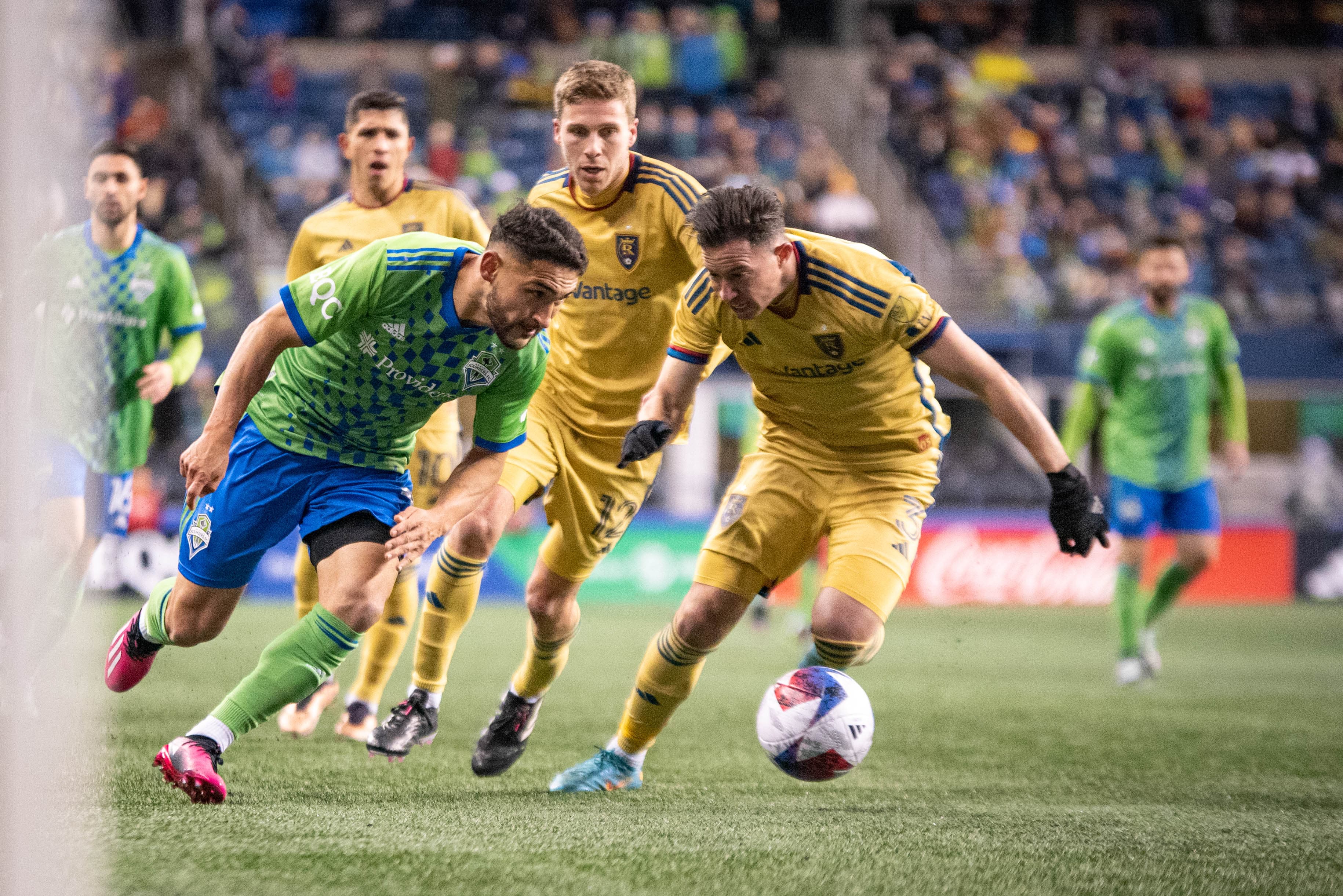 Kayla Mehring / Sounder at Heart
It could have been 6-0
It's early season in MLS, and that means we get early-season outcomes. Real Salt Lake could easily have shipped six goals on the night, with Seattle generating a multitude of good opportunities. Zac MacMath kept the scoreline from looking even worse, but RSL will still need some introspection after the match.
Time after time, gaps were exploited in RSL's backline and midfield, and especially in the spaces between the two. We saw miscommunication across the back line, particularly between Andrew Brody and Justen Glad. The first Seattle goal saw that, with Brody and Glad failing to properly mark Jordan Morris. Of course, that position only came about because of some truly horrid wide defending on RSL's part, with Alex Roldan swinging in a cross with acres of space.
I don't know how we get away from the patterns of play we saw. As good as Andrew Brody was in a role that saw him attacking from the left back position, he's more restrained at right back, especially without the opportunity to cut in on his stronger foot. Braian Ojeda was found lacking in the midfield, and Scott Caldwell is a limited player at the best of times.
I don't mean to exaggerate this result. A good goalkeeper can cover any number of ills. But when you lose 2-0 and your goalkeeper still puts on a show, then perhaps there's something more pervasive going on.
A much better showing from Andrés Gómez
One of the bright spots in the match, few though they were, was Andrés Gómez, who made his second appearance for the team. Once he was given opportunities to get forward and connect with the midfield — and I think this is helped by Diego Luna's utilization off the bench — he really started to show positively.
Gómez is clearly a player that likes to dribble up the flank, as evidenced by his four successful dribbles on six attempts. Despite playing just a third of the match, he also led the team in key passes with two. It's not a lot, but it's something.
Long balls leading nowhere
Once again, MacMath's distribution was extremely poor. He finished the match with 37 percent passing — an improvement over the 22 percent passing he had in the first half, at least, but hardly good enough. Seattle was prepared for a team launching the ball long, and they dealt with everything RSL threw at them from the defensive half of the field.
Blind alleys
Is it a coincidence that RSL's best chances came in the second half when Diego Luna was intent on playing through the middle? I certainly don't think so. Seattle is a team that controls the channels, and RSL were effectively blocked off through those pathways.