What to expect when you're expecting Rubio Rubin to score goals
With the 2023 season upon us, who's going to score goals — and will it be Rubio Rubin?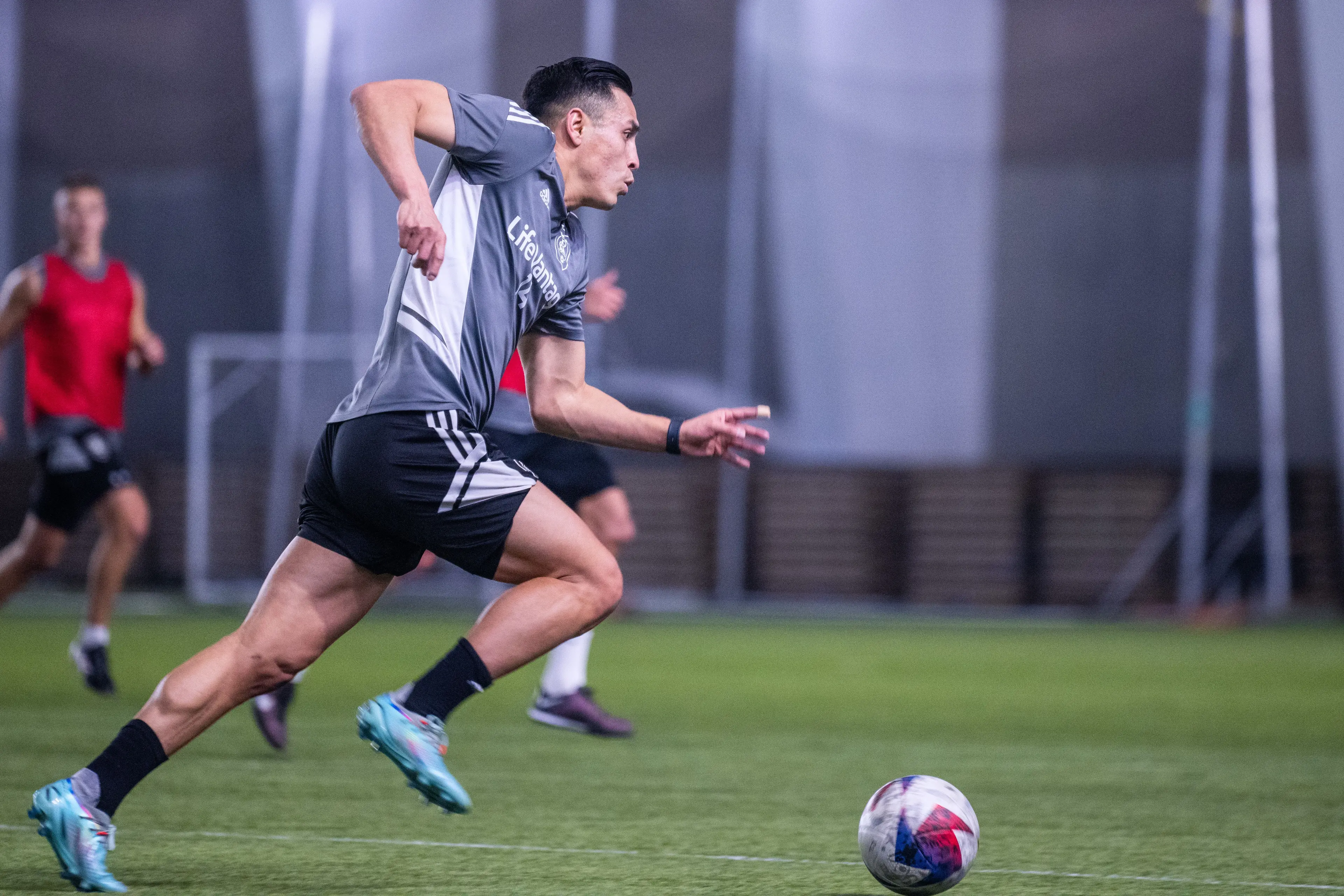 Lucas Muller | Wasatch Soccer Sentinel
The 2023 season kicks off in a mere three sleeps from the time of this writing. I really wish I could say that it feels like Christmas here in the Hamblin home, however, it does not. A lot of us fans have our reasons for this sentiment. In seasons past, we've been able to garner a lot of hope and excitement in the lads after getting glimpses of them in preseason performances.
Don't get me wrong, we're very excited to get our fireplace done in order to hang our TV above the mantle so that we can watch the boys travel to Vancouver to pick up the three points on the road.
As we approach kick-off we find ourselves (as is becoming the tradition) with a handful of unknowns in front of us. And one of the most glaring gaps is where all of our goals will be coming from. I believe that we have a chance to see that gap filled by someone who's career at times seems like a roller-coaster: Rubio Rubin.
Back in the days when us fans were invited to tune in for glimpses of the newest additions to the squads during preseason, I had the opportunity to sit with my better half and toddler to witness what Rubio has to offer an underdog squad for the first time. I believe we will get a chance to see that version of the 26-year-old Guatemalan international striker flourish once more. Furthermore I'm in the cohort that would suggest that now is a great time to be buying Rubio's stock. I also recognize that I have an unreasonable amount of hopium resting on this point. I also haven't forgotten how Rubin was sent to the locker room in the 52nd minute of our final game of the season for one of the stupidest fouls I've seen in recent memory, and I doubt that he has forgotten as well.
While many have doubts for a variety of extremely logical reasons, I sit here doing my best to figure out one simple conundrum, we've got some boots to fill on the goal-scoring front. And even with the many times I have been burned by my hopes in the past, those boots, I believe, will fit nicely on Mr. Rubin.
Let's figure out why I'm investing at a time when Rubio provides us with extreme value.
Tread lightly as
A lot of this needs to be taken with a grain of salt because, outside of a few reports that Rubin isn't very good at Settlers of Catan — a fact that I'm willing to brush aside in order to focus on what's relevant to his upcoming season as our no. 9 — we don't really know much of what has transpired during preseason. However, the reports that we have seen from coaches, club insiders, and beat reporters seem to remark on how good he's looking.
Rubio's Reputation
If we can look past his emotional mistakes in the playoffs last season and focus on the core of Rubio Rubin we can find that his teammates and coaches all agree that they value what he brings to the table; on the field and in training. One thing that has always been noted upon Rubio's behalf is his work-ethic. The kid grinds. He fights for his place and has had a series of key moments shape who he is over the years. If you can't take Landon Donavan's word for it then I don't think you'll be convinced that Rubio has got what it takes to succeed at this level.
Rubio does certain things really well
Rubio isn't going to be the fastest nor the strongest guy out there on the pitch. He's the kind of player that works his tail off, digs up the grass with his boots, and lays it all out on the line. I believe he elevates our front-line for reasons that don't always demonstrate themselves on the stat sheet, especially when he has the right pieces around him. I think a front attack of Rubio, Carlos Andrés Gómez, Jefferson Savarino and Damir Kreilach is something that backlines in this league will underestimate until they're getting pushed aside by agility and size.
Rubio is the kind of guy who will hold his back to the goal when given the opportunity. Dami knows how to get defenders to bite and also he can get a quick pass off to a hold up guy like. If Dami performs, so will Rubio. Sava, Justin Meram, Maikel Chang, and — fingers crossed — Gomez will all be firing on all cylinders providing a some-what-savvy striker with a lot to work with. If he can get himself into position, build the necessary chemistry with his teammates after a full pre-season stint under Pablo Maestroeni, then we can see some sparks from Rubin.
Steady confidence
Rubin has a reputation on the team as someone who's constantly putting in the effort in training. Coaches have remarked on his sharpness and because we don't get invited to see preseason games as fans anymore we'll have to take their word for it. But if goals and assists mean anything in the preseason bouts, then we should expect similar fireworks from Rubio out of the gate. History shows that when Rubio has time to gel with the crew, he can put up the numbers.
Rubio has a lot to prove wrong. Honestly, it cannot get much worse than what happened to us as a result of his double yellow fouls in the playoffs. Some people will have forgotten what it was like to blow a lead like that. But most of all Rubin will be the guy who remembers that better than anyone else. He's got something to prove and I like a player who's out there with a chip on his shoulder. Just leave the boots down friend. Let's hope he harnesses those emotions into some more bicycle kicks!
If not him then who?
There isn't really any stiff competition for Rubin. The spot is his to earn. The cool thing is that he's competing with a couple of players who I'd value to be rather similar in competence. Someone has to shine. We don't know much about Danny Musosvki, but as long as he's healthy, he'll be pining for minutes. We do know about Anderson Julio, however, and I'm sure I speak for a lot of us when I say we miss the days when he was so impactful off the bench. We haven't really seen a Julio who can go full Energizer Bunny for 90 minutes straight.
Damir has played a no. 9 for us in the past, sometimes playing more of a false nine. If the intention is to get veterans on the pitch, I could see a Sava/Dami combined attack up top with Meram and Chang snagging time as well. Or plug Gomez into that mix and things could work out nicely. But I don't know that we'll see Dami in that role as much and from what I can tell we haven't really seen him there this preseason as well. My point is, I hope to see Dami back in at the 10 with a sturdy rotation talent around him and Rubin up top. If it's a numbers game that we're looking for, Rubio will get the minutes.
Looking forward
Rubio is under contract until 2024 with the club. There is also an option in 2025. He's kind of at that age and skill level where he needs to be seen excelling in order to ink himself another deal either here or elsewhere. He truly would fit in in a lot of systems, and I for one would love to see some longevity out of him here in Sandy.
We know the pieces are there. We know what Rubio brings to the pitch when things are firing for him. We know that he's in the hot seat with all eyes on him watching to see whether or not he can carry our attack.
Could this really be the year? Could Rubio truly have his breakout season that 2021 was slated to become for the still-young talent? I don't know, probably. Maybe? Either way we will have to wait and see how things shake out during our home opener. If I'm wrong I'll be wrong. I don't want to die on this hill, I want to live, baby! I see Rubin notching down 14 goals this season and adding six assists to pad that stat line. I hope I'm right.