Four big questions for RSL heading into 2023
Real Salt Lake's season starts Saturday. Are they ready?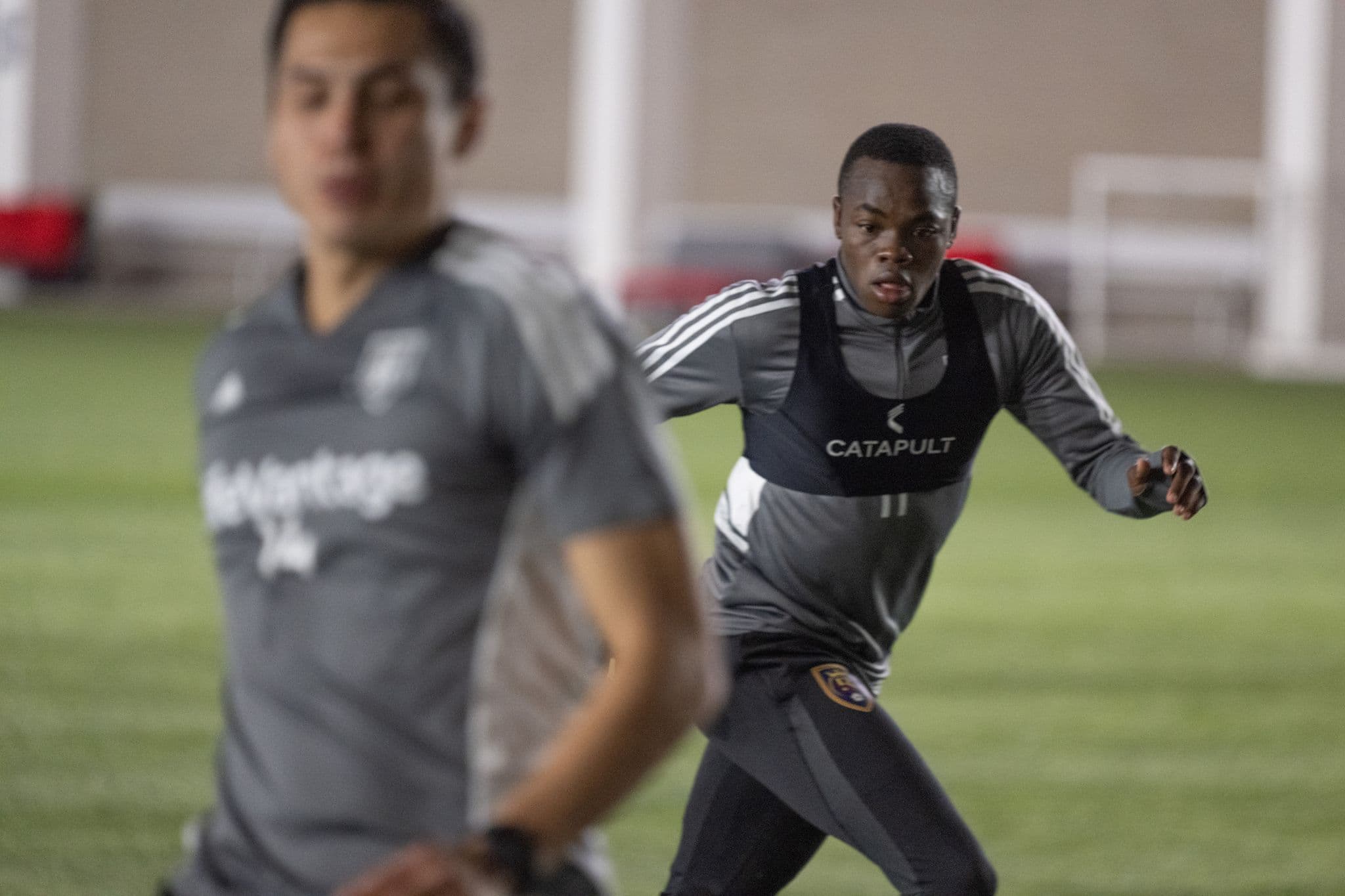 Lucas Muller | Wasatch Soccer Sentinel
With Real Salt Lake's 2023 season opener kicking off on Saturday in Vancouver, these are the big questions surrounding this team as it prepares for the 2023 MLS season.
Is Andrés Gómez ready for primetime?
This offseason, RSL paid a club record transfer fee of between $3-4 million for the 20 year old Colombian winger from Millonarios FC on a deal through the 2027 season. As a right wing player, Gómez contributed 13 goals and six assists for Millonarios FC and RSL is hoping that he can continue that form in MLS.
This is the kind of move fans have been waiting for from the front office under the new ownership, however a club record transfer fee comes with high expectations for the 20-year-old. RSL will be banking on Gómez continuing to develop and become an even better goal scorer and playmaker over the course of his contract, but there is a risk that a player at such a young age and moving to a new country struggles to adapt and underperforms. If Gómez develops properly, RSL would be in excellent position to exact a premium transfer fee if bigger clubs come calling before the end of his contract in 2027.
For such a high risk, high reward move, it is critical that the coaching staff and front office instill confidence in Gómez and provide the right opportunities for him to showcase his ability — something that they were unable to do in the past for Joni Menendez. This is a situation that everyone has to get right, and it's hard not to think that failure will result in significant changes across the front office and/or coaching staff.
Is depth an issue at the back?
RSL's most reliable unit last season was the defense in which Justen Glad, Marcelo Silva, Andrew Brody and Aaron Herrera formed a strong unit that was the bedrock of the team's success. This offseason RSL sent the homegrown Herrera to Montreal in a trade, which is a major shake-up to the backline. The presumed lineup will likely shift Andrew Brody to his natural right-back position. On the left, RSL signed Brayan Vera, a 24 year old Colombian defender, who is expected to battle for time with 32 year old Bryan Oviedo. [Two Br(a)yan enter, one Br(a)yan leave!]
Oviedo is a solid player, who played well this winter for Costa Rica at the World Cup and for RSL at the end of last season, however he has not made more than 25 appearances in a single season since the 2018-19 season with Sunderland, so an additional depth signing at this position makes sense. Behind Andrew Brody is the relatively untested Bode Hidalgo, who has not played many MLS minutes, so RSL will be hoping Brody can have another iron-man type season where he played nearly every available minute of the 2022 season.
At the center of defense, Glad and Silva both had excellent seasons in the 2022 campaign. RSL allowed just 25 goals in the 24 games that they started together. The 2022 season was especially good for Silva, who was able to feature in 31 games, after having missed 14 in the 2021 season and 17 in the 2019 full MLS seasons. This offseason the 33 year old Silva signed a multi-year contract extension this offseason, and the club is hoping that he can continue to feature in nearly every match.
Gone this offseason is Johan Kappelhof, meaning the only returning reserve center-back is the newly re-signed Erik Holt. Holt played in the first 5 games of the 2022 season, but after week five, he only had one start and featured in just five of the remaining 29 games, often failing to even make the match day squad. A surprise move was the loan of Jaziel Orozco, who many expected to get significant minutes in a back-up role and was considered as a nice depth piece. The depth at center back looks to be a competition between Holt, maybe Brayan Vera, and two young and untested players in Delentz Pierre and Zach Farnsworth.
When RSL had to line-up without either Glad or Silva in 2022, the defense suffered significantly, giving up 21 goals in just 10 games and posting a record of 1 win, 4 draws, and 5 losses. With what looks to be a significantly less experienced center-back core, RSL's season could be almost entirely dependent on the long-term health of Glad and Silva in 2023.
Who is going to score goals?
During RSL's summer malaise, where the team tumbled from second place in the Western Conference Standings to needing a win on the final day to even qualify for the MLS Playoffs, one of the major problems was a lack of offensive firepower that resulted into too many dropped points, especially at home. Last season's top goalscorer Sergio Cordova's loan has finished and he has since joined Vancouver Whitecaps, which has led many people to wonder who exactly is going to score goals on this team.
The current crop of forwards includes the returning Anderson Julio, Danny Musovski, and Rubio Rubin, who scored a combined four MLS goals for RSL last season. This offseason RSL added two Generation Adidas draft picks to the forward crop in Ilijah Paul and Bertin Jacquesson. Also returning from injury is Damir Kreilach, who scored 16 goals in the 2021 MLS regular season (more on Dami below). Every season since the departure of Álvaro Saborío, it feels like the Bill Murray movie Groundhog Day, where we ask the same question every offseason: can someone from this group be a threat that can break down defenses and consistently score goals? If preseason is any indication, it looks like Rubin is going to get the first shot up top and he'll be hoping for significantly better returns than in 2022.
What can we expect from the return of Damir Kreilach?
Kreilach missed the majority of the 2022 MLS season after undergoing surgery to fix a nerve problem in his lower back. All signs from the club and Kreilach himself have indicated that he is feeling healthy and ready heading into this season, but at 33 years old and coming off back surgery, will we see the Damir of years past? It is probably expecting too much of him to replicate his 2021 season, especially since his usual provider of Aaron Herrera is gone. Fans will be ecstatic just to see him back on the field, but there is a significant risk that he is not as effective as he was pre-injury.
The club publicly lamented the absence of Kreilach as a major contributor to the poor finish to the season in 2022, pointing to his return as a potential boon for 2023. If Kreilach suffers a set-back or is unable to perform to his previous heights, does the club have a backup plan, or are we due for another season of wondering what could have been?