Pablo Mastroeni on RSL's forward corps
RSL coach Pablo Mastroeni gave a long update on Monday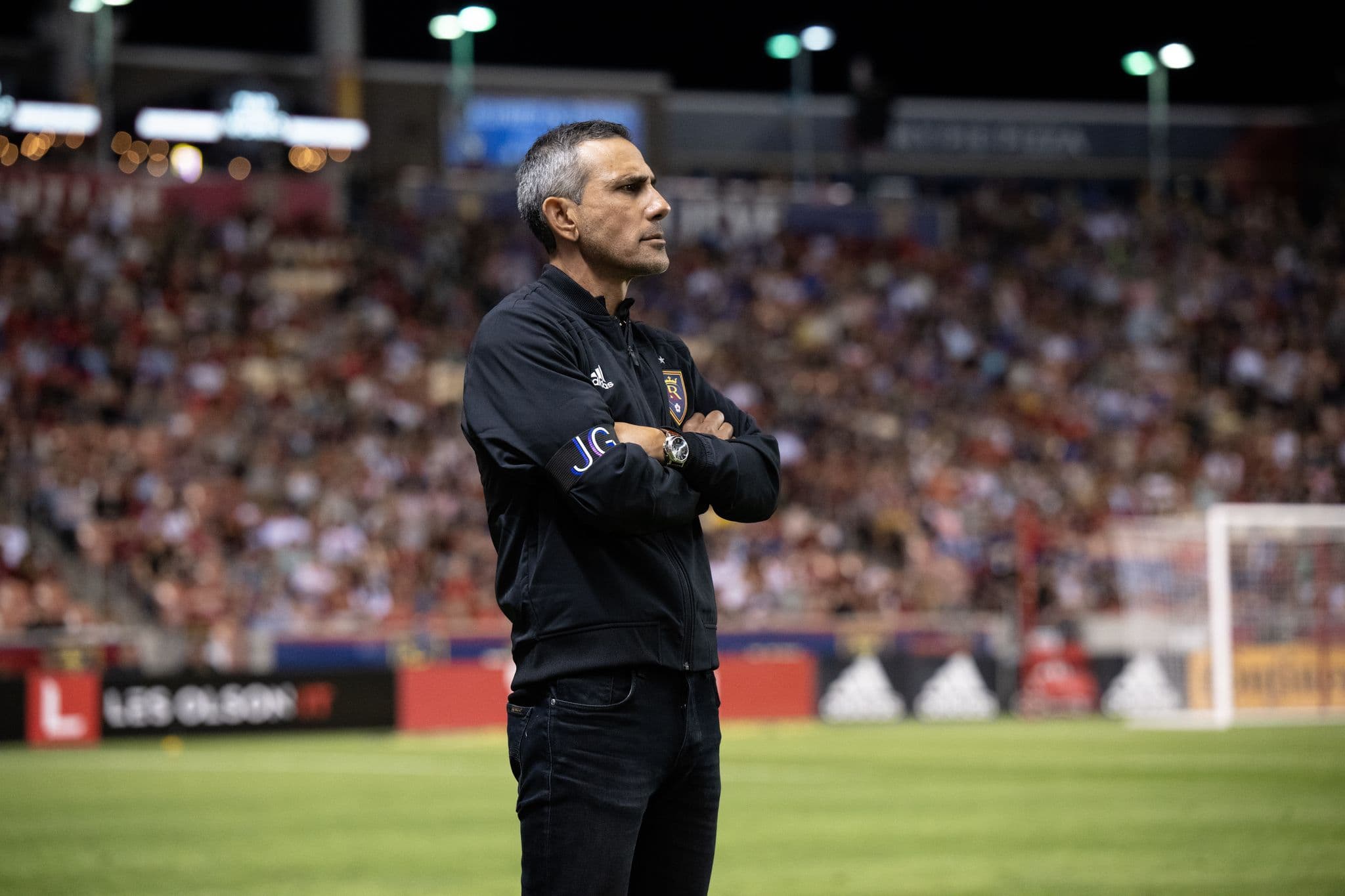 Lucas Muller | Wasatch Soccer Sentinel
Real Salt Lake coach Pablo Mastroeni gave a lengthy update on the team's status at center forward during a press conference on Monday, and our own Lucas Muller was there to ask questions.
A full transcript of his comments on the forward situation follow. Some points of note include:
Danny Musovski has been hampered by injury during preseason
Anderson Julio has been undergoing focused strengthening in a bid to play more minutes
Damir Kreilach played 30 minutes in a preseason match against LAFC but could have played more — "we're asking Dami to stretch his abilities"
Danny Musovski
Danny (Musovski) hasn't yet joined us, he's been hampered by an injury. But him and Anderson (Julio) have been really sharp up front. To be honest, again, what I think defines this group is how we play as a collective. If everyone does their job, I think we'll be in a position to win games. That's something I've been harping on positionally — positional responsibilities and roles.
Rubio Rubin
On the importance of preseason:
Rubio (Rubin)'s a good example last year. If you don't have a proper preseason, you are chasing the season. This is where you lay the foundation — the tactical work, the fitness work, the strength work — that will carry you through the season. If guys end up coming later and later, it's going to really retard their ability to get into the group in a way that will help us move forward.
On what Rubin brings to the table:
I think Rubio in 2021 was our guy and started off really bright, scored quite a few goals in the beginning of the season, then kind of cooled off. What Rubio brought were all the intangibles. He led the press, his link-up play was great, his hold-up play was great, and he's a competitor. He works really hard for the group. When you start scoring goals, then you add that. He's done it for us.
Damir Kreilach
He had an ankle sprain the week before and so wasn't able to do a little scrimmage, an intra-squad scrimmage. Initially we thought maybe 15 minutes against LAFC, but as the week progressed, he felt better and better, so we thought, let's do 30. To be fair, he could have done 45. As far as his actions, they look really sharp. We're asking Dami to stretch his abilities and what he's comfortable doing, running in behind. There's a play where it was a really close offsides call where he'd broken behind the defense. Trying to be multifunctional, multidimensional in some of the roles we're asking guys to try to improve on. He looked really bright, his positioning was really good, and he had two really solid chances to score. If we continue on this trend, I feel like Dami will be in a great position on game one.
On managing his fitness:
Dami's a guy that we want to slowly integrate, but he continues to exceed expectations from a fitness perspective, and he's been really, really sharp. It's a position where, in the short term, I think we can manage. Over the course of the season we definitely need to provide a bit more depth and competition to keep everyone sharp.
Anderson Julio
Anderson's a guy who we've usually used as a guy coming into games and has been really bright. We're trying to push him, stretch his limits and stretch him a bit to be a guy that have more 90 minute performances to help alleviate some of the pressure up front.
On what he needs to do to make it to a starting role with the team:
I think it's two-fold. One, his physical body. What we've learned with Anderson in the time he's been here is once he's asked to play a certain amount of minutes over successive weeks, he always comes up with some sort of muscle injury. He had an offseason program to strengthen certain areas of his body. I think the other part is fitness. He's a real fast twitch player. They only have so many fast twitch dynamic actions before they start to fill with lactate, which hampers his ability to last long periods of time. If we get the physical part right along with the fitness part, I think we'll be in a position to be able to utilize him a bit more. To this point, he's been really bright. Rubio, Dami and Anderson have all been really, really bright this preseason.
Roster needs
At the moment, we don't have a signed back-up left back, we're looking for some depth in the center of defense with a bit of experience, and obviously (to) fill in the gap that was left when Sergio was gone. So those are obvious areas that we feel could bolster the group and provide some good depth and competition in those pieces. I think those are the areas that we need to fill.