Match Coverage
RSL vs. Portland Timbers: Player Ratings
Who got top marks in RSL's 0-0 draw with Portland Timbers?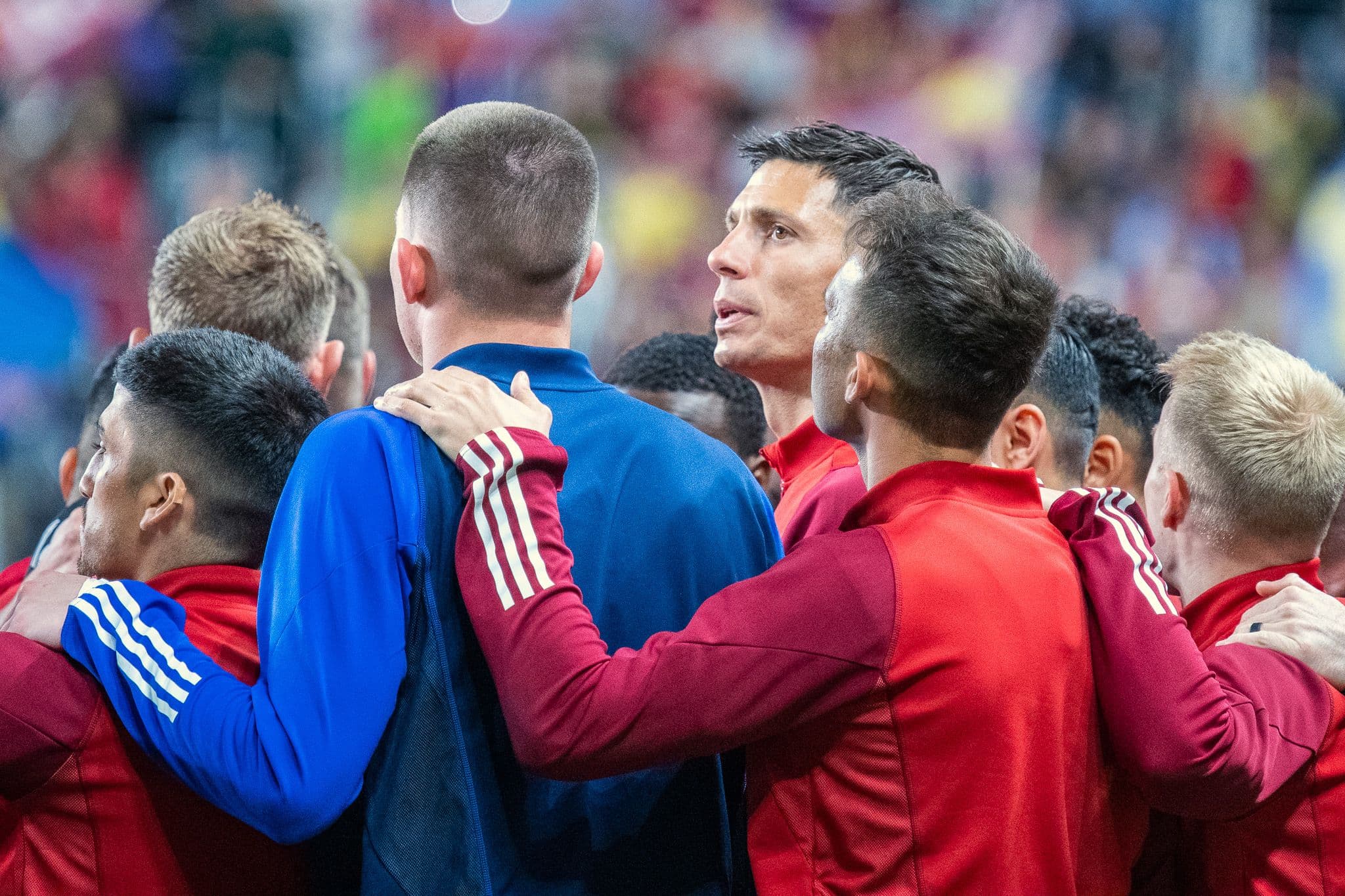 Lucas Muller | Wasatch Soccer Sentinel
Defense
Zac MacMath: 7.75 (MVP)
Goalkeeper
Zac has recently been a bit unlucky with the high ratio of shots to goal from opponents. He rarely gets the chance to pull off many saves simply because the shots he needs to save are borderline unsavable. Wednesday night he was able to execute a point-saving stop in the second half when Boli uncorked a powerful shot at goal. Outside of his actual net minding, he made no major mistakes in coming out or in the air, along with very good passing numbers for a goalkeeper (66% on long balls.) With three shutouts in 4 MLS games - the 200 game MLS veteran deserves a bit of a shout. 
WhoScored Rating: 7.4 | SofaScore Rating: 7.8 (MVP)
Andrew Brody: 6.75
Left-back/Right-back
I was correct in thinking a healthy Hidalgo would remove Brody from right-back, but I didn't think it would be back to the left. That said, resting Oviedo makes sense with the run of games ahead, and Brody at his best has been when deployed on the left. For this game, he had to partner with Chang on the left wing, which is safe to say, is very un-practiced. Brody was more defensive than usual given the swap, but I can't say it was all that bad, the speedy wide back collected an impressive 49/51 passing. It's still not the Brody of last year, but there's not much to dislike here otherwise. 
WhoScored Rating: 6.8 | SofaScore Rating: 7.1
Justen Glad: 6.0
Center-back
I'm gonna make a leap from the rating websites and not commend Glad too much on this game. His second half give away was close to a game-losing mistake, and he was riddled with such errors the first half dozen games of the year. Otherwise, there weren't really many moments that called for big defensive plays, and outside of those, Glad was extremely tame in his passing and decisions to spring forward. His highlight of the game was perhaps his absolute rocket of a shot right at Ivačič. 
WhoScored Rating: 7.1 | SofaScore Rating: 7.1
Brayan Vera: 6.75
Center-back
Vera continues to do a solid job filling into the center-back role while Marcelo is out with his rib injury. His defensive numbers were a bit stronger than Glad on the night, but I couldn't personally tell much difference. The only thing lacking was the trademark hard foul we've come to appreciate. There is a question on where we plan to utilize Vera going forward when Marcelo is back. Will the new signee simply be used in rotation, or are there still idea's of having him compete for the left-back spot? Either way, if he serves as a depth piece for both positions, he seems a reliable option.  
WhoScored Rating: 7.0 | SofaScore Rating: 6.8
Bode Hidalgo: 6.0
Right-back
I think in the limited appearances we've seen of Hidalgo this year, that this was actually one of the more disappointing ones. Generally, I think he has been a decent outside back considering his age and experience - this time around, regardless of if it was Evander, Moreno, or Chara, the isolated defending did not instill much confidence. Getting dribbled by twice isn't crazy uncommon, but it felt like that number was close to exploding, and for most of the game we seemed weakest on the right side. Tack on some below average passing numbers, and Bode left more questions than answers about the wide back situation.
WhoScored Rating: 6.9 | SofaScore Rating: 6.6
Midfield
Braian Ojeda: 7.0
Defensive Midfielder
Again, I'm going to stray away from the rating sites a bit to express what I considered another very decent-ish performance from young Paraguayan. Next to Eneli, Ojeda was filling in the more creative, more Pablo Ruiz role in the double pivot. The results, a pair of key passes, 7/7 long balls, and 3 successful dribbles. All in all, pretty good, the stuff you want to see. Along with his 9 duels won, and I can understand the higher ratings. Relying more on the eye test I don't quite agree. Perhaps I'm influenced by the lens of "Are we going to pay 4 or so million for this player to keep him around" and time after time I don't see it. Some of the decisions with passing and his tendency to float out of position at bad times are not inspiring. Not to mention he had the best chance of the night for RSL to snatch the win with a close-range shot, but only slammed the post from point blank. Not the easiest shot in the world, but a moment this team desperately needed to go its way. 
WhoScored Rating: 7.9 (MVP) | SofaScore Rating: 7.4
Emeka Eneli: 7.0
Defensive Midfielder
Another week, another performance to be a bit optimistic about Eneli. For some people's money, I imagine he was the better performing defensive midfielder in the game, and it would be hard to disagree. Probably the biggest thing holding him back here, is that he is more or less, the same style of central midfielder that we already have. A slightly different flavor than the Ruiz/Ojeda/Löffelsend experience, but nothing that actually changes how we look. That said, in this match, he did manage to win 10 duels and complete 42/43 (98%) of his passes. And by all means, that's a whole lot of what you want to see from a box-to-box midfielder. Well, outside of getting dribbled passed the most on the team, but he is still voyaging his first professional season.  
WhoScored Rating: 6.7 | SofaScore Rating: 6.8
Carlos Andrés Gómez: 6.0
Right-winger
The young-developing-player experience continues, where Gómez spent about 75% of the game at a 4.0, but in the other 25% was a 9.0. Yeah, all in all it was a pretty frustrating game for the right-winger, with a number of dribbles and passes that leave plenty of question marks in their wake. The counter argument here (well, outside of being a 20-year-old, which should justify basically all of this) is that the glimpses we get from him are very encouraging. Savarino looks his best when combining with Gómez, and at times, Gómez himself looks dangerous. Most notable on Wednesday was his shot off the post early in the game, but his dribbles when they do work, are often defense breaking. For now, it's a lot of wasted possession, but it's hard to be dynamic on the ball - and trying is the path to improving, so I'm fine with the growing pains (unlike some). That said, it obviously wasn't a good performance. 
WhoScored Rating: 7.1 | SofaScore Rating: 6.5
Maikel Chang: 7.0
Left-winger
This rating may turn some heads, so allow me to elaborate. Chang is obviously, almost always deployed on the right, he has played more games at right-back/right wing-back with RSL over the last year than any games on the left. So, when Chang is not only deployed as a left winger, but proceeds to maintain 97% passing, I think some real credit is due. Most reading this will know the MLS Salary guide came out recently (but if not, take a peek) to where we see that Chang recently had a near 100k increase to his salary, up from league senior minimum. Before, I think it was obvious RSL was getting immense value from a player capable of putting in average performance's week in and week out. Add in the fact that he can seemingly do so from 3-4 positions, and I think RSL is still getting very good value from this player, who while unimpressive on most nights, often does his job at a reasonable MLS level. 
WhoScored Rating: 6.3 | SofaScore Rating: 6.9
Attack
Anderson Julio: 5.75
Advanced Forward
On the opposite side of the value for player argument, Julio is still being paid 820k to be awfully non-impactful. He is still just coming back from injury, so there's no need to get overly critical of this one game, but on watching this match a second time over, I have to really be attentive to see what Julio is offering. On the stat sheet it's equally benign, 14 touches and 7/8 passes in 63 minutes with no shots or key passes. Whatever value we are getting up top from having a speedy forward isn't really materializing in the attack, and at no point seemed to be working Wednesday night. Perhaps he isn't as accustomed to being a solo striker, but I think that's a poor excuse for the level of contribution. 
WhoScored Rating: 5.9 | SofaScore Rating: 6.5
Jefferson Savarino: 6.5
False 9
Obviously, this game was a bit of an experiment for Sava, having him trying to take his creative abilities to the high-center part of the field. The results? Well, it looked like Savarino, just more central than normal. I think having Jefferson in a False-9 position makes a lot of sense, perhaps it's not where he operates at his very best, but he can easily still fill in here at a good MLS level. His impact was hardly diminished given he normally roams from the wing anyway, so Sava got off a number of shots and dribbles that we've been accustomed to seeing. Three key passes are evidence of this, but even more so, it just looked and felt like another Savarino game where he is involved throughout, but came up short on execution. 
WhoScored Rating: 6.4 | SofaScore Rating: 7.0
Substitutions
Bertin Jacquesson: 6.0
Advanced Forward/Right-winger
Played 15 minutes at striker until Damir was subbed in and moved him off to the wing. Despite that, I think this game was a bit of a dud for Bertin. Yeah, he had a pretty neat attempt at goal once again, and added to his credentials for being labeled the "Flying Frenchman". Overall, he really didn't offer too much in the game, contributing a stellar 1/1 passing in his half hour on the pitch. 
WhoScored Rating: 5.9 | SofaScore Rating: 6.5
Bryan Oviedo: 6.25
Left-back
Put in some okay work during his 30 minutes, winning a few duels and hitting 11 passes, but otherwise had no major moments in attack or defense. Likely still the left-back of choice ahead of Brody, but on much older legs will need some rest and rotation. 
WhoScored Rating: 6.4 | SofaScore Rating: 6.9
Daniel Musovski: N/A
Advanced Forward
Moose sighting! Didn't have much time to impact this game, but was at least more active than Jacquesson. 
WhoScored Rating: 5.9 | SofaScore Rating: 6.2
Damir Kreilach: N/A
Advanced Forward
Hard to say if Pablo was planning on subbing in Damir at all given he came in for Chang's cramp, but regardless, didn't come on the field soon enough. For a team that manages so few quality shots, as highlighted very well by Matt, having a player who (despite any complaints of slowness or reactions) is an incredibly good finisher that generally demolishes his expected xGoal -  should have come on much earlier. 
WhoScored Rating: 6.3 | SofaScore Rating: 6.6