What we know about RSL after two games
A win and a loss for RSL have given us a lot to think about.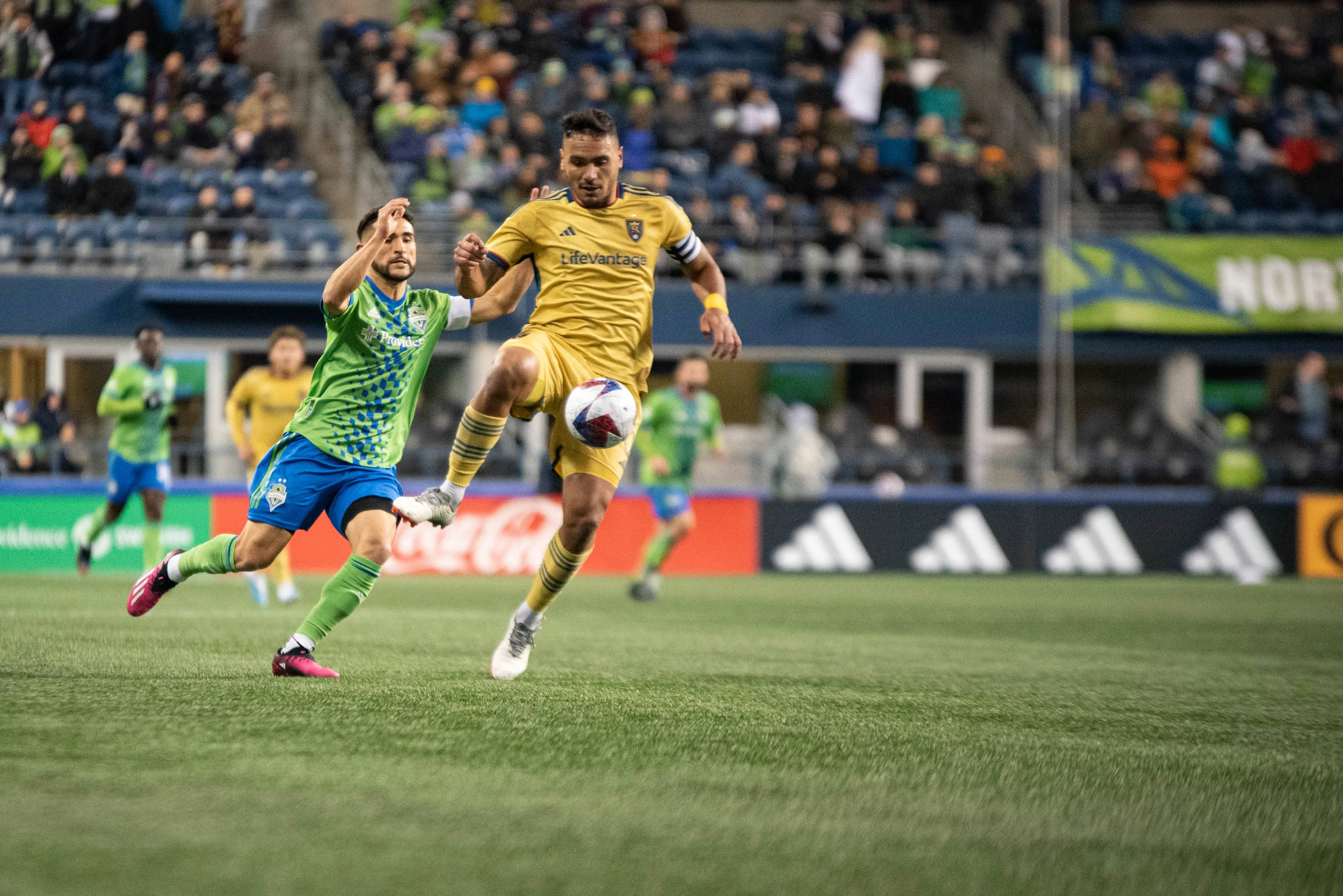 Kayla Mehring / Sounder at Heart
Today I am happy. For in a handful of days Major League Soccer will be played right here in Sandy, Utah. I am also happy because the squad for which I cheer and sometimes rant about has managed to garner three points through their first two away performances this season. That is a feat that we should definitely be celebrating. And while the team has managed a string of about 70 minutes of quality soccer, there are still quite a few things that are causing my eyebrows to stand straight up into my receding hairline.
I'm eager to dive in and talk about my thoughts on the lads' performances so far. I'll do this by breaking down individual thoughts about individual performances.
Braian Ojeda
For me, so far, Ojeda has felt more of a disappointment than not. Maybe that's because the human brain tends to hold onto negative experiences far more easily than it does the positive things. Let me break down why I think that Ojeda is a 50-50 player for me.
I have noticed that I often see Ojeda doing good things to disrupt offensive play and distribute the ball. This ideal is something we had the privilege of watching Kyle Beckerman do for us through his tenure and it's something we desperately miss as fans. On the flip side of that coin, Ojeda is involved far too often in giveaways, missed passes, and I can't help but see him chasing in behind more than I'd like.
He's fouled a couple of times a game, dispossessed twice a game and hasn't produced a single key pass thus far on the season. Moving forward I'd like to see a bit more from the prospect, that is, if he intends to have his option picked up later this summer by the club; I personally would like to see more in order to move forward on that front.
Scott (not to be confused with L. Scott) Caldwell
God bless your heart Scott. You seem to have been thrown into the matches you've played well out of your depth. I respect the hell out of your career bud, but there is no way that Caldwell should be starting even as our 4th best option in the midfield. I, for one, cannot wait for the return of Pablo Ruiz.
Justen Glad
One thing we know for certain is that Justen is sniffing around for some goal action this season. Not only have we heard him remark about this, we can see it in the way he's playing. I don't think there has been a time in RSL history when our CB's have advanced forward so much, and not just on set pieces. There are a few instances per match where we can find the ginger geriatric-gyrator poking around up top and oh boy, what a run in behind to equalize for us in that season opener. Do more of this, please! Just don't get caught too far up field leaving the pressure on Ojeda or Caldwell to clean up for ya too often. My heart can only handle so much blood pressure spiking per match.
Glad has a solid passing percentage thus far on the season, has been doing his thing to win aerials and disrupt play. He's also put us in some sticky situations where teams put him on the ropes. Concerning the Jordan Morris goal: there really isn't much anyone could do to defend that perfect ball. I'm still just baffled that Roldan had an entire weekend (with Julio just jogging on by, watching) to serve that ball up to one of the league's hottest strikers.
Sava/Damir
I'm lumping these two together because there are so many things I could say about both of them that I don't want to spin up a separate column just to do them both justice. Jefferson Savarino is the brightest spot on this team especially in the attack. He is what we need him to be and I can't wait to see the team start gelling more so that we can unlock our dear sweet prince's abilities. Let's put one in the net for the home opener now! Sava has also slipped on his passing between the two matches. Something broke him in Seattle. Can't really blame the turf as you could argue that Vancouver's field is much worse than Seattle's and he had an excellent showing against the Whitecaps.
For Damir Kreilach, I love what he brings. He is our captain and is considerably achieving his all-time greatness in real-time. He's a silent killer when it comes to the attack (when we're able to be a threat, that is --- we weren't a threat in Seattle for 75 minutes of the game), as he draws in defenders, finds himself in sneaky spots, and can distribute the ball through the run of play really well. He just knows where to be and I have a suspicion that we're getting some of his sturdiest football played out in front of us this season. One thing of concern here, however, is that we require him to be everywhere. He's playing as a sort of a 10 for us, yet we see him chasing in behind on defense far more than I'd like to see. He's playing more of a box-to-box style of play (similar to where we've seen him shine in years previous) and while I don't mind someone who's willing to put in the defensive work, I do worry about his motor running on fumes for the majority of the season. Simply put, we need a Beckerman-style player to save our King from sputtering out the engine. We miss the confidence that a true CDM can bring.
Andrés Gómez
Oh buddy. Buckle up because as soon as this kid gets his boots beneath him we are going to witness some fireworks. Nearly half or more of the young winger's minutes have been through garbage time and there were some clear signs of whoopsies that we witnessed in Vancouver and again in Seattle. But there have equally been some moments of brilliance and flashes of pace on the ball we haven't seen on this squad in a while. His combo play with Sava has shown a lot of promise and boy does he have a shot. I for one am excited for Gomez to get some more playing time and get comfortable.
Bryan Oviedo
No. Just no. He's not quick enough to give me any hope that we have a replacement for Aaron Herrera yet. Lots of praise coming for this guy and I cannot disagree harder. This is one Bryan that I'm excited to see more as a late game sub or another option. I think he's our weakest defender by a strong clip, and I'm in the "Brody isn't a defender" camp.
Maikel Chang
I think this might garner a crusty look or two but I believe Chang to be our strongest, most consistent player at his position so far. With a dime of an assist to J Glad and a handful of beautiful crosses and balls served into the box I don't see anyone doing that 'verticality' thing quite like Mikael Chang. He's tackling well, making key passes and provides that sweet sweet delivery that we do so often. Defensively we can see more out of him for sure. But I'm very pleased with the Cuban crosser this season. As Gomez slots in once he's ready it will be interesting to see Mikael as an off-the-bench solution in games where we need that steady service.
Diego Luna
....... breathe ryan.... breathe... as I have been striving to practice my own zen here at home (no cap) I am finding myself triggered here on this topic quite a bit. Good thing those breathing exercises have become rather routine for me and I'm actually genuinely happy that I've been provided so many opportunities to train my meditative muscles on behalf of our beloved Moon Boy.
Diego is truly a head-scratcher. But not because of the way he plays. It's how he's being used and who sits on top of him in the depth chart. There is no way on this planet that Diego Luna should be losing minutes to Scott Caldwell --- that is, if we're treating them equal and putting them in the same position. Not only do I feel like the minutes we've seen from Luna so far are some of the best from anyone on the team, I believe we should be seeing way more of those minutes. I don't get it. I don't get why there is even a question from Pablo here. What is happening in practice to warrant his spot on the depth chart? The young prospect should be starting over everyone in the midfield except Jasper so far. If I were asked to, I'd die on this hill. Stop scratching your head about him, Pablo. Play the kid. Play 👏🏼 the 👏🏼kid 👏🏼!
Rubio/Julio
Rublio? Jubio? What would their celebrity couple name be? Rublio Anderbin? Jubio Rubanderson? Cool. I treat both these guys about the same as far as expectations go. I do believe that Rubin should be starting. Julio just isn't the same as he was in his inaugural season for us. Reminder: He was played more as an off-the-bench option and wasn't expected to start as a lone-striker up top for us back then. I say we return to that. Let the winger run at defenses during the final 30-40 minutes of matches. It's where he shines. Just do it.
I'd like to see more out of Rubin. The minutes so far have been underwhelming but what he brings is a bigger presence in the attack. We're missing that hold-up play badly and we need someone up top to be able to put his back to the goal and draw defenders in behind the attack.
Julio is a liability on defense. I don't know that we get more out of Rubio as the minutes we've seen from Rubin thus far have been against the hottest attack in the league.
Looking forward
I cannot wait to see my friends back at the RIOT once more. I am truly excited to see this game back on real grass having a real good time at a really cool stadium. There are things that I'm impressed with and reflecting back to the opening sentences of this column, I am, indeed happy. Can't wait to see how we establish that playoff-mindset once more!