The Salt
Is Real Salt Lake a development club?
A talented young attacking midfielder joined Real Salt Lake last summer in the form of Diego Luna. What's the club's plan for his development — and is RSL a development club?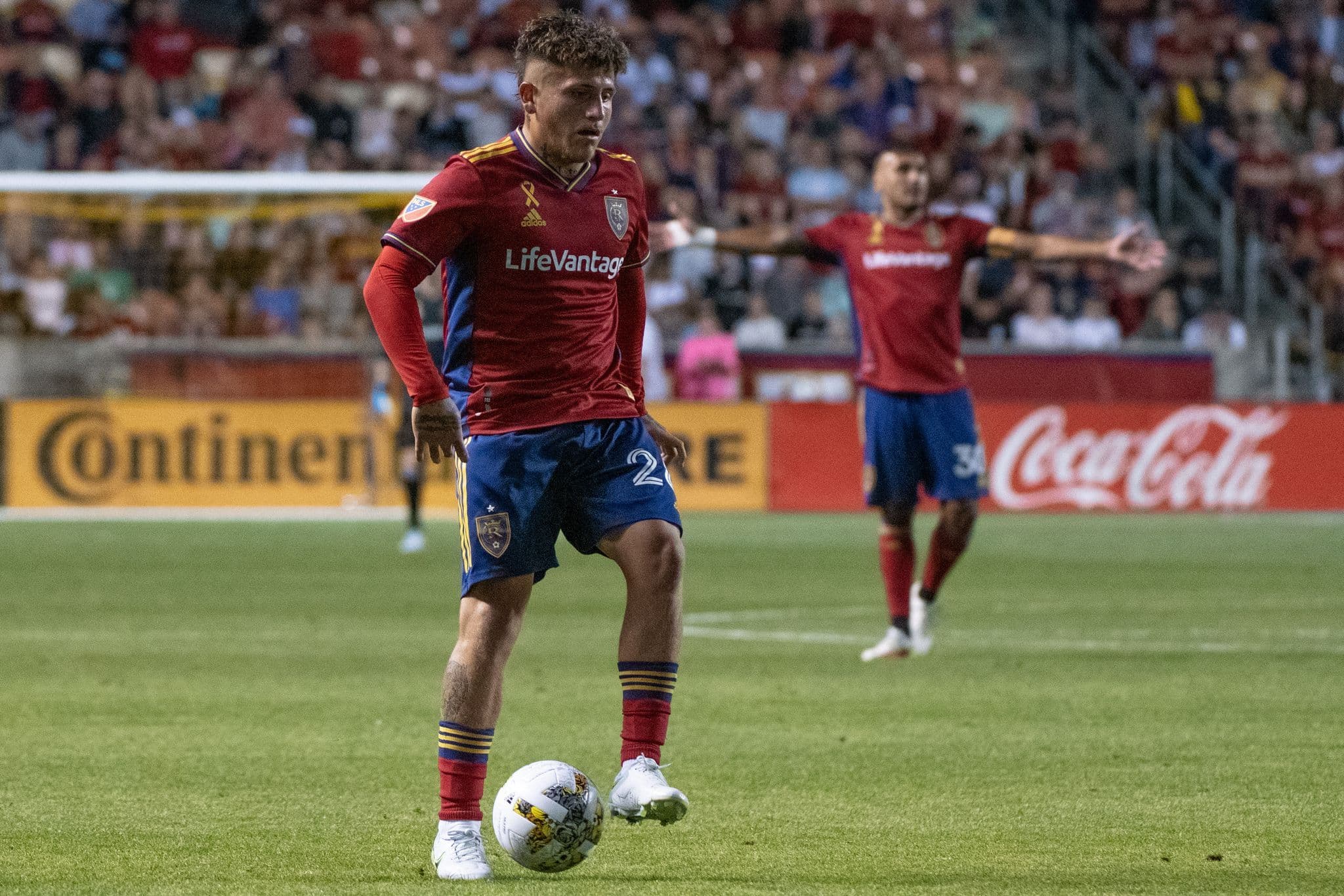 Lucas Muller | Wasatch Soccer Sentinel
This is the first in a series of columns aiming to answer the question posed in the headline: Is Real Salt Lake a development team? This week, we'll take a look at the team as it stands now.
Like most of you, I've been excited by the fact that Real Salt Lake signed a prospect like Diego Luna. He's playing at a high level with U.S. youth sides, he's intensely creative on the ball, and he can score a lovely goal.
While I can't prove that RSL didn't sign the player because he shares a name with a prominent actor playing a big role in a prominent franchise, I'm firmly of the opinion that our Luna's talents on the field were the motivating factor. (Still, that would be a fun conspiracy theory to trot out.)
When I look at Luna's minutes in 2022, I'm left with one major question: What's Real Salt Lake's plan for him in 2023? We can reflect immediately on what Luna said when he joined the club:
After speaking with the front office about their strong interest and plan for me, I am convinced this was the right move for my career.
What are those plans? It's something I'm sure most of us are wondering. Is it just that Luna wants support in playing consistent minutes with the United States youth national teams? Is it that he wants to be ready and involved in the U-20 World Cup? Those are good things, but is that the totality of the plan?
In 2022, his minutes off the bench averaged just 12.9 per match — hardly enough time for any player to show their capabilities and make a substantial impact. His three starts never saw a 90-minute performance; his longest appearance was 71 minutes in a 3-0 loss to Austin FC.
Of course, I don't mean to imply that the plans he mentioned involved him starting regularly from the offset. I don't think that would be a reasonable expectation for a teenager. It would have been incredible if he were at that level, but it wasn't realistic.
In an interview on Monday, RSL coach Pablo Mastroeni told gathered media — including KSL.com's Caleb Turner, who posted the interview on Twitter — that Luna was perhaps not a great fit for RSL's intended style of play.
"I think from a setup perspective, we want to be very vertical and very direct in the way we want to play," Mastroeni said in the interview. "That doesn't always suit Diego's skillset. He's more of a player that likes to slow build."
That is, in part, true. I don't know if what I've seen of Luna is a "slow build," but compared to Mastroeni's frenetic route one football, almost any style of play can seem sluggish.
Mastroeni went on to describe Luna as lacking some of the "physical prowess" that defines RSL's style of play.
For us, we want to score goals, we want to threaten, we want to go with pace. We want to pressure our opponents with our physical prowess. That doesn't always suit his skillset. The challenge is — Diego, really, he's doing a great job of perfecting the physical aspect of his game, because really, at any level, that has to be first and foremost."
That's a very telling quote from Mastroeni, and it is an interesting reflection of the team's loaning of center back Jaziel Orozco in the last week. To that end, Mastroeni indicated there have been indirect discussions about loaning Diego Luna to another club. Without saying it directly, Luna's coach indicates he's not in a position for "consistent playing time" at Real Salt Lake.
How can we put Diego in a position where he's getting consistent playing time and is able to continue to develop? If it's not going to be significant playing time here, how can we help the young man continue to develop in his own way?
And that brings me back around to the question I posed above. What's Real Salt Lake's development plan for Diego Luna?
This, with the loan of Orozco, puts me in a position of believing that Real Salt Lake, under the playing auspices of Pablo Mastroeni, is not a development club. Not really, at least. Perhaps RSL can be a club that takes players in the prime of their career and shepherding them successfully into it, as we have seen with Jasper Löffelsend and Andrew Brody, among others.
It's then even more interesting looking toward Orozco. If a club like Santos Laguna is seen as a more realistic option for development — a club that is a consistent mid-table team in Liga MX, moreover — then what is Real Salt Lake? Can they be accurately called a club that focuses on development?
Where that becomes most salient is in thinking about the club's academy. Long touted as a source of exciting prospects, will we see those prospects develop at Real Salt Lake?
When I consider Real Salt Lake's roster, the questions only heighten. This is a team that has invested in youth. Beyond the aforementioned Luna and Orozco, the club has numerous others on professional contracts. Gavin Beavers, Zack Farnsworth, Carlos Andrés Gómez, Bode Hidalgo, Axel Kei, Ilijah Paul, Luis Rivera and Jude Wellings are all 20-years-old or younger (although Hidalgo turns 21 on Feb. 22). That's a not-insignificant outlay on the roster.
There is a real difficulty for me in how I think about this team, and that's because there seems a fairly obvious disconnect in how this team talks about itself and how they behave. This idea that Real Salt Lake is a development team is an appealing one, but more important is consistency in approach.
It shouldn't actually be difficult to prioritize being a development-first team in MLS. The reward for success is fairly low — outside of a trophy, which remains the ultimate goal and is exceedingly difficult to achieve as-is — and the penalty for failure is even lower.
So, the question remains that I posed in the headline. Is Real Salt Lake a development team? To properly be answered, we need more information. Disappointingly, it is not a question we have an answer for now. The club must put forward a contention that they are, and it must be through on-field play.
After all, Real Salt Lake has been called a development club for well over a decade now, owing in large part to our extensive academy setup, both in Arizona and in Utah. The club has produced excellent players, including a young man, Taylor Booth, taking the Eredivisie by storm. But to date, has Real Salt Lake truly made themselves a development team?
The most successful academy products at the team have come from a short period in the team's history, and while their success remains, it doesn't mean it's sustained. I'd like to see more successes. Even a player like Pablo Ruiz, who signed at RSL as a young player, developed most outside of the auspices of Salt Lake. Perhaps it's just that loans are essential parts of development, but even laying out that strategy would go a long way to clarifying the intent.
Perhaps all of this is something we can only know retrospectively, and perhaps much of it remains contingent on the players on the roster. Still, I cannot help but wonder one key thing: Can Real Salt Lake be a development team with a high-octane, route one playing style? Is there an incompatibility there?
That's not a question I'm aiming to answer today. I hope the answer is that it is, in fact, possible. I'll need to do more reading and research to be able to even start thinking properly about that question, and I don't think I can ever individually answer it. Still, it's worth an effort. Next time around, I'd like to try to answer that question, and in a future column, I'd like to dive deep into the numbers — does Real Salt Lake have a history of development, or have they merely dabbled in it?