Match Coverage
Real Salt Lake vs. CF Monterrey: Player Ratings
Who stood out in RSL's loss to the Liga MX side?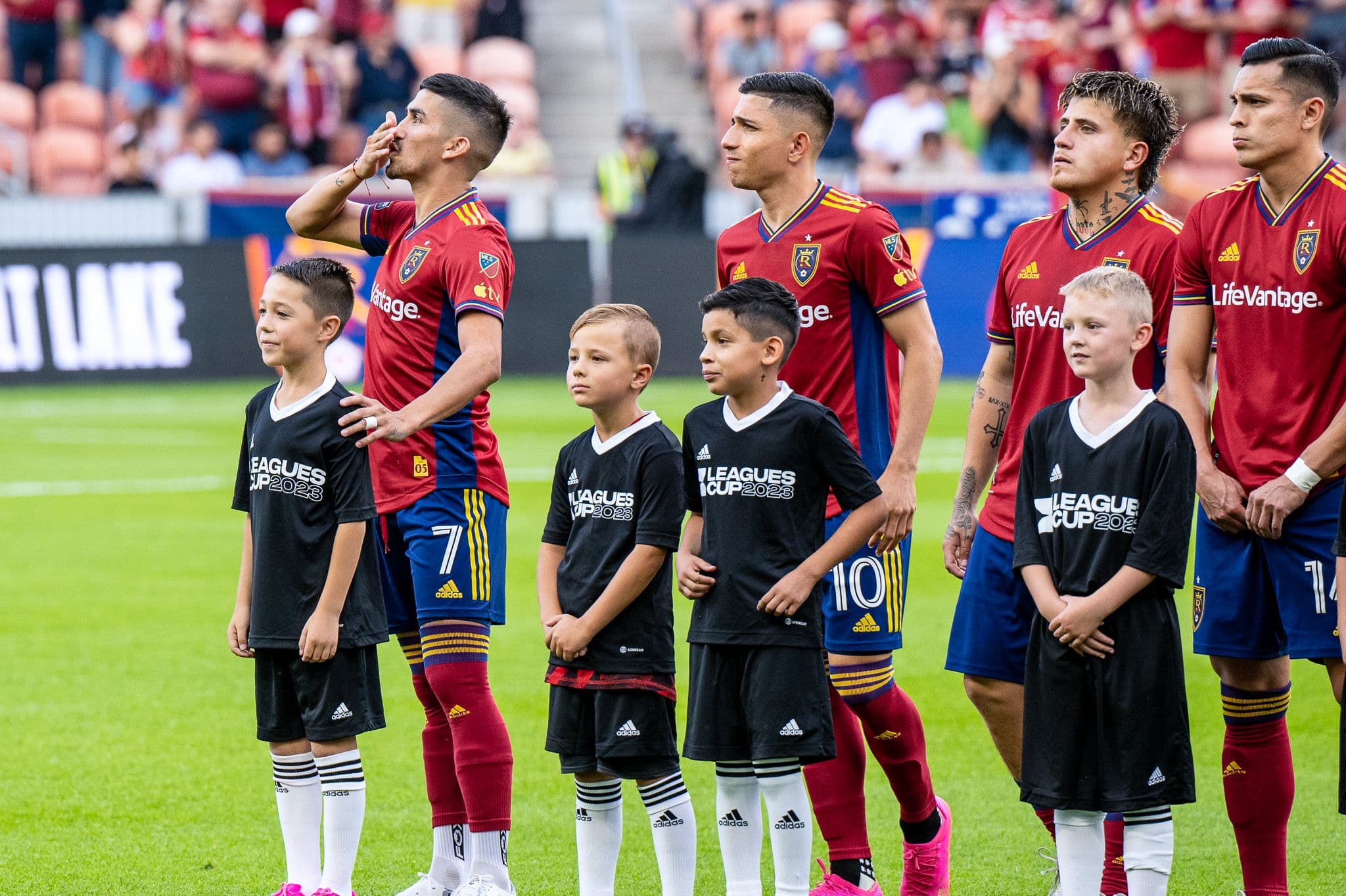 Defense
Gavin Beavers: 7.0
Goalkeeper
Gavin played about as well as one could while having to pick the ball from their net 3 times. While the scoreline isn't flattering for a goalkeeper, his play was strong on the day. For starters, it's really hard to pin any of the goals on Gavin, defensive breakdowns were key in all three situations, often leaving him no chance to influence the play. On the occasions where he could make the save, he came up big and foiled the Monterrey attack several times. I think with MacMath the scoreline would be the exact same.
SofaScore Rating: 6.9 | FotMob: 7.1
Bryan Oviedo: 5.0
Left-back
Probably the worst 90 minutes we've seen from Oviedo at left-back all year. The gap down our left side was massive all night, and Bryan was at the heart of the issue - directly contributing to the first two goals. On the first, Oviedo simply got baited by a runner on the wing and left the attacking central player unmarked. Pretty inexcusable for a veteran of his experience. It's certainly not the fundamentally strong defending you want to see from a wide back, and while he did tee up Chicho with a free open header from a cross, it was about his only real attacking contribution on the night.
SofaScore Rating: 6.7 | FotMob: 5.9
Justen Glad: 5.5
Center-back
This one probably deserves some explanation, since there is certainly a valid shout at him being a much lower rating. We'll start with the good, then go goal by goal. 90 minutes, 50/52 passing, incredible long ball success ratio, not to mention two goal-saving plays that come to mind right away. There were a lot of good moments, but some not-so-good ones as well. While it's harsh to judge an own goal, in that case, he probably could react a bit better. Given he was intercepting a pass that was a would-be goal anyway, it's quite nit-picky. On the second strike perhaps he could have marked the runner better. But so too could Vera have blocked the passing lane, or Oviedo not let his man slip behind. That one was a team collapse with many actors playing their part. For the third goal he just happened to be in the area, it wasn't even his mark, that time around Vera and Hidalgo's actions drew much more suspension from me. Added all together, it was a pretty bad night, but not inexcusably poor. 
SofaScore Rating: 6.1 | FotMob: 4.5
Brayan Vera: 5.0
Center-back
I think Vera had a very similar night to Glad, where he had a number of solid defensive moments, but several catastrophic ones as well. The real key difference for me here is the moment in the first half where someway, somehow, VAR decided not to award a red card for his tackle on a 1v1 breakaway. It seemed incredibly obvious that the attack was both onside and a last-man foul to prevent a goal-scoring opportunity. While the result was a loss in the end, it would have (and really should have) been a loss 60 minutes sooner had the referee crew gotten that call right. Also, his marking/effort on the Monterrey set-piece goal is somewhat bewildering. 
SofaScore Rating: 6.6 | FotMob: 6.1
Bode Hidalgo: 6.25
Right-back
Anyone who thinks they know who the supposed #1 right back is is fooling themselves at this moment. While Eneli holds a slight minute's lead over Bode, it's hardly enough to label either a starter, as both seemingly just share the role currently. While Hidalgo continues to struggle a bit going forward and connecting good passes, he still does a reasonable job in his defensive work. In this match, the right side of the defense was several-fold more stable than the left, and with the help of Savarino tracking back, avoided any calamity.
SofaScore Rating: 6.7 | FotMob: 6.3
Midfield
Pablo Ruiz: 6.75
Center Midfielder
A pretty uneventful day for Ruiz compared to his last few months of extraordinary play. He managed fewer touches than Ojeda despite playing the full game, and only took credit for one key pass on the night. While it was a pretty low production night for the Argentine, there's not too much to gripe about - other than asking for more defensive focus, but given his creative responsibilities Ruiz often gets a pass. Whether he should or not is a different matter. His first-half free-kick was reasonably dangerous, and will likely continue taking those at the highest frequency on the team. 
SofaScore Rating: 7.3 | FotMob: 6.9
Braian Ojeda: 7.0
Center Midfielder
Was this the last match we will see Ojeda play for RSL? Probably not, but if it was, then it was… decent. At least for the most part, we saw the strong midfielder version of Ojeda that has been winning over fans with crisp passing and strong defensive effort. All in all, he was generally in good spots all night, and doing the right thing in those spots. Still, he did have a few rather obvious bad decisions to taint an otherwise fine night from the loanee. Hopefully, if a deal is to be done it doesn't take weeks to complete.
SofaScore Rating: 6.8 | FotMob: 7.3
Jefferson Savarino: 7.5 (MVP)
Right-winger/ Left-winger
How Savarino managed to not find his way onto the scoresheet was one of the bigger mysteries of the night. Not too surprisingly given his success in Brazil, Savarino didn't seem to shy away at all from the challenge of tougher opposition. His second-half pass to Chicho could have easily been a game-changing assist (goals change games) and is just one of many key moments where Sava played a part. Once again, it wasn't just his half-dozen key passes that made his performance so good, but his willingness to press and trackback. While quality was certainly missing on the night, Jefferson was still the best player in Claret and Cobalt for my money. 
SofaScore Rating: 7.8 (MVP) | FotMob: 7.6 (MVP)
Diego Luna: 6.75
Left-winger
Luna fit into his role nicely on the night, providing a few attacking sparks that could have led to goals in other matches. His possession was particularly good, as even from advanced positions he maintained good poise – and stats for that matter – in terms of passing play. While Luna was certainly a creative catalyst on the night, I think there were a few weak moments of defensive effort too. His late tracking back pulled Oviedo out of position on the first goal, and in general, the left side was getting hit much more effectively than the right. Overall an okay game from the young prospect.
SofaScore Rating: 7.0 | FotMob: 7.2
Attack
Chicho Arango: 6.75
Advanced Forward
There are really two ways of looking at this match from Arango; either you appreciate how many great positions he got into, or you focus on the finishing and how those chances lead to nothing. I think overall it was an encouraging performance, and given the quality of chances, he seems still well and truly on pace to keep up a high goal tally. Should he have scored? Probably, but given he hit the crossbar and won the xgoal stat for the team almost single-handily, I'm not feeling too down about it.
SofaScore Rating: 6.3 | FotMob: 7.0
Rubio Rubin: 5.75
Advanced Forward
Sadly his recent goal didn't really bolster his performance in this match. Rubio clocked 58 minutes where his only shot – on an open net – ended with him falling over half-way into the motion. Perhaps more concerning is that Rubin didn't really create too much space for Arango or seem to pair with him too well in combination play. Musovski or Kreilach still seem like they offer more as a duo to the new signing than what Rubio has to offer.
SofaScore Rating: 6.2 | FotMob: 5.9
Substitutions
Anderson Julio: 6.5
Advanced Forward
Julio was provided 30 minutes to use his pace to change the game, and to some degree made a difference. Anderson did spring behind the Monterrey defensive line several times and created some quality chances. His one clear shot dragged decently wide of the mark, but the activity you want to see from Julio was still there.
SofaScore Rating: 6.4 | FotMob: 5.6
Carlos Andrés Gómez: 5.75
Right-winger
Not so sure about the rating sites, but I'm not buying what they're selling. Carlos lost possession 8 times in his 22 minutes. Most concerning of all, his confidence/poise is still nowhere to be seen.
SofaScore Rating: 7.1 | FotMob: 7.0
Nelson Palacio: N/A
Center Midfielder
A 10-minute cameo for Palacio, but this is one of the better cameos's we've seen from him so far. Outside of one pretty bad giveaway, his work rate made him a net positive.
SofaScore Rating: 6.6 | FotMob: 6.2
Daniel Musovski: N/A
Advanced Forward
Moose had 2 touches in 10 minutes.
SofaScore Rating: 6.5 | FotMob: 6.0