Player Ratings
RSL vs Minnesota United FC: player ratings
Who stood out in RSL's 2-2 draw with Minnesota?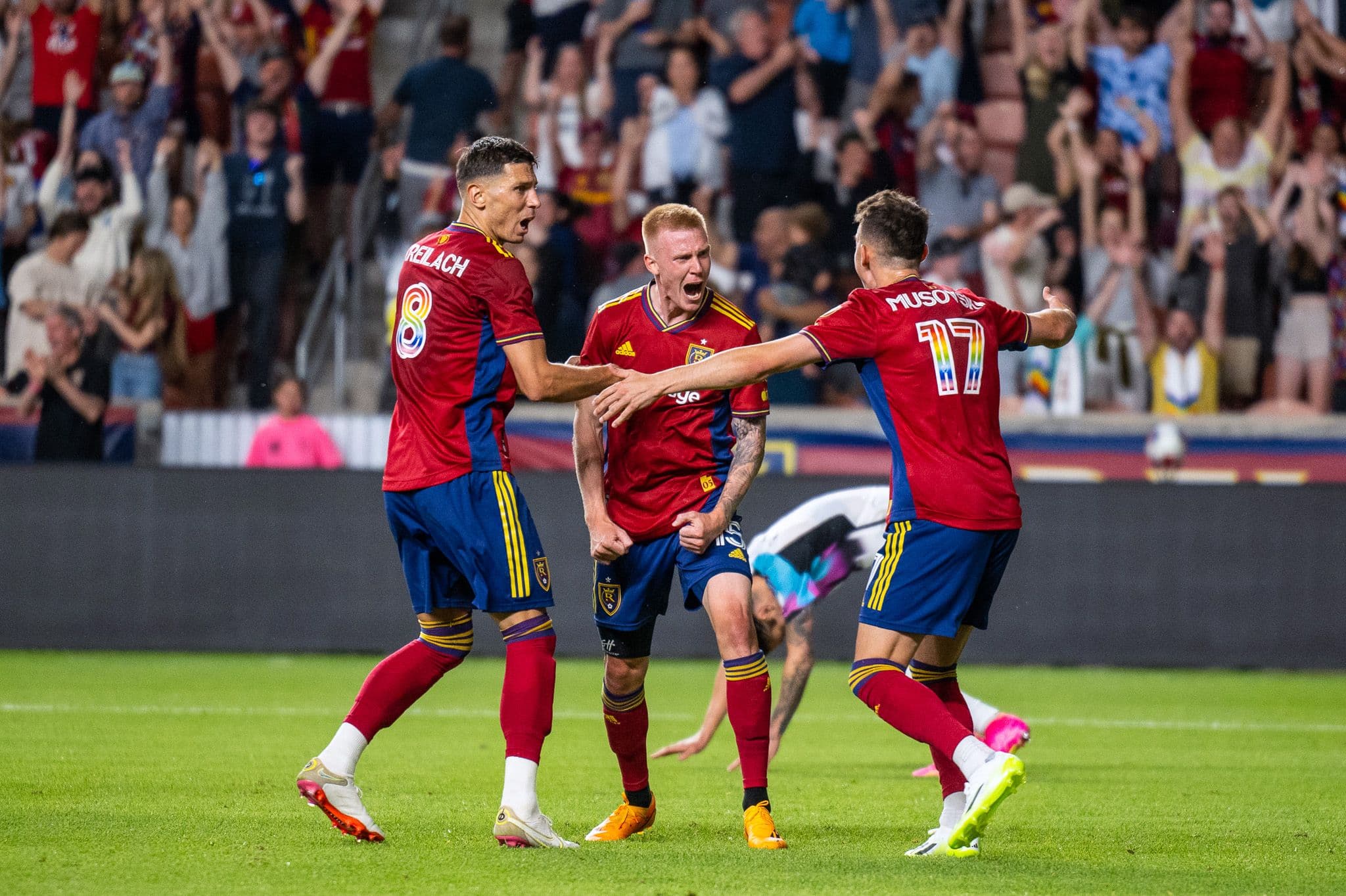 Lucas Muller | Wasatch Soccer Sentinel
Defense
Zac MacMath: 5.75
Goalkeeper
With two saves and 88% passing out of the back on Saturday, Zac wasn't playing poorly in all regards. At the start of the season, he was often left out to dry without much chance of saving anything that came his way. The first goal that Minnesota scored on Saturday however, I think is more or less on him. The moment called for reactions, and MacMath only managed to bat the ball right back at an attacker for an easy finish. Now, this is nowhere near some big issue, it did cost us a goal, but its just one goal. Mistakes like this shouldn't be putting his starting job under threat, even from an in-form Beavers, but it certainly counts and should be noted.
WhoScored Rating: 6.3 | SofaScore Rating: 6.5 | FotMob: 6.7
Bryan Oviedo: 6.5
Left-back
A very solid night for Oviedo, showing why his defensive ability still warrants starting consideration. The World Cup veteran did well stopping most attacks down his flank, and despite the 2nd goal coming from his position, he had swapped positions with Silva earlier in the play to press, and thus really was where he needed to be. Tack on a couple of really good attacking passes and a high passing percentage, and Bryan should be satisfied with his performance Saturday night.
WhoScored Rating: 6.6 | SofaScore Rating: 6.7 | FotMob: 7.2
Justen Glad: 8.25 (MVP)
Center-back
Justen's performance goes well beyond his 90+8 minute equalizer to salvage the team a point. Although that sure does feel really good. He had a shot hit the woodwork earlier in the game, and completed 69 off his 73 passes over the course of the game. While the defense showed some weakness, not much of it really came down to Glad's solo defending, as it was often the cast around him putting things into dire situations. A great performance at home to celebrate his 200th career game with RSL, as Justen is well and truly among this club's best ever central defenders.
WhoScored Rating: 7.5 | SofaScore Rating: 7.6 | FotMob: 8.3
Marcelo Silva: 6.25
Center-back
Captain Silva was back again, but had a much more limited role than his center-back partner. Marcelo did end up in some tricky spots, and didn't always navigate them as well as one would hope. He was one of the two players on the second Minnesota goal that could've reacted to prevent the eventual tap-in, but committed to the central areas - which to be fair, is often the right thing to do. Aside from some nervous moments from Marcelo, he played his role, and helped add to RSL's great passing numbers for the match.
WhoScored Rating: 6.1 | SofaScore Rating: 6.6 | FotMob: 6.6
Bode Hidalgo: 6.25
Right-back
Really not the kind of performance you want to see from Hidalgo when he is fighting for his place against both Brody and Eneli. He was credited with losing possession 19 times during his 66 minutes of game play, and nearly gave up a goal right after the first, by losing his mark and leaving Glad out to dry in a 2v1 that Zac had to clutch save. The reason I rate this above a 6 is because I think it's pretty obvious, he did earn a PK, and regardless if the center ref gives him credit for it, I still will. For the record, a foul that starts outside the box, but continues inside the box, is counted where the foul ends. So Hidalgo drew a PK, which is good, but outside of that, really a not-good night from the Kaysville local.
WhoScored Rating: 6.1 | SofaScore Rating: 5.9 | FotMob: 6.4
Midfield
Pablo Ruiz: 7.75
Center Midfielder
Honestly feels like a bit of an understatement to give Ruiz less than an 8, given the Argentine played a very strong game. Tonight, more than most nights, we saw his left foot at work, justifying some of the lavish praise that coaches and teammates often give it. He could have had a hat trick of assist on the night, creating two massive chances for Musovski – one of which was scored. His goal that was taken away, while harsh, was pretty fair. From replay it was obvious Irwin couldn't see the shot, and had he been able to, probably makes the save. It wasn't a particularly hard shot, unless of course, you can't see it until it's already flying through the box. Ruiz in my mind also carries a large amount of fault for Minnesota's second goal, the player who scored sprinted by him earlier in the play as Pablo slowly jogs, unaware of the massive space in his blind spot.
WhoScored Rating: 7.8 | SofaScore Rating: 7.7 | FotMob: 8.2
Braian Ojeda: 8.0
Center Midfielder
Ojeda was bossing the midfield even more than Ruiz, playing a very good box-to-box effort that really ran the team. He was involved with almost everything that happened, evidenced by his 111 touches on the night (I'm unsure if any RSL player has broken 110 this year). Alongside that, he completed an absolutely staggering 91 passes, probably also a season record for the club. He did well in duels, did well in long balls, and did well in basically every facet you could hope for from a center midfielder. Had he put his name in the goals or assists column, he probably runs away with MVP for this game, but even so, a performance like this shouldn't go underappreciated.
WhoScored Rating: 7.1 | SofaScore Rating: 7.6 | FotMob: 7.9
Carlos Andrés Gómez: 6.0
Left-winger
Gómez really never got his creative juices flowing in this game, which is the one actual thing you want to see from him. 1 key pass over his 45 minutes left a bit to be desired, but as we know with Carlos by now, it's a bit of a work in progress. I think Pablo made the correct choice in taking him off early, as given his track record, it's very unlikely he would have flipped a switch in the second half.
WhoScored Rating: 6.1 | SofaScore Rating: 6.0 | FotMob: 6.1
Maikel Chang: 6.0
Right-winger
Standard Chang appearance, but this time from the starting lineup. He was playing very solid in my eyes, but it made sense to take him off at halftime in order to chase the 0-2 deficit with Savarino. Good passing and defensive effort are nice, but when you want goals, you need to go with something else. Not a bad game from Chang, just not what the team needed.
WhoScored Rating: 6.1 | SofaScore Rating: 6.4 | FotMob: 6.5
Attack
Anderson Julio: 5.75
Advanced Forward
Julio's most notable involvement of the night was probably his offside positioning that took back the Ruiz goal. While this was the right call, I don't think Julio deserves much criticism for it, he obviously wasn't triangulating the perfect position to block Irwin's view from a shot 35 yards out. That's just an unlucky moment, but Julio happens to have a lot of unlucky moments, and seems the most stuck striker out of all of RSL's strikers at the moment. Once Chico arrives, I struggle to see where Julio gets any more starts competing with; Chico, Damir, Musovski, Rubio, and even Luna it seems.
WhoScored Rating: 5.9 | SofaScore Rating: 6.5 | FotMob: 6.6
Diego Luna: 8.0
False 9 / Left-winger
Luna has really come back in good form since the u20 World Cup, and this match was no exception. For the first time, we got to see him at False 9/Shadow Striker like he played in Argentina where he looked so good. Alongside Julio? Didn't look nearly as good, and for the first half, Luna had some fun moments, but was overall pretty ineffective. In the second half he was moved back to the wing, and over those 45 minutes, looked like Luna of the last few weeks. The young creative talent whipped out an incredible 7 key passes, tabbing only 1 assist from the bunch. I think hand's down he was the best player for RSL in the 2nd half, but given a whole games rating, takes a little hit. Still, Luna in this form will force Pablo's hand to keep giving him starts, much to everyone's delight.
WhoScored Rating: 8.4 | SofaScore Rating: 7.8 | FotMob: 8.7
Substitutions
Jefferson Savarino: 7.0
Right-winger
Savarino showed up on the injury report as having a foot issue, and thus probably out of precaution didn't start this match. When he did come on, he looked ready to help change the team's fortune, and created a significant threat that was lacking in the first 45. Jefferson was more than willing to dribble and shoot when the chances came, and played a couple important passes to the 2nd half comeback. To the surprise of no one at all, Savarino gave the team an attacking element that really helped re-shape this match.
WhoScored Rating: 7.1 | SofaScore Rating: 7.4 | FotMob: 6.5
Daniel Musovski: 7.25
Advanced Forward
Moose has really been making his name when playing alongside Damir, and while his goal happened with Kreilach on the pitch, it was his connection with Ruiz that really shined. Both of his clear goal-scoring chances came from his well-timed runs along with some incredible service. Musovski did to his credit, what you'd expect from a forward, and finished one of those two opportunities. You'd sure like for him to score both 1v1 chances, but you'd expect a striker to at least convert one, which he did. A good day for Daniel who looks to be RSL's most in-form striker alongside Damir.
WhoScored Rating: 6.9 | SofaScore Rating: 6.9 | FotMob: 7.0
Andrew Brody: 6.5
Right-back
Andrew came into this match and certainly looked better than Bode had been. Despite just 30 minutes of game time, his feet provided 24 passes, and 4 crosses into the box. Given how far back Minnesota was sitting back, Brody had a lot of space at all times. With that in mind, it's hard to read too much into his performance.
WhoScored Rating: 6.7 | SofaScore Rating: 7.0 | FotMob: 6.8
Damir Kreilach: 6.25
Advanced Forward
Not the most inspiring shift from Damir, although both goals got scored after his introduction. The Croatian had a few half chances that he didn't connect with, and outside that, played the role of a holding forward for most of his minutes. Still, given his nose for goal, you're happy to see him out there while the team is chasing a lead.
WhoScored Rating: 6.4 | SofaScore Rating: 6.6 | FotMob: 6.1