Real Salt Lake
The halfway point: assessing the first half of RSL's 2023 season
Real Salt Lake are 17 games into the 34 game MLS season. We look at how they're doing so far.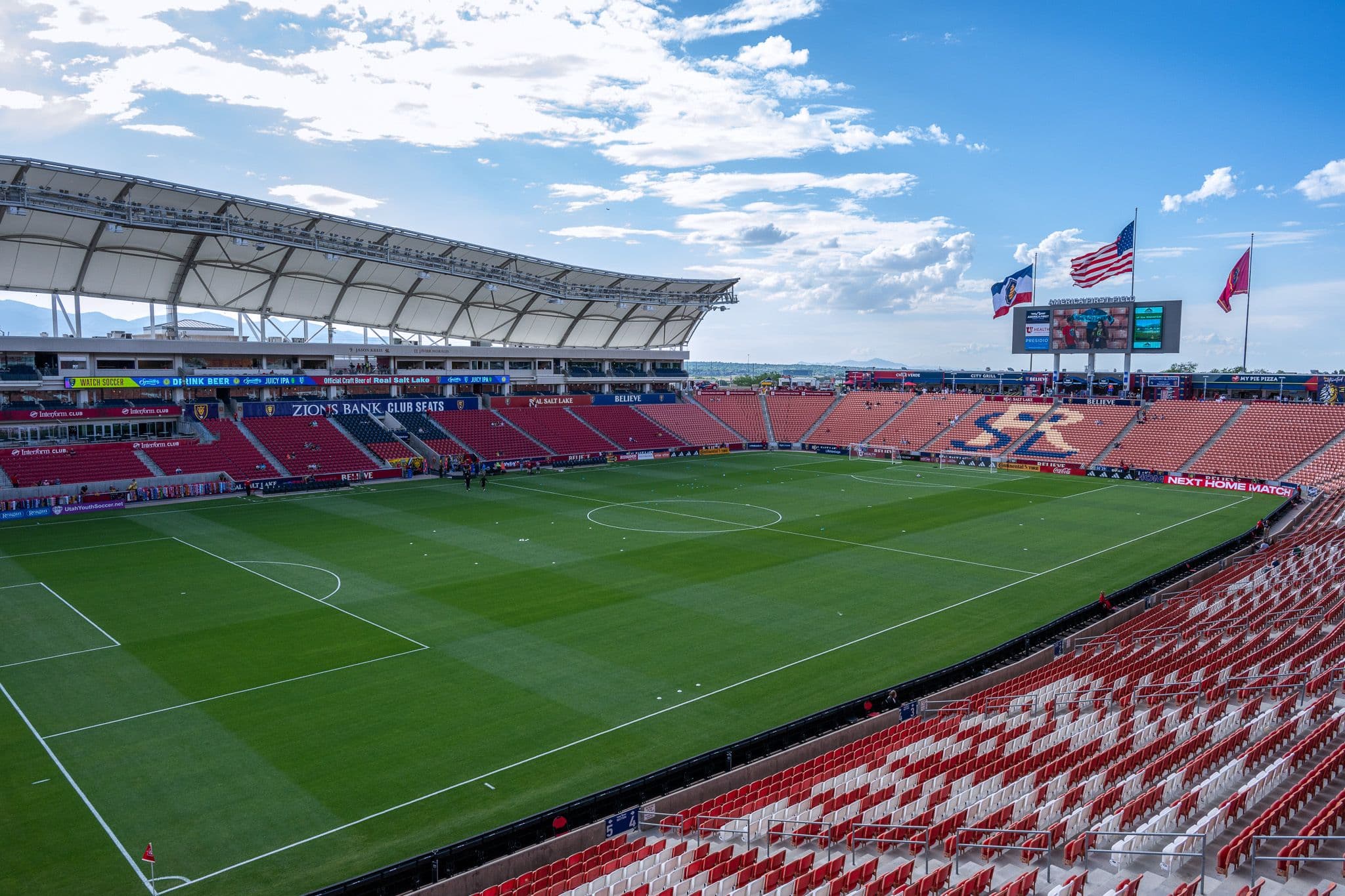 Lucas Muller | Wasatch Soccer Sentinel
Real Salt Lake have played 17 of their 34 regular season games in Major League Soccer this year and it's evident that this isn't the start the team wanted to the year.
Currently they sit in 11th place in the west on 20 points, just 7 points ahead of bottom of the league Colorado (who have played 18 games). RSL are averaging 1.18 points per game, which is indicative of some significant struggles. For contrast, league leaders Cincinnati are averaging 2.35 points per game and sit at 40 points. RSL being out the newly expanded playoff line at this stage is a real mark of failure, but a number of elements are at play right now that should give RSL fans hope.
So far…
Of the 17 league games RSL have played, they have more losses (7) than wins (5), or even draws (also 5). It's an indictment on the team that they have more points on the road than they do at home. Since renaming their stadium to America First Field in September of 2022, there have been more losses at AFF than any other result with 4 wins (including the Open Cup win against LA recently), 5 losses, and 3 draws. That's simply unacceptable from any team in Major League Soccer. The team's road form has been a bit better, with 3 wins, 3 losses, and 2 draws in MLS (plus a few big Open Cup wins).

There have been some great moments for RSL thus far. They opened their season with an away win in Vancouver, beat both Colorado and Austin on the road, and managed draws with some very good teams (i.e. Seattle). But these results simply aren't good enough. It's something the players and coaches are well aware of, yet we keep seeing poor results, much like Saturday's 0-0 with a very bad NYCFC team.
The issues
RSL have had 8 games where they have failed to score. That's nearly half of all MLS games this season and that is abysmal from an attacking perspective. Some of those games were 0-0 draws (which is RSL's most common scoreline, occurring 4 times this campaign), many were losses. The team's move to a 4-4-2 hasn't been as effective as anyone would have hoped.
There are specific player issues here. Team captain Damir Kreilach missed most of 2022 through injury, and he's still easing back into things. It wasn't until his 10th game of the season when Rubio Rubin provided an assist, and then two games after that when he first scored for RSL in 2023, but he had a brace that led to RSL's win away at Austin. Similarly, Danny Musovski got off to a slow start but has been contributing in big ways recently. He's been a key part of RSL's Open Cup run, and he's had 2 goals and 2 assists for RSL in league play (most of which happened in the last 5 games). Player issues aside, there has been an overall issue with the team in how they attack, but that seems to be improving (more on this below).
There are still holes on this squad that need to be addressed. Further down we'll look at RSL's most recent signing, but Chicho Arango aside, the team needs reinforcements in a number of places. A true six would massively help the midfield. Of the Ruiz/Ojeda/Loffelsend three, none of them are defensive midfielders, as talented as they may be. If the front office have finally replaced Saborío by bringing in Chicho, they're still in search of that Beckerman replacement. 

More help is also needed on the backline. Vera deserves more time before conclusions are drawn about him, but another center back would probably be good. No one has shown they can do what Aaron Herrera did so well, and selling him to Montreal remains a head-scratcher.
What's improving
The attack
There's been a shift in how the team attack. In the opening months of the season, they used to cross lofted balls into the box, hoping someone would get on the end of them. Kreilach was always the best at that, but was out. The team has moved to working the ball into the box via the wingers, keeping the ball on the ground, then finding a pass or low cross to feet that gives the team a better chance of scoring. With a shorter squad, headers will be a rarity, and this method plays to the team's strengths; it uses the skillsets of Savarino and Gomez much more effectively.
The youth
This season we're seeing a handful of young players contribute in a meaningful way. Gavin Beavers has played well in both the US Open Cup and in MLS when MacMath has been out. His a player that shows a lot of promise. 

Emeka Eneli has been a pleasant surprise. He signed via the draft, seemed destined for the Monarchs, and then was playing right back for RSL. He's played there and in midfield and he's a player to watch develop as he's already helped the squad.
While Bode Hidalgo made his RSL debut last season, he's featured in more than half of the team's games this season. Like Beavers and Eneli, he has room for growth, but he's adding value to the team now and if he continues to develop, he could be a real asset for RSL.
Lastly, Diego Luna is both an exciting young player but also a source of frustration. He hasn't played as much as he should. His time with the USYNT at the U20 World Cup impressed and he was one of the most valuable players on that squad, even if they went out early. Upon his return, he did play 60+ minutes for RSL against NYCFC — the most minutes he's played for RSL this season. Hopefully that signals that he sees more time for Real.
The defensive
RSL went 8 games without a clean sheet to start the year. 2022 was built around a solid defense, but that wasn't present to start this year. Interestingly, RSL have not kept a clean sheet in any of their MLS wins, but only in those 0-0 draws. A weakened backline isn't all because of Herrera's exodus, but that certainly hasn't helped. Vera is still bedding in, and Oviedo has had some very good games. Brody is the first choice at right back, with Hidalgo and Eneli as second and third choices. With clean sheets trickling in and players adjusting to the team, RSL's defensive work seems to be slowly improving.
Signings
The biggest positive this year for RSL is the signing of Chicho Arango. He was incredible with LAFC and it was surprising that they didn't keep him. He breaks the club record transfer fee by several million dollars. He's a good goal scorer who is proven in the league and moves any team's attacking needle. The fact that RSL went out and got him shows that ownership have real ambition around RSL, even if it perhaps took a bit too long to fill this position. 

What's more is general manager Elliot Falls has made it clear they're not done signing players this summer. The team needs a few more players and it looks like they're going to make a run at getting some new guys in. If they sign starters that improve their positions, then RSL could become massively more competitive.
The Open Cup
RSL are now just two games away from lifting a trophy and competing in Champions League Cup. It's been a fun run to watch. The slow start against the Las Vegas Lights was followed by a dramatic 4-3 road win over the Portland Timbers. The team next beat the Colorado Rapids in Colorado 1-0. Their last Open Cup game was a nervy 3-2 home win over the LA Galaxy, and despite being up 3-0 the team gave up 2 goals 2 minutes apart to nearly let the Galaxy back into the game. 

Next up they play Houston away, which will be another tough test. But should they win there, they will host the US Open Cup final at America First Field. That game could possibly feature Inter Miami (if they beat Cincinnati on the road), and therefore Leo Messi (though there may be some rules around who is eligible to player in the Open Cup to overcome). Even if they go out in Houston, it's been a pleasant surprise to see.
Conclusions
The start of 2023 was rough for Real Salt Lake. The team were preforming well below what we should see and being in in 11th is simply unacceptable. The home results remain a major issue, but RSL are only below the playoff line on goal difference (4 teams are on 20 points, and RSL has the worst GD). With the signing of Arango, more players hopefully on their way, and a deep Open Cup run, there's a lot to be optimistic about with this team. But the results simply aren't there yet and until they are, the burden of proof is on RSL to show they're a good team in Major League Soccer.