Player Ratings
RSL vs. NYCFC: player ratings
Who got top marks in Real Salt Lake's 0-0 against New York City?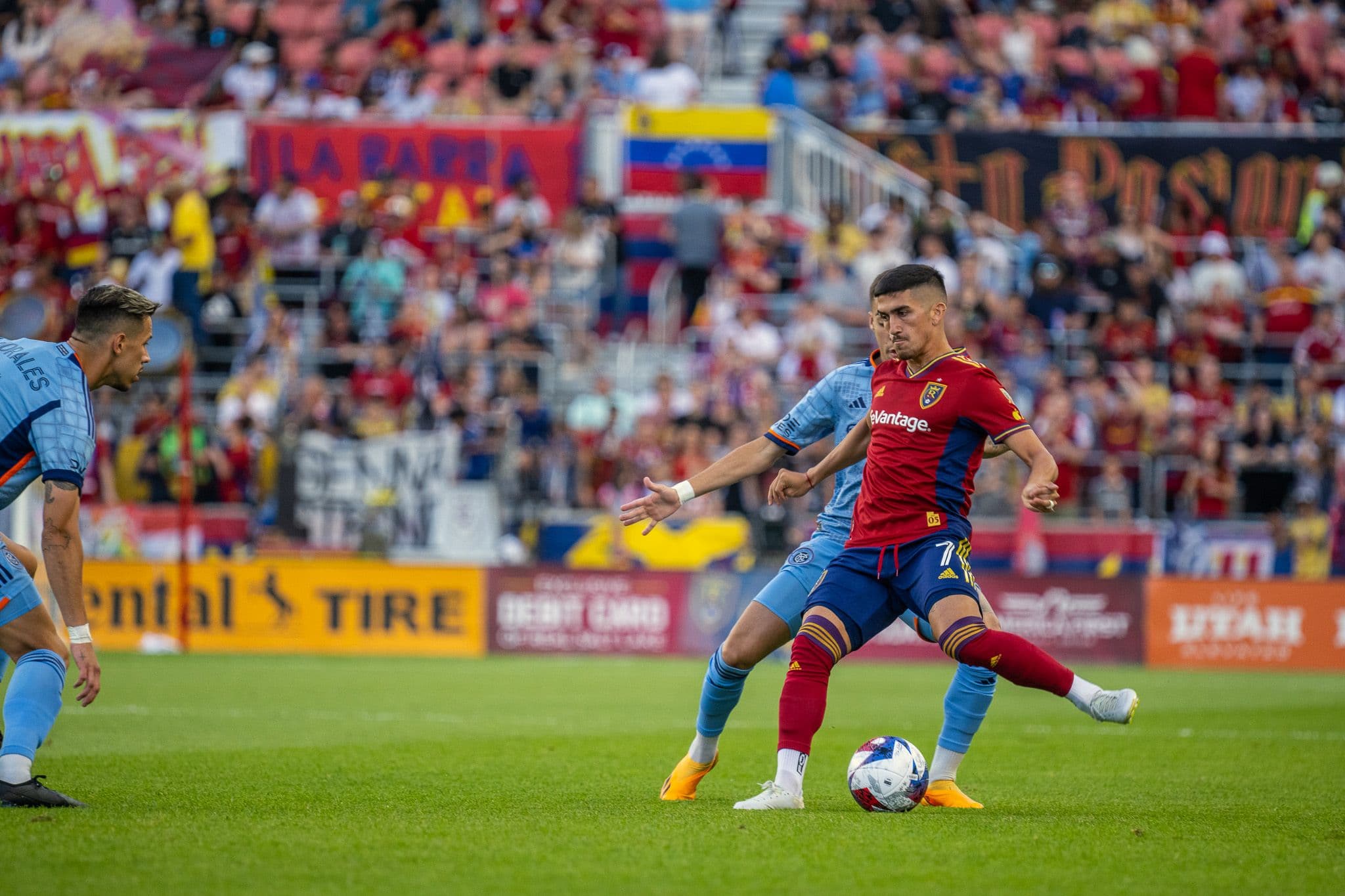 Lucas Muller | Wasatch Soccer Sentinel
Defense
Zac MacMath: 6.75
Goalkeeper
Zac did have to do something Saturday night, believe it or not. It may have only been one whole save, but it sure counts. His duties for the match were almost as short as his post-game press conference. He suited up, made a save, and watched his defenders do work the rest of the time. While a bit hard to rate, he did almost get an assist by launching a direct ball to Rubio, and the few times he needed to make passes or run out of the box, he looked good. The starter has returned.
WhoScored Rating: 6.7 | SofaScore Rating: 7.3 | FotMob: 7.2
Andrew Brody: 6.75
Left-back
Honestly a bit of a weird night for Brody, who is used to having a left winger to combine with when going forward. With Luna often running off to the center of the park, he got the ball less than normal, and when he did, rarely had a forward pass he could make. This is highlighted by the fact that Andrew attempted 1 cross over the entire 90 minutes. Certainly not a bad game, but just a strange one. On defense I think he was stand-out once again and showed value in - at the very least, helping keep things locked down on the back line.
WhoScored Rating: 6.6 | SofaScore Rating: 7.0 | FotMob: 7.2
Justen Glad: 7.25
Center-back
I found the battle between Glad and Magno incredibly entertaining over the night, both of them really going at it and exchanging minor victories. What I realized during the match was that Magno was a very impressive holding forward, one of the best I've seen in MLS. What I didn't realize, is that all of Europe already knows this, and he is rated at a 15 million value on Transfermarkt. Given that Glad went toe to toe and kept him from any dangerous opportunities is worthy of a shout. Aside from that fascinating matchup Justen hit 94% passing, very nice.
WhoScored Rating: 6.8 | SofaScore Rating: 6.9 | FotMob: 7.1
Marcelo Silva: 7.0
Center-back
Silva redeemed himself by playing almost exactly the same game he had against LA midweek, but without the penalty blunder to taint the whole thing. While it wasn't a particularly busy night for him defensively, there's not much one could say he did all that wrong. Even his passing while under pressure was good from the Uruguayan, which can sometimes be a point of difficulty. Overall, Captain Silva kept things on course and did his job.
WhoScored Rating: 6.9 | SofaScore Rating: 7.1 | FotMob: 6.9
Bode Hidalgo: 7.0
Right-back
So upon seeing this game live, seeing the rating website scores, and watching the game over again (yeah, I just love suffering that much), I feel like I'm missing something here from Hidalgo. I think Hidalgo was mostly good in defense (a mistake here and there), and better than normal at retaining possession and getting forward. His dribbles were noteworthy, and at times added to the attack with overlapping plays and cuts to the center. That said, it just felt like a solid game for a right-back with a few more highs than lows. If anything, I think Savarino was showing signs of frustration with many of Bode's decisions. Feel free to enlighten me as to why Hidalgo was the MVP of this game below.
WhoScored Rating: 7.5 | SofaScore Rating: 7.5 | FotMob: 8.1 (MVP)
Midfield
Pablo Ruiz: 8.0 (MVP)
Defensive Midfielder
With Ruiz on the other hand, watching things a second time really helps highlight the good he does for the team. Somehow when watching live, Ruiz just never seems to be doing that much good, but when looking back (and seeing where all those sudden chances and attacks developed from) he generally impresses. Against NYCFC, he was orchestrating much of RSL's attacks and was genuinely hitting daggers to the front cast. 11/15 on long ball accuracy, with 3 key passes, and an impressive 7 successful tackles. Ruiz really did play a part in many of RSL's attacking chances this game, either from his service or winning possession. He did get dribbled by a high amount (but that's the same with every RSL mid), and wasted some chances too, but over the 90 minutes, Ruiz had a very strong shift.
WhoScored Rating: 7.6 (MVP) | SofaScore Rating: 8.3 (MVP) | FotMob: 7.9
Braian Ojeda: 7.5
Defensive Midfielder
Ojeda's form continues to improve, as it looks like he has a leg up on Jasper for the spot alongside Ruiz in the midfield. These minutes are well deserved, as he continues to put on good box-to-box showings week to week. While he wasn't as active and had a good number fewer touches than his fellow center-mid, Ojeda still banged out a 96% success ratio on his passes, while still putting in defensive work. The work that Braian does is a bit unsung, but certainly important in keeping teams from getting the quality chances RSL is prone to allowing. Don't be surprised to see this duo take over the starting minutes in midfield for the upcoming weeks.
WhoScored Rating: 7.0 | SofaScore Rating: 7.2 | FotMob: 7.3
Jefferson Savarino: 7.75
Right-winger
As is always the case with Sava, even on his off nights, he still manages to create some dangerous moments by simply being on the field. While his first touch and awareness seemed to be lacking from his usual standard, Savarino still slapped the crossbar on a shot and handed out three key passes to teammates. Time and time again we see it where even on nights that it looks like RSL can't score, the Venezuelan international will still find a way to score. While tonight was sadly not one of those nights, his quality is undeniable.
WhoScored Rating: 7.3 | SofaScore Rating: 7.6 | FotMob: 7.8
Diego Luna: 7.5
Left-winger
While I don't think Luna really belongs on the wing, this was a good match from Diego, and he was a winger – sort of. Obviously from watching the game, Luna only really fits the winger mold on defense. When attacking chances came, the young creative midfielder would almost always tend to roam inwards and look for play in central areas. Given that formations exist for a reason, this isn't per se a good thing, congesting your attack into a central area is rarely wise – using space is good to create gaps, and gaps are good to create goals. However, it's also obvious that these central roams were quite effective, and Luna was able to spray out many attacking passes in this style. I think defensively he was solid all night as well. In a match like this, his fluid positioning really carried merit, but against better sides, this will very likely be an issue. Still, a positive game for Diego, who hopefully has more minutes in his near future.
WhoScored Rating: 7.0 | SofaScore Rating: 7.2 | FotMob: 7.0
Attack
Daniel Musovski: 5.0
Advanced Forward
Given the arrival of Chico was announced well before this game, it's safe to say there is a bit more pressure on the current strike force. For now, RSL has been able to rotate Moose/Rubio/Julio among the 2 starting positions, and despite the trio's bad form, the team was more or less forced to continue using them. Now one of those positions is set to be taken permanently, and minutes will become scarce. Moose got an 80-minute start in this fixture, and to be blunt, only hurt his case. A pair of clear goal-scoring opportunities were wasted, along with a night of frustrating moments and sub-par stats adding up to a disappointing scoreless draw. While getting into goal-scoring chances is generally worth something, the value of that is particularly low currently, given we create many chances, but the finishing is what we lack.
WhoScored Rating: 5.8 | SofaScore Rating: 5.7 | FotMob: 5.8
Rubio Rubin: 5.0
Advanced Forward
Coming off two great games, there was some real hope that Rubio would keep his hot streak going and make his case for being a starter. What we got instead was not only 60 minutes of 'cold' Rubio, but arguably even worse than that. He was credited with 3 big chances missed, one more than Moose. Needless to say, that's a pretty lousy stat to carry as a striker and illustrates the frustration RSL had in front of goal. Two points were lost in this game due to poor finishing, plain and simple, and Rubio was at the heart of the issue.
WhoScored Rating: 5.8 | SofaScore Rating: 5.8 | FotMob: 6.5
Substitutions
Damir Kreilach: 6.0
Advanced Forward
Dami had 30 minutes as a forward to try and change the fate of the game to no avail. He did manage to get a key pass out there, as well as provide some build-up play, but the good is counteracted by a few giveaways and offsides. Pretty mundane overall.
WhoScored Rating: 6.3 | SofaScore Rating: 6.7 | FotMob: 6.2
Carlos Andrés Gómez: 5.75
Left-winger It's good to see Carlos continue his streak of playing in every RSL match this season, but this won't be one to remember. As always, he managed to get in some really dangerous places and show why he has so much potential to grow his current ability. Unfortunately, he was plagued by the standard Gómez errors this match too. In particular managing to lose the ball 7 times with only 16 touches on the ball, yikes.
WhoScored Rating: 6.3 | SofaScore Rating: 6.4 | FotMob: 6.4
Maikel Chang: N/A
Right-winger
Not enough time on the field to give a fair rating, but based on his 15 minutes, it was on pace to be less than a six.
WhoScored Rating: 6.0 | SofaScore Rating: 6.5 | FotMob: 6.1
Anderson Julio: N/A
Advanced Forward
Not enough time on the field to give a fair rating, but based on his 15 minutes, it was on pace to be even lower than Chang.
WhoScored Rating: 6.4 | SofaScore Rating: 6.6 | FotMob: 6.7