Match Coverage
Austin FC vs. RSL: player ratings
RSL's 2-1 victory over Austin produced some impressive performances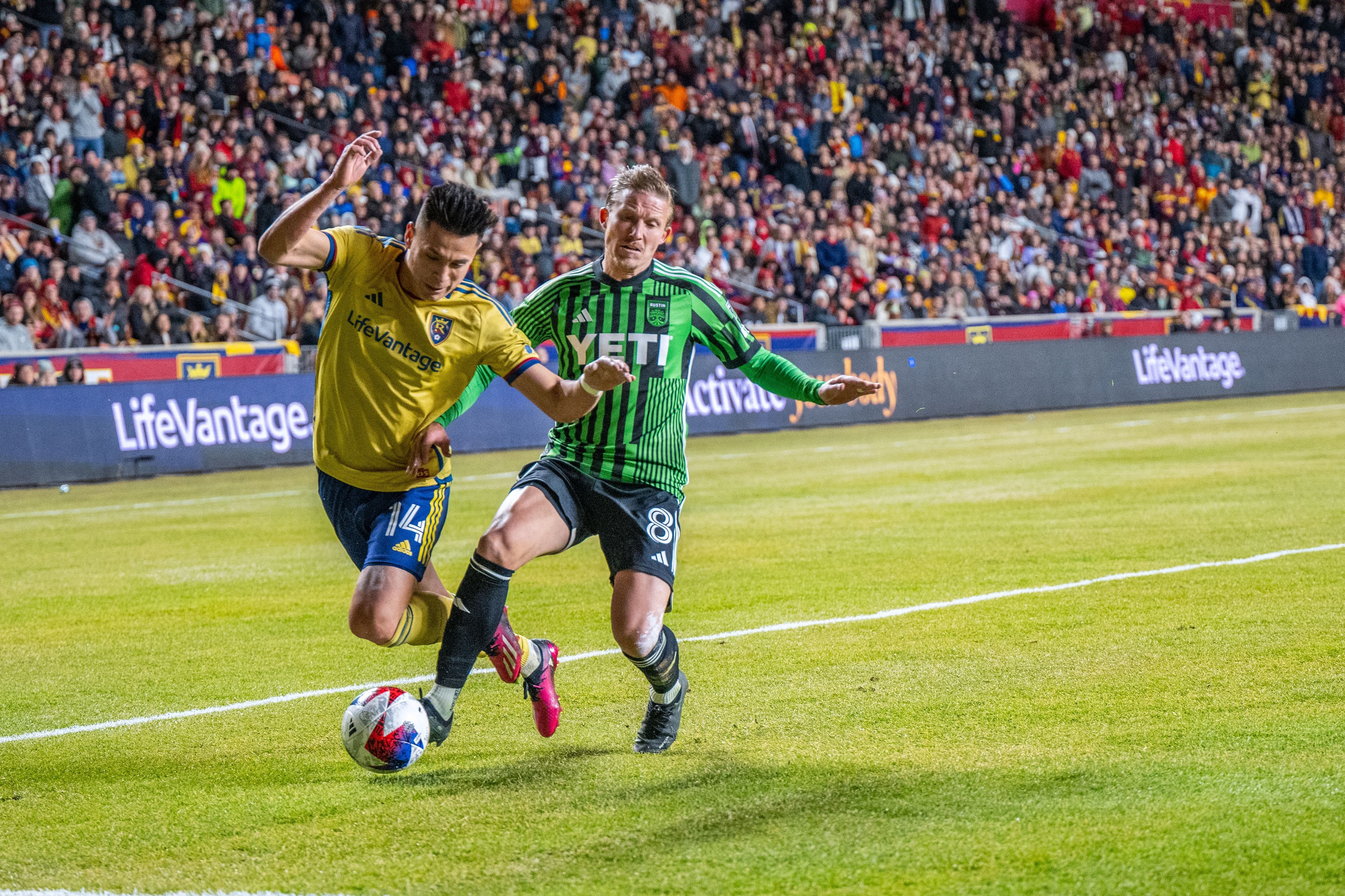 Lucas Muller | Wasatch Soccer Sentinel
Defense
Gavin Beavers: 8.25
Goalkeeper
Against LA on Wednesday, Gavin really had no chances to save the ball - today he had many chances, and made many saves. It's safe to say we saw a good outing from the 18-year-old, who faced many difficult situations and navigated through all of them almost perfectly. Every save he made was a dangerous chance that required strong reaction times, keeping all but one out to the frustrations of Austin. He should feature once more time in the US Open Cup before MacMath enters the fold again, but after nights like this, any start from Beavers should spark more excitement than dread.
WhoScored Rating: 7.7 | SofaScore Rating: 7.4 | FotMob: 8.6
Bryan Oviedo: 7.0
Left-back
A strong night for the Costa Rican, who outside of a few questionable passes, played a very good match. As is usually the case with Oviedo, it was more of his defensive prowess that shined, rarely creating many chances (one) or sending in any crosses (zero). The fact that he was active on tackles and clearances greatly helped negate the Austin attack, and made things very manageable for an away game.
WhoScored Rating: 7.2 | SofaScore Rating: 7.1 | FotMob: 7.8
Justen Glad: 7.25
Center-back
Did everyone see the long ball switch that Glad sent to help unlock the defense for RSL's first goal? If not go look at it, wow, generally Justen hits a few of those a night, but that one was certainly special. That moment aside, it feels like there was an extra layer of security in defense that was lacking in the LA game because of Glad. While not always so obvious or flashy, he makes a lot of little plays over the night that other MLS center backs don't. Hopefully he gets the start mid-week for the USOC rematch against the Galaxy, as a bit more stability would really help the cause in that matchup.
WhoScored Rating: 6.9 | SofaScore Rating: 7.1 | FotMob: 7.4
Brayan Vera: 6.75
Center-back
Vera's passing numbers have really been a cause for concern for me recently, this time around it was a 30/43 (70%) night. Along with that and his occasional long runs forward, it doesn't always feel like the most secure defending in the world. But when he's defending and just defending? Well, I think we all can appreciate that. For what was a bit of a physical match, Vera was involved in plenty of tackles and was a real nuisance to attackers all night long. It's hard to imagine where RSL would be without Vera this year, as the Colombian has been a crucial addition for center back depth and rotation.
WhoScored Rating: 7.0 | SofaScore Rating: 7.4 | FotMob: 7.1
Bode Hidalgo: 6.25
Right-back/Right-winger
Not really the most inspiring night for Bode, who I think for the most part was trying to keep up with the flow, and occasionally failing at that task. His passing was sub 70% on the night and from a defender, as is with the case with Vera, you really want/need better. At least in this match I wasn't getting overly anxious when attacking wingers charged at him, as things overall seemed more compact on the night. A few errors with a decent 90 minutes of defending is pretty par for the course, and nothing too much to complain over.
WhoScored Rating: 6.3 | SofaScore Rating: 6.6 | FotMob: 7.1
Midfield
Braian Ojeda: 7.0
Defensive Midfielder
There has been an up-tick in Ojeda's play in recent weeks, and this match was no exception. Despite playing 90 minutes on Wednesday and 90 minutes again for this match, he was plenty active and impactful on the match. Most impressive for a player like Braian, is that he almost never gave the ball away in midfield, being the 2nd best RSL player at retaining possession in this match. Given the early season insecurities the entire midfield had with the ball, this is a great sign for confidence, and showed at times with a few brilliant plays. Perhaps Ojeda can impress enough to tempt the front office into executing his buy-option in a few months' time.
WhoScored Rating: 6.6 | SofaScore Rating: 6.7 | FotMob: 7.0
Jasper Löffelsend: 7.5
Defensive Midfielder
The highlight of the match for Jasper was certainly his cross that assisted the opening goal of the game. It was really a perfect ball, where had Rubio not managed to flick it, Julio would've had a clear open header as well. While it's not really what we put the German on the field to do, it's still nice to see, and may have been the catalyst to launch Rubin's season. Aside from that, he had a lot of sprints back to defend and 86% passing on the night. For a 70-minute outing, it was a good one, and Jasper is primed to start alongside Ruiz in the pivotal US Open game coming up.
WhoScored Rating: 7.4 | SofaScore Rating: 7.3 | FotMob: 7.6
Bertin Jacquesson: 6.0
Right-winger
While a bit obvious, I don't think Bertin has filled in for the hole left by Meram's trade as well as we'd hoped. In a game like this, he really feels a lot like Gómez, but without the dynamic play to get into positions (and then mess up). In 55 minutes, he only completed 6 passes, and only had one or two moments where he contributed well to the attacking effort. Obviously, he should improve as more starts come in, and I'm here for it, but certainly hasn't locked down his position in the squad.
WhoScored Rating: 6.3 | SofaScore Rating: 6.3 | FotMob: 6.5
Maikel Chang: 7.0
Left-winger
Chang continues to be one of the best depth-wingers in the league, this game not only grabbing himself an assist, but 4 other key passes to go alongside it. In the build up to the second goal, he nearly scored it himself, only denied by a great initial save from Stuver. However, his recycled ball back into a dangerous area was what made the difference, and eventually proved to be the decisive assist of the game. It's hard to understate his value defensively either, as things stayed relatively tidy down the left for almost the full 90.
WhoScored Rating: 7.2 | SofaScore Rating: 7.0 | FotMob: 8.1
Attack
Anderson Julio: 6.25
Advanced Forward
While it seems that Musovski and Rubio are on their way to breaking their goal scoring funk, the same can't be said of Julio. In a match like this we get plenty of value from his engine and pressing, very much the best presser on the attacking line. However, when the time comes for him to contribute in more meaningful ways, it feels as though Anderson can't catch himself a break. Perhaps if movement opens things up for the wingers and fellow strikers, it's not such a bad role, but it's certainly not a glorious or appealing job on the outside looking in. That said, he may have scored the first goal had Rubio not scored it himself.
WhoScored Rating: 6.6 | SofaScore Rating: 6.4 | FotMob: 6.4
Rubio Rubin: 8.75 (MVP)
Poacher
The wait is finally over ladies and gentleman, this is not a drill, Rubio scored - and scored multiple times. It was obviously bound to happen, but given his run of form, it was hard to say it would be anytime soon. His first goal, a glancing header than flatfooted Stuver, felt like a mix between relief and a joke. A very sarcastically "finally" undoubtedly voiced by many. However, what made this game vastly more special was that he scored again. That one invoked much less sarcasm, and much more excitement. Anyone can luck into a goal, but to get a brace is a different story. Will this be a turning point? Obviously, we all hope so - oh how badly I hope so. But while it's a good day to celebrate Rubio, more performances are due to really strike any enthusiasm in the fan base.
WhoScored Rating: 8.9 (MVP) | SofaScore Rating: 8.8 (MVP) | FotMob: 8.9 (MVP)
Substitutions
Carlos Andrés Gómez: 6.25
Right-winger
He did manage a key pass in his 35 minutes of play, but outside of that it was a bit of a quiet game for the new signee. What I think Gómez did offer was good defensive running. While he has been struggling in the attacking/creative departments, some of that is due to how often he is dropping back to press the opposition. Still, overall it was not a noteworthy night for Gómez.
WhoScored Rating: 6.3 | SofaScore Rating: 6.7 | FotMob: 6.4
Daniel Musovski: 6.0
Advanced Forward
Despite only playing a short amount of time, did almost get involved in a real goal scoring chance. However, once the game grew to a 2-0 lead, his duties became more defensive. Which speaking of defense, he did get out jumped on Cascante's late header to make it 2-1. I'm unsure if that's on Moose or not, given that Vera was also marking that same player. Either way it happened.
WhoScored Rating: 6.2 | SofaScore Rating: 6.7 | FotMob: 6.1
Emeka Eneli: 6.5
Defensive Midfielder
Eneli came on to add fresh legs to the midfield and did exactly that. He also spent his entire time on the field being defensively sound, which is also what we needed. A nice cameo.
WhoScored Rating: 6.1 | SofaScore Rating: 6.4 | FotMob: 6.3
Damir Kreilach: N/A
Advanced Forward
Came on late, was still slow, but was still effective and almost nabbed an assist. Welcome to 2023 Kreilach, it's not the prettiest, but he still makes the team better.
WhoScored Rating: 5.8 | SofaScore Rating: 6.1 | FotMob: N/A
Andrew Brody: N/A
Right-back
Interestingly came on for Rubin, but then took over the right back position and moved Hidalgo to right-winger. I think Brody helped seal off the victory.
WhoScored Rating: 6.1 | SofaScore Rating: 6.3 | FotMob: N/A