Match Coverage
RSL vs. LA Galaxy: Player Ratings
Who got top marks against LA Galaxy, and who needs to rethink their play?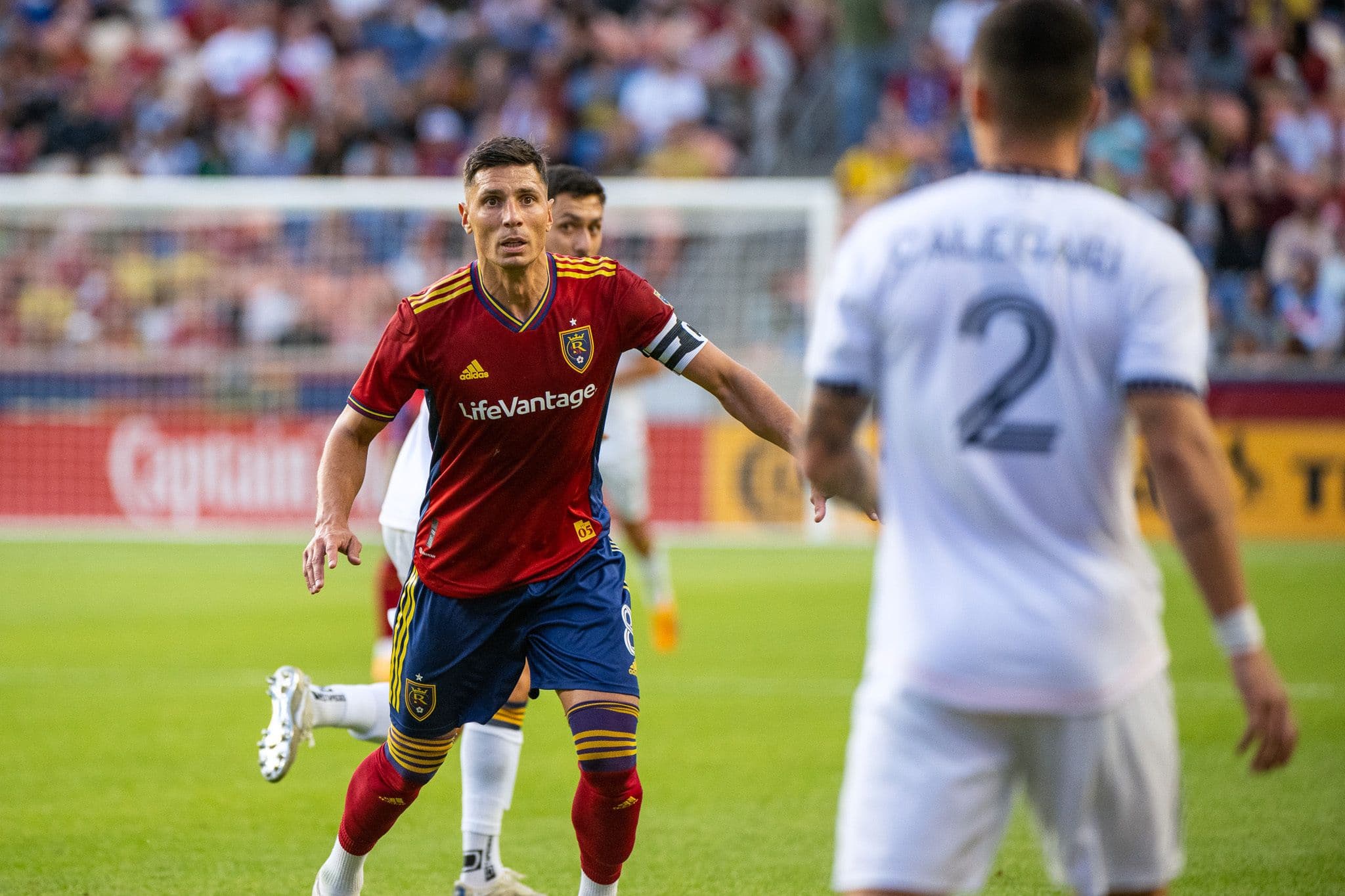 Defense
Gavin Beavers: 6.0
Goalkeeper
I'm not going to draw too many negative conclusions from this match for Beavers. Three goals allowed yes, but all of them in thinking back, unpreventable from his stance. A PK, Golazo, and defense break-down leading to tap in, were his only chances to make an impact – and understandably, he didn't get to any. Gavin didn't have much agency on the game, with one save and a nice 93% passing rating all he could contribute. We should be seeing him in the next 2 games most likely, so we'll get a better chance to judge the young keeper's current ability.
WhoScored Rating: 5.4 | SofaScore Rating: 5.8
Andrew Brody: 6.25
Left-back
Brody on the whole – or at least on the stat sheet – was a minor positive for the team on the night. He won most of his duels and completed, oddly enough, 93% of his passes as well. I think it could be called a pretty solid game from Andrew, without many key moments in attack or defense to break down. That said, I still expect more from the outside defender than what he put on display Wednesday. It may be as a result of having to play behind Savarino, who warrants the ball to make more plays, but no dribbles or crosses really came off his foot that showed his prowess. On the third goal, he gave a little bit too much space out left that let the opposing counter get dangerous very quickly.  
WhoScored Rating: 6.3 | SofaScore Rating: 6.7
Brayan Vera: 6.25
Center-back
Most of the rating deduction here comes from as you'd expect, his defending on the third goal. While he was hardly the only one at fault, (on what I consider one of the most poorly defended goals we've seen this season) he was at the center of the play. As he came into the box, Vera sort of gave up on keeping his head on a swivel, and failed to notice the attacking run had changed from near post to far post. Given that, the pass by him was easy and effective. Outside of this game-losing moment (where plenty of others failed in their roles too) Vera was as we've come to enjoy, rough and positive with his passes and tackling. Really outside of that moment, it's a fine game by Vera. Still, those moments sure do count.
WhoScored Rating: 6.5 | SofaScore Rating: 6.8
Marcelo Silva: 6.5
Center-back
Marcelo seems completely back to fitness, which is something we can all celebrate. While it would be nice to see Pierre get some minutes in reserve to see another up-and-comer in action, we all feel a bit more secure with the experience of someone like Silva. Without Glad beside him, Marcelo looked just fine, getting the passing numbers and physical play you'd expect out of an MLS caliber center back. As noted above, many players looked rather bad on the 3rd goal, and Marcelo was no exception. It was his weak tackle where he failed to make good contact on the ball that led to the breakaway chance. If anything, it served as a pass that sprung the LA attack.
WhoScored Rating: 6.2 | SofaScore Rating: 6.4
Emeka Eneli: 6.25
Right-back
Perhaps one of the least impactful games from Eneli we've had all season, and given it's still above a 6, that puts his floor much higher than many others on the team. While Emeka seemed his usual self getting forward and playing smart passes, it was his defensive role that raised more questions. His direct opposition was Gino Vivi, making his first MLS start, and perhaps this player has a bright future, but Eneli made the fellow super draft pick look rather dangerous at times. Once again, Emeka also found himself drifting too far forward occasionally, but it's not as bad as it was to start the year – improvement.
WhoScored Rating: 6.1 | SofaScore Rating: 6.1
Midfield
Pablo Ruiz: 7.5
Defensive Midfielder
Wowee, it sure feels nice to score a free kick. Back in the days of Morales, we could expect 3-4 of those a year, but over the last 8 years or so, seeing one of those go in sure is a shock to the system. That said, it was a great goal in an important moment of the game to take the lead. Outside of a moment of glory for Ruiz, it was still an okay outing for the Argentine midfielder, who clipped 90% passing and was involved in a high number of defensive actions – and certainly added plenty of fire to the squad. Whether you like it or not, he is still the best center mid on the team by some margin.
WhoScored Rating: 7.3 | SofaScore Rating: 7.5
Braian Ojeda: 7.5
Defensive Midfielder
A sneaky good game from Ojeda, who managed to even win match MVP on one of the rating websites. On first watch I wasn't as impressed, and didn't love his passing (which I was right, less than 80% competed on the night), but after seeing his numbers and looking back, Ojeda really did add a lot of value to the team on both sides of the ball. Three key passes including one to a wide open Vera who missed a free volley from close range, show that his service was good when it needed to be. It's however, his defensive numbers that are most impressive, as he contributed a very high number of interceptions, tackles, and clearances.
WhoScored Rating: 7.5 | SofaScore Rating: 7.7 (MVP)
Carlos Andrés Gómez: 6.5
Right-winger
There are two ways to hyper focus on Gómez; the first is to look at his staggering amount of times he loses the ball (19 times, oof) and pull your hair out; or two – like me – appreciate that he created the most key passes (4, very nice) and realize that the moment he starts clicking on his final touch, he could be a real monster in this league. Honestly, if those moments where Gómez keeps the ball for too long or makes a technical mistake, what if he actually succeeded and made the pass or finished the shot most every time? Well he wouldn't be in MLS, for his age he'd be off somewhere in Europe making 10x the pay. As long as the team keeps giving him starts so he can improve his play in clinical moments (like everyone wants of Luna), then Gómez is well on track to being an important member of this team.
WhoScored Rating: 6.7 | SofaScore Rating: 6.4
Jefferson Savarino: 7.5
Left-winger
While he may not have been quite as dynamic as Puig on the night, Savarino still had plenty of moments of quality to show why he demands the DP tag he carries. It was well, well, well overdue that someone put their head on the end of one of his corners, as his service has been generally good all year long. On a team with a bit more aerial threat, he could easily have another 2-3 assists by now in the season with as much as RSL wins corners. He created another 2 key passes outside of his corner, and took part in 15 ground duels. Savarino continues to be a standout player. 
WhoScored Rating: 7.6 (MVP)| SofaScore Rating: 7.1
Attack
Damir Kreilach: 6.25
Advanced Forward
Damir took a hit on the ratings sites due to the negativity of the "Penalty Committed" category. We with eyes know that this was hardly the case, but stats only go so far. Looking at his play otherwise, it was a bit of an underwhelming game from Damir, where he seemed to be lacking a bit of sharpness as has been the case in 2023. That said, I still think the team does better with Kreilach on the field, and the fact that the Musovski/Kreilach combo has proven it can score at times, is proof of that. His one shot was decently well placed, and led to the scoring corner.
WhoScored Rating: 6.0 | SofaScore Rating: 6.3
Daniel Musovski: 7.75 (MVP)
Advanced Forward
It's high time we give a little bit of credit to Moose. After getting a handful of starts, the former LAFC man is finally in a bit of form – the first RSL striker of the year to accomplish this feat. With 4 goals and 3 assists in all competitions so far he has the same goal contribution as Savarino, and has done so in 400 less minutes. While not a DP level striker, there are signs that show he could be just fine for MLS level play, and has paired incredibly well next to Damir in all but one of their games. While a bit of quality and selflessness prevented it, Musovski easily could've ended up with another goal or assist in Wednesday's game.
WhoScored Rating: 7.2 | SofaScore Rating: 7.4
Substitutions
Anderson Julio: N/A
Advanced Forward
10+3 minutes, where 12 of those minutes were taken by LA time wasting, doesn't give enough time to give a real rating here.
WhoScored Rating: 6.1 | SofaScore Rating: 6.6
Bertin Jacquesson: N/A
Advanced Forward
See above.
WhoScored Rating: 6.0 | SofaScore Rating: 6.6
Maikel Chang: N/A
Right-winger
See above, twice!
WhoScored Rating: 6.1 | SofaScore Rating: 6.7