Match Coverage
RSL vs. LAFC: Player Ratings
Who gets top marks in a big loss — and who's down in the doldrums?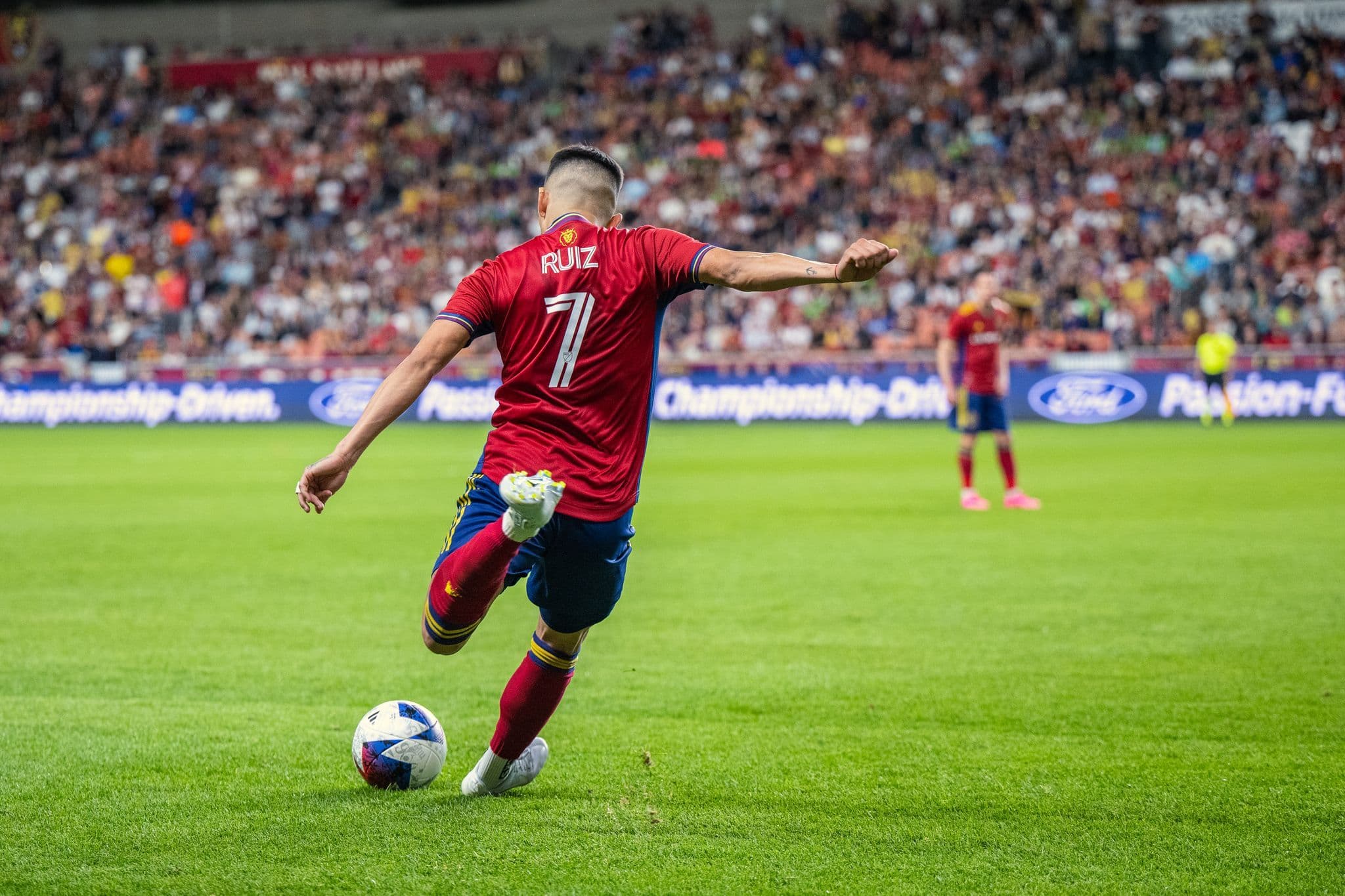 Lucas Muller | Wasatch Soccer Sentinel
Defense
Zac MacMath: 5.75
Goalkeeper
Do any of the goals that were allowed seem particularly savable? Maybe the first, but for the other two, not really. It's difficult to try and see things in a different light when you allow three goals, but honestly Zac had very little agency in the match - as goalkeepers often do. He was solid with his passes, and made no mistakes coming out of his box. It does feel like MacMath from last year might have clutched one of these shots and kept the score at two, but he was left out to dry an unreasonable amount. 
WhoScored Rating: 5.6 | SofaScore Rating: 5.9
Bryan Oviedo: 6.75 (MVP)
Left-back
11 games into the season and I'm handing out an MVP on a 6.75 rating, how are we all feeling? Obviously Bryan holds some fault on the first goal allowed, although the announcers were a bit harsh in my humble opinion. It really wasn't such a great game from the Costa Rican veteran, right? But why such good scores from the rating websites? 95 touches, 45/51 passing (88%), with 5 key passes, 7 tackles. It was actually quite a good night - a monster night if you look at stats alone. While we can hark on his tendency to go forward too far, a look on paper, and a 2nd watch of the game, really does reveal that Oviedo was probably the best thing RSL had going for it over the course of the night. 
WhoScored Rating: 7.1 (MVP) | SofaScore Rating: 7.5 (MVP)
Justen Glad: 5.75
Center-back
I think Glad was involved in more defensive mistakes than I've seen from him this entire year - not possession related, we've seen those - but simply marking and pressure. He played a minor role in all three goals, but notably, played a role in ALL three goals. Two other near chances that could have made the game 4-0 or 5-0 were against him as well. His saving graces are his good possession numbers and the fact that Carlos Vela really didn't exist this match, who is usually priority #1 to shut down. 
WhoScored Rating: 5.8 | SofaScore Rating: 6.0
Brayan Vera: 6.25
Center-back
Yeah the guy who gave up the PK gets a higher rating from me. No, I don't think Vera was particularly amazing on the night, but his actual work as a defender was once again noteworthy. His physical play is well documented at this point, and obviously - extremely so - it translates very well to his play at center back. He outdid Glad in duels won, blocked shots, interceptions, and tackles. Add on the fact that he was accurate on most of his long balls, and I think Vera put in a decent shift, with just the PK holding him back from a stronger score. 
WhoScored Rating: 5.7 | SofaScore Rating: 6.1
Andrew Brody: 6.0
Right-back
With Hidalgo coming back from his slight knock, it will be interesting to see if Brody can keep hold of his starting position. As always, his effort was certainly there on the night, but it does look pretty bad when the attacking winger out paces you both with and without the ball. There isn't much that can be done about that, but what you can do is still recover and defend, which I think Brody did a fantastic job of. Yeah, Bouanga got behind him a half dozen times, but on about two-thirds of those, Brody also blocked the ensuing shot/cross. Both in attack and defense, I'd say he did an average job against good opposition. 
WhoScored Rating: 6.3 | SofaScore Rating: 6.4
Midfield
Braian Ojeda: 6.5
Defensive Midfielder
The clock is ticking on the end of Ojeda's loan, and it's about time for the U22 initiative player to show his value before a decision is made on the option-to-buy that comes with it. Overall, I'd say a match like this doesn't help justify the future potential price tag, but it was still a solid showing from the loanee. Ojeda won 10 of his 16 challenges, and managed an impressive 87% passing with 84 touches on the ball. He was as advertised, a solid box-to-box midfielder, and on the night better than Ruiz for my money. With Jasper out and Eneli still being used as utility, he should get plenty more starts in the coming weeks. 
WhoScored Rating: 6.5 | SofaScore Rating: 6.7
Pablo Ruiz: 6.25
Defensive Midfielder
Ruiz had a bit of an inconsistent game, with all the standard good and bad moments you've come to expect from Pablo Ruiz. His passing was good, few giveaways, and 89% accurate on 38 attempts - mix in a good ratio of successful tackles, and it's hard to say that he was poor on the night. For large spells of the game, he did fairly well for himself. The second goal however (the Bouanga strike to the corner) could more or less be pinned on him. RSL seems to let in some worldie 25 yard strike every other week, and in this case, Ruiz was the man to prevent that. How many more times will this repeat itself? Who knows. Probably a few more times. 
WhoScored Rating: 6.6 | SofaScore Rating: 7.2
Carlos Andrés Gómez: 6.25
Right-winger, Left-winger
Honestly Gómez was not far off being a real spark for the team, if anyone was going to make a game changing play, his boot would be the most likely to provide it. It was rather unfortunate then, that he ended up against Diego Palacios and Aaron Long, two World Cup defenders, in superb form. The runs and attacks were all promising, but defended to about the highest level an MLS team can provide. Gómez still managed 4 key passes during his 59 minutes.
WhoScored Rating: 6.1 | SofaScore Rating: 6.2
Jefferson Savarino: 6.5
Left-winger, Right-winger
I really like what Savarino has been offering this year, and I think one-third into the season, he is the clear MVP of the team as is. While things didn't click on Saturday, it was extremely obvious that Sava was working hard to try and ignite something. One could even say he was trying too hard, and managed to lose possession over a dozen times as a result. Still, given the lack of attacking prowess of the team, I'm happy to see him taking risks even if they don't pay off. He still managed a couple of key passes and a near 90% passing percentage through it all. Things didn't pan out in this match, but the signs are still good going forward. 
WhoScored Rating: 6.6 | SofaScore Rating: 7.1
Attack
Daniel Musovski: 5.0
Advanced Forward
Dunny summed things up nicely in the broadcast with the blunt "No impact on the game" which I think is a pretty agreeable assessment. Mind you, he said the same about Rubin. If you managed to keep track of what Moose was doing for all 59 minutes, I commend you, as to most he was next to invisible on the night. Outings like this likely mean Julio will be taking his starting role back the moment he becomes available. 
WhoScored Rating: 5.9 | SofaScore Rating: 6.2
Rubio Rubin: 5.0
Advanced Forward
For yet another match, we've watched Rubio struggle to offer an attacking threat to the game. In his 72 minute outing Saturday, he did to his credit, attempt 3 shots. However, the one that sticks in the mind was his first half blunder, where he was open 1v1 in the six, but had a bad touch to prevent him from shooting a pretty sure-fire goal. Nothing seems to be going Rubin's way at the moment, and the run of form is actively hindering the 2023 campaign. But given the lack of front office ability to get Mastroeni an established #9, we'll likely have to keep putting our chips in on Rubio breaking this bad run of form and catching fire until the Summer transfer window - which doesn't seem incredibly likely at the moment. 
WhoScored Rating: 6.0 | SofaScore Rating: 6.8
Substitutions
Bertin Jacquesson: 6.5
Right-winger
Following in the same vein as Savarino, it's nice to see how attack focused Bertin is off the bench. He likes to shoot, and shoots much more often than probably any player outside of Savarino (not fact checked). In some cases, it's wasteful, as cracking 30 yard shots is rarely going to pay off for you - unless you're playing against RSL. That aside, hopefully we continue to see the French draftee continue to see time off the bench to develop.
WhoScored Rating: 6.3 | SofaScore Rating: 6.9
Anderson Julio: 6.25
Advanced Forward
Still the only forward other than Damir with a goal on the season. Julio didn't get too many chances to show off his stuff in his 31 minutes, but did create a key pass and launch a few balls off target. 
WhoScored Rating: 6.4 | SofaScore Rating: 7.0
Damir Kreilach: 6.0
Advanced Forward
Not much to say about Damir, he did well in possession, skied a ball into the supporters section, and got fouled (sorta). Still no reason to think that post-injury Dami can't adjust to a role off the bench if the team could build a fluid attack. 
WhoScored Rating: 5.9 | SofaScore Rating: 6.5
Emeka Eneli: 6.5
Defensive Midfielder
Apparently Eneli is more of a #6 or #8 by trade, which certainly showed in his 17 minutes in this match. 17/18 passing and added good balance to the midfield, another promising showing from the utility player. 
WhoScored Rating: 5.9 | SofaScore Rating: 6.4