Match Coverage
Player Ratings: FC Dallas 2-1 RSL
Who stood out in RSL's 2-1 loss to FC Dallas?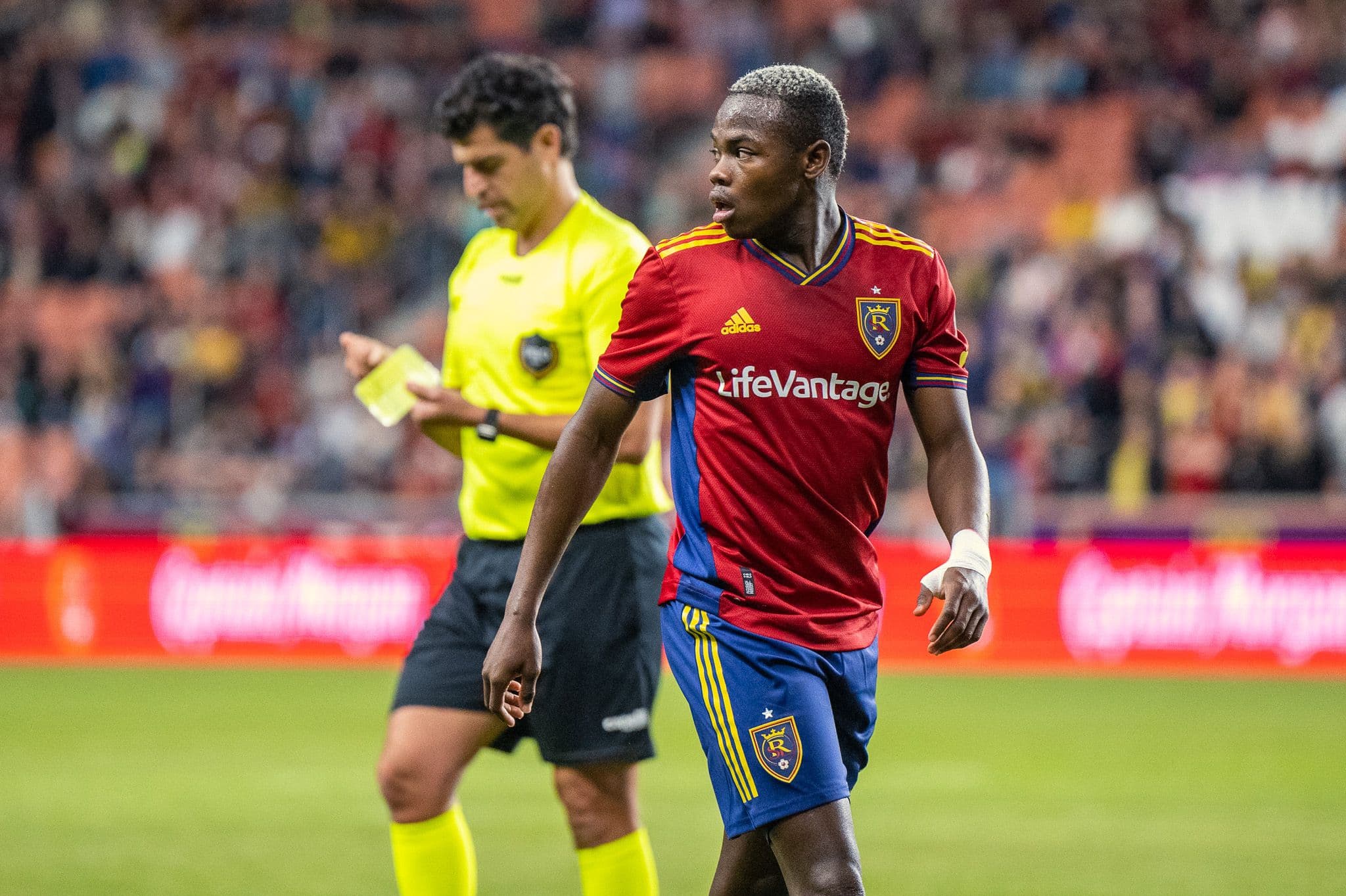 Lucas Muller | Wasatch Soccer Sentinel
Defense
Zac MacMath: 5.75
Goalkeeper
In the case of both goals, I think it's hard to pin much blame at all on how he played. But in the end, it's also a game where two shots on goal led to two goals, meaning Zac did little on the night other than a few goal kicks and picking the ball out from the net. At times the opposing press seemed to make him look uncomfortable, but managed to get through the night relatively error free. His long balls were coin flips on the night, and otherwise didn't impact the game much at all.
WhoScored Rating: 5.5 | SofaScore Rating: 6.1
Brayan Vera: 5.5
Left-back
On one hand, it's pretty awesome to see the fight that Vera brings. He keeps receipts on those who foul him and his teammates, and isn't afraid to dish out tackles and physical play in heaps. Which really makes one wish that he spent more of the game defending, and less time on speculative runs down field where Ruiz is locked in place and forced to cover. Before the game Luchi Gonzales pointed out this very thing as a weakness with RSL, and hoped they would be lured in too far forward. It only took 4 minutes for that to happen, and directly led to the first FC Dallas goal of the game, as suddenly there was zero cover at all down the right hand side. Outside of a decent cross and plenty of imposing defending, Vera had a disappointing game.
WhoScored Rating: 6.2 | SofaScore Rating: 6.3
Justen Glad: 6.5
Center-back
Glad managed a decent night despite the two goals conceded. FC Dallas offered up almost no attack on the night, and the defending on display was certainly a part of that – most games where you allow only 4 shots total, you're likely not losing. His passing was strong on the night with no notable big-giveaways, something that's a relief given how the season started. If you were to try to look for faults, there's a case to be made that he and Hidalgo were not on the same page for the first goal. Both had a reasonable chance to make a play to prevent the goal, but neither took any decisive action. Still, nitpicking something like that doesn't do much justice to the solid match from Justen.
WhoScored Rating: 6.8 | SofaScore Rating: 7.0
Marcelo Silva: 6.5
Center-back
Marcelo in many ways had a similar sort of night to Glad, albeit his 'mistake' was a little more notable. He got pulled out of position trying to help cover for Vera on the left, giving Dallas all the space they needed to set up the first goal of the night. Aside from that it was a very respectable game from the captain, who hit 92% pass completion on the night, as well as a positive in net duels won. Both reference rating sites have him and Glad within .1 of each other, and for once, I think they have it spot on.
WhoScored Rating: 6.7 | SofaScore Rating: 6.9
Bode Hidalgo: 6.0
Right-back
As predicted, Bode is finding more and more minutes as he's returned from his pre-season injury. Had he been healthy from the start, I think the opportunities provided to Eneli would have never come to fruition. That said, in his first ever MLS start, Hidalgo managed to not stand out in any good or poor fashion. He found the flow of the game, and rode that wave from sea to shore. It's hard to say he did much to validate his starting spot on the night, but with generally solid defending and possession all evening long, he didn't really hurt his chances either.
WhoScored Rating: 6.3 | SofaScore Rating: 6.5
Midfield
Pablo Ruiz: 7.75
Defensive Midfielder
Ruiz has really settled into a nice run of form after his late inclusion into the squad to start the year. Plagued by a lack of preseason no more! For the entire 90 minutes Ruiz was a valuable piece to the RSL attack and possession numbers. Not only going 55/61 in passing, but managing a very impressive 5 key passes on the night. It doesn't happen often, but Ruiz was really dictating the game out there, and proved he deserves to be the every game starting CM he is - alongside either Ojeda or Jasper. Even his trademark shot off target was much more attractive and precise than usual. Overall, it was a good game to be Pablo Ruiz.
WhoScored Rating: 7.2 | SofaScore Rating: 7.6 (MVP)
Jasper Löffelsend: 6.25
Defensive Midfielder
That fact that he was subbed at halftime tends to shade a player's performance in a more negative light. If I'm being honest, I was surprised Jasper came off at half time. Listening to other fan circles, I decided that perhaps I missed something, so on my second watch, I paid extra attention to his play. After review, I'm even more surprised Jasper came off. Outside of a bad giveaway and pushing forward too far at times, he was extremely solid on the night. 27 successful passes on 30 attempts, and only 37 overall touches. He was moving the ball quickly and accurately with one touch passing, and was extremely valuable in possession. Down a goal at half time, I think there is real merit to keeping the midfielder on who is pushing far forward. It ruins the balance a bit and risks conceding again, but it also helps the attack – and well, you need to score.
WhoScored Rating: 5.9 | SofaScore Rating: 6.4
Carlos Andrés Gómez: 6.0
Right-winger
I've mentioned before how I think Gomez puts himself too far away from the game to leave enough of a mark. Well in his 65 minutes this time around, he managed the most advanced position on the pitch, meaning that on average as a midfield winger, he was pushed passed both center forwards Rubio and Julio. Of course, at times on runs he most certainly could be the furthest up the field, but more often than not, he is just really far forward – just because. Still, he found the ball more often than Julio managed, and still contributed a couple of key passes. All in all, a very balanced, average performance on the night.
WhoScored Rating: 6.4 | SofaScore Rating: 6.9
Jefferson Savarino: 8.25 (MVP)
Left-winger/Right-winger
Given last week and this week, we are seeing near peak Savarino as not only is his goal threat incredibly high, but his attacking play – even his defending – have all been remarkable. At times it feels like Jefferson is picking up the team and trying to drag them to the finish line all by himself. His headed goal was nice, and he can count himself unlucky to have not scored again on one of the two great chances he fashioned for himself. You can dock him points for failing to finish a few golden opportunities, but as the only RSL player that's routinely getting into those situations and putting out some great shots, I think even with mediocre finishing, he will find the score sheet most every game in this kind of form.
WhoScored Rating: 7.9 (MVP) | SofaScore Rating: 7.5
Attack
Anderson Julio: 5.5
Advanced Forward
For a game where RSL had a fair share of possession, Julio still managed to only secure 9 completed passes in his 81-minute outing. It's a bit more reasonable if he is playing solely to push the opposing back line as deep as possible with his pace, but even the over-the-top threat was lacking on the night. Outside of some good pressing at times, it's hard to see what Julio contributed to the attacking effort. Of course, as things are currently, pressing and work rate alone might be all it takes for a striker to keep hold of a starting position.
WhoScored Rating: 6.3 | SofaScore Rating: 6.4
Rubio Rubin: 5.5
Advanced Forward
The story remains the same with Rubio, and about the only way to get a new perspective on his play is for him to find a way to get the ball in the net. As usual, his pressing was solid, if anything, it was too aggressive. There were about a dozen or so minutes there where it seemed his sending off was more an inevitability than anything. Alongside that, he was 96% for passing on the night (23/24) and often tracked back quite deep to help the attack build from the back. If this sort of play could be matched with even a modicum of goal scoring threat, then the minutes could very well be justified. As is, it was 89 minutes without a credited shot on the entire night.
WhoScored Rating: 5.9 | SofaScore Rating: 6.5
Substitutions
Braian Ojeda: 6.5
Defensive Midfielder
Ojeda stepped in at half time and put in a positive shift for the team. While I actually think Löffelsend was playing reasonably well, this switch did not create any drop in form, and successfully changed the way our midfield looked. When paired with Ruiz, Ojeda tends to take over a bit more of the defensive duties, which allowed more balance to how the team functioned going forward. With good stats in both passing and in tackling, Braian made a decent case for himself to be rewarded another start soon, perhaps even this upcoming weekend.
WhoScored Rating: 6.8 | SofaScore Rating: 6.9
Emeka Eneli: 6.75
Right-back
Where Hidalgo inconspicuously did his job on the night, Eneli stood out in his 25 minutes. The most outstanding statistic is that he went 7/7 for every duel he took part of, showing a bit of growth on the defensive side of his game. Chip in a few tackles won and a key pass, and it's the type of performance that will give Pablo some second thoughts about who should start at right back in the next match. If defensive nights like these can mix in some of the attacking runs we know Eneli is capable of, we very well might have a promising prospect here. 
WhoScored Rating: 6.9 | SofaScore Rating: 7.1
Justin Meram: 7.0
Left-winger
Generally, with Meram it's about as predictable as the weather on if he'll show up and be a good attacking piece or not. And it was beginning to look like 2023 might take after Utah's winter weather, and be very, very consistently bad (or good depending on your take, but for me bad). This match could be a bit of a reawakening for Justin, who came off the bench and put on one of his classic attacking games. Not only was his assist well-deserved, he was productive in general for basically his entire 25 minutes. I still vastly prefer him off the bench, but this performance makes me want to see more of Meram in that role, as opposed to starting or no role at all.
WhoScored Rating: 6.9 | SofaScore Rating: 7.1
Daniel Musovski: N/A
Advanced Forward
9 minutes of play and 5 touches on the ball, there was a moose sighting this game.
WhoScored Rating: 5.9 | SofaScore Rating: 6.4
Ilijah Paul: N/A
Advanced Forward
An 89th minute cameo was all the draftee got to play. 
WhoScored Rating: 6.0 | SofaScore Rating: N/A