Match Coverage
Player Ratings: RSL 0-4 St. Louis City
Real Salt Lake dropped a 0-4 result against St. Louis City. Here's how we rated the team.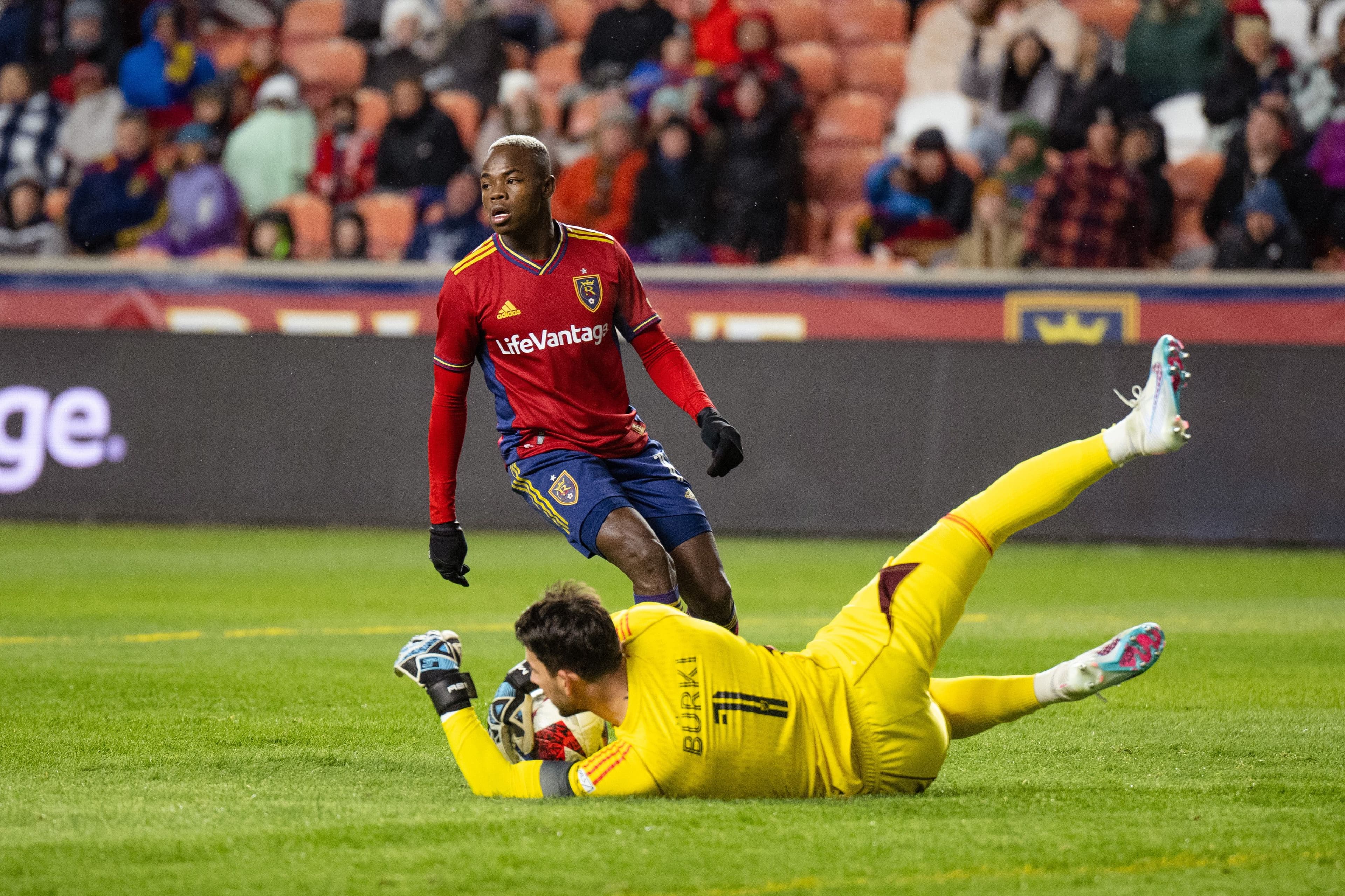 Lucas Muller | Wasatch Soccer Sentinel
Defense
Zac MacMath: 5.75
Goalkeeper
Outside of one sprawling save in the second half, Zac didn't have much agency on this match. All four saves he collected were more or less shot directly at his chest (shout out to positioning?) and everything that went in the net was reasonably placed. On the 3rd and 4th goal, you'd expect Zac to potentially pull out something clutch, but came up short in both cases.
WhoScored Rating: 5.6 | SofaScore Rating: 6.1
Andrew Brody: 4.75
Left-back
Oh boy. Last season Brody was a menace running down the left flank, and at times on Saturday showed glimpses of prime Brody. However, on the night any good he accomplished with his dribbling was undone by poor passing and execution. The result was a loss of possession 22 times at the feet of Brody. Defensively he didn't manage a single contributing stat, meaning all RSL really got from Andrew on the night was his general hustle when they needed much more.
WhoScored Rating: 6.3 | SofaScore Rating: 6.2
Justen Glad: 6.0
Center-back
Glad did his defensive work up to standard, and was overall good in possession on the night. Generally the goals had little to do with anything Justen was involved in, with the exception of the 3rd goal. If one were to be harsh, his emergency defending set up Klaus for a goal, when Vera could have intercepted the same pass with much less desperation. Generally, I'm happy when my defenders stop incoming crosses, so I think it's forgivable. His yellow card probably prevented the game from being 5-0 for what that's worth.
WhoScored Rating: 5.9 | SofaScore Rating: 6.1
Brayan Vera: 6.5 (MVP)
Center-back
If there was ever a night that good on the ball decisions and strong defending could make you stand out, this was surely the game. I don't think Vera was outstanding, but he was probably the most reliable player on the pitch. His 83% passing was the second best on the team, and more than anything, he just seemed confident on the ball. He sprung 8 accurate long balls out of 14, which is a much higher rate than we are used to. Given it was all in his first game, Vera's performance was one of the bright spots we can take away.
WhoScored Rating: 6.1| SofaScore Rating: 6.6
Emeka Eneli: 6.5
Right-back
For a player who was signed days before the match, and made his professional debut, it's safe to say that Eneli made himself look good on a night where many others did the opposite. His good possession and exciting runs down the right were perhaps the highlight for many on the night, and frankly, was at times enjoyable to watch. I do have questions about his positioning, as at times he seemed either concerningly too far forward or reluctant to attack at all, but given it was his debut match, it's best not to read into that too much. A very solid MVP candidate on the night for the Claret and Cobalt.
WhoScored Rating: 7.1 (co-MVP) | SofaScore Rating: 6.5
Midfield
Pablo Ruiz: 5.0
Defensive Midfielder
Supporters were desperately looking forward to the return of Ruiz to add some stability to the midfield, but alas, it was all a pipe dream from the start. If anything, this may be the worst the midfield has looked in all four games, and Ruiz certainly didn't cement himself as the rock or leader we need. While struggling to influence the game wasn't isolated to just him, he was among the lost sheep. Not much needs to be said about his assist on the 3rd St Louis goal, it was a bad night out for the Argentine.
WhoScored Rating: 5.6 | SofaScore Rating: 6.3
Jasper Löffelsend: 5.75
Defensive Midfielder
Jasper spent much of the night struggling in the same ways as Ruiz, but just from slightly higher up the pitch. When part of a double pivot, RSL has been all too easy to infiltrate down the center, attackers often having fields of space to work with behind the midfield and in-front of the defense. Jasper's playstyle tends to lend itself to creating these gaps, and even with his engine, can't cover enough grass to do everything he wants and needs to do. Jasper however, had a much better passing % than Ruiz, and completed almost twice as many tackles, so his rating gets a bump.
WhoScored Rating: 6.7 | SofaScore Rating: 6.9
Damir Kreilach: 5.5
Center Attacking-Midfielder
Damir is prone to some quiet spells, earning his value sometimes more in his pressing and defensive work. Saturday even that seemed to be missing for most of the night. In 71 minutes of play, Damir attempted an underwhelming 16 passes on the night, by far his lowest of the year. Given how desperately this team needs him to be successful, it's a bit inexcusable to see such little impact. Only some of that blame falls on Damir, as I think that under the circumstances of the game, he needed to be deployed a bit deeper. Not only for his defensive talents to shine, but also to get him on the ball and aiding the lack of buildup this team suffers from.
WhoScored Rating: 5.9 | SofaScore Rating: 6.5
Attack
Carlos Andrés Gómez: 5.5
Right-winger
Gomez was the more advanced winger on the night, and as such, saw a whole lot less of the game. Despite that, he did manage a midfield leading 2 key passes in only 30 touches on the ball. At times he did track back to get involved in the game, but overall, his skills and talents were left un-utilized on the right flank.
WhoScored Rating: 5.9 | SofaScore Rating: 5.8
Justin Meram: 5.75
Left-winger
Meram by contrast, had a lot more on the ball action in his 60 minutes as compared to Gomez. While he was equally ineffective at changing the state of the game, Justin at least went out and found the match to get involved. Notably in his 60 minutes, only one of the four goals were scored, hinting that there was perhaps some value in having the winger back and helping the defense.
WhoScored Rating: 6.6 | SofaScore Rating: 6.9
Anderson Julio: 6.0
Advanced Forward
Stat wise had a monster game, with 100% passing and 5 key passes, this leads to his team-topping scores with the referenced rating sites. I do think this was one of the better outings for Julio, but I hesitate to call it good by any means. His technique and dribbling on the ball never really give the viewer a sense of confidence, and he frequently finds himself offsides (3). As a starting center forward, he has yet to show really any signs that he could be a reliable source of goals. His highlights on the night likely being the near-penalty he almost earned in the first half.
WhoScored Rating: 7.1 (co-MVP) | SofaScore Rating: 7.2 (co-MVP)
Substitutions
Jefferson Savarino: 6.5
Left-winger
Sava had 30 minutes to show off after withdrawing from service with the Venezuelan National Team, and coming off a slight knock from the last game. Around the last 10 or 15 minutes, he managed to start making an impact on the game, and put on some encouraging runs down the left along with some good service. The kind of performance that makes you hope he'll be able to start future games to further his influence on the outcome.
WhoScored Rating: 6.6 | SofaScore Rating: 7.2 (co-MVP)
Danny Musovski: 6.0
Advanced Forward
His stint came during a long spell of the game where the visitors were dictating the tempo. Moose still managed to get perhaps the best chance of the game in the dying moments, finding an open header which had power but no real placement.
WhoScored Rating: 5.8 | SofaScore Rating: 5.5
Ilijah Paul: 6.0
Advanced Forward
Paul didn't have much to do, but put in some good hustle and a willingness to attack that showed a bit of promise.
WhoScored Rating: 6.2 | SofaScore Rating: 6.6
Maikel Chang: 6.0
Right-winger
Managed a pair of key passes in his 18 minutes on the field while putting in plenty of effort down the flank in both directions. A typical Chang appearance.
WhoScored Rating: 6.3| SofaScore Rating: 6.